Olive et Gourmando's excellent grilled cheese with local cheeses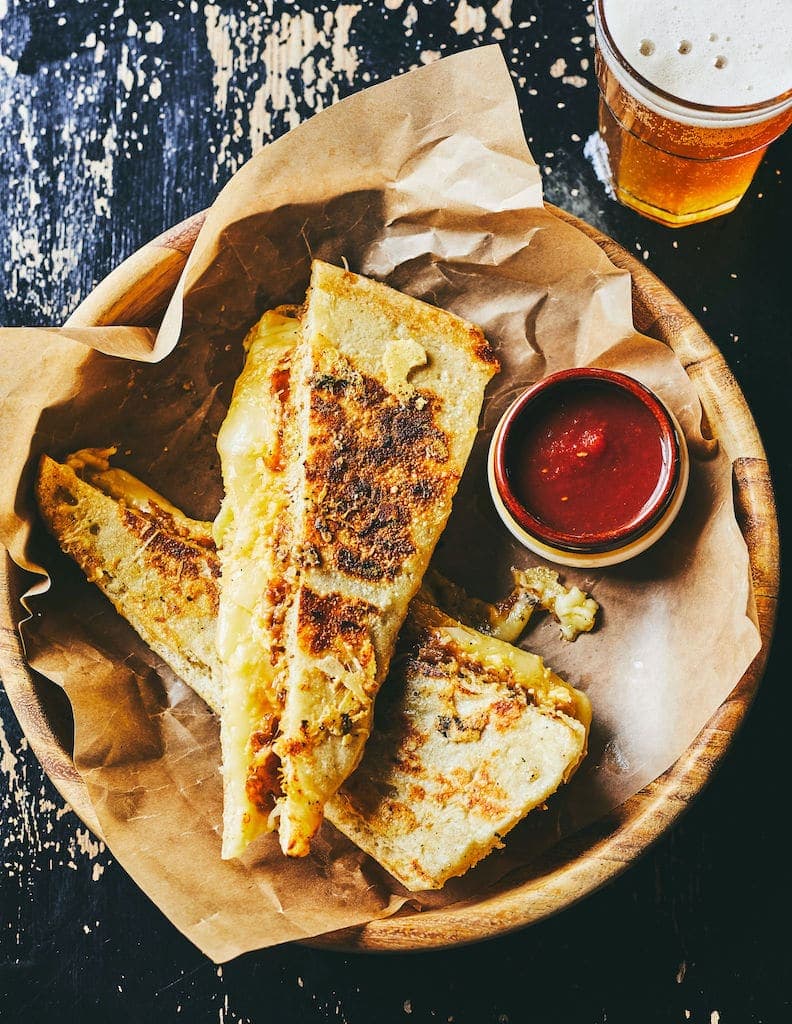 Grilled cheese is a comforting staple for most families in Quebec. As with many things, Dyan Solomon and the team at Olive et Gourmando — one of our favourite bakery-restaurants in Old Montreal — elevates this classic with remarkable craftsmanship and the use of top-quality local ingredients. Topped with caramelized onions and tasty cheeses, this sandwich has been on the menu for many years and deserves a mention in our list of the best grilled cheese in town. And so, this is why we're sharing their delicious grilled cheese recipe with you; to be made at home with our delicious local cheeses!
This recipe features a simple but winning combination of caramelized onions and local cheeses. To stand up to the onions, the chef suggests local cheeses that are strong enough to blend harmoniously; the combination of local raclette cheese and local gouda is perfect. As for the gouda, Dyan recommends products with character that assert themselves on the palate; the Louis Cyr from Fromagerie Bergeron is a good option here because its caramelized notes go well with the onions. We also like the hazelnut flavour of Alfred Le Fermier cheese from Fromagerie La Station. "Aged 24 months!" says Dyan. To add a deliciously melt-in-your-mouth touch to the sandwich, Quebec raclette is ideal. For example, you can opt for Raclette de Portneuf from Fromagerie Alexis de Portneuf, which offers a fruity, buttery palette, or Raclette Fritz from Fromagerie Fritz Kaiser, which features hazelnut and mushroom flavours. In this recipe, the cheeses suggested by the chef can easily be replaced by other local cheeses, so don't hesitate to consult their equivalents on the Fromages d'ici website!
Here is the simple and delicious recipe for grilled cheese from Olive et Gourmando presented by Fromages d'ici:
Olive et Gourmando's excellent grilled cheese
Ingredients
4 panini breads
280 g (about 2¾ cups) local Gouda cheese, grated
340 g (2 oz) raclette cheese from here, sliced
2 to 3 yellow onions, thinly sliced
¼ cup olive oil
Knobs of unsalted butter, for caramelizing
Salt, fleur de sel and freshly ground pepper
Homemade ketchup, to accompany
Method
In a large skillet over medium heat, sweat onions in oil. Cover and stir from time to time. Remove the lid, add a few knobs of butter and let caramelize.
The onions should golden and stick slightly to the bottom of the pan. Scrape out the juices with a wooden spoon. Season with salt and pepper. Let cool.
Cut panini in half lengthwise. Spread the caramelized onions on one half of the bread. Season with salt and pepper. Divide the cheeses and close the sandwiches.
Using a panini press or in a skillet over medium-high heat, grill sandwiches until cheeses are melted. Cover if necessary to allow heat to circulate inside sandwiches.
Serve the grilled cheese immediately, with homemade ketchup if you have some on hand, and enjoy!
Because big changes start with small gestures, why not turn to our excellent local cheeses for our favourite recipes? They will be even more delicious while supporting our local artisans. We say yes!
To continue your cheese discoveries, we recommend a virtual escapade on the Fromages d'ici website, where you can discover 700 of our local cheeses and other delicious recipes.
Bon appétit !
Photography by Maude Chauvin