Florence Pelland-Goyer: The sommelier opens Bar à Flot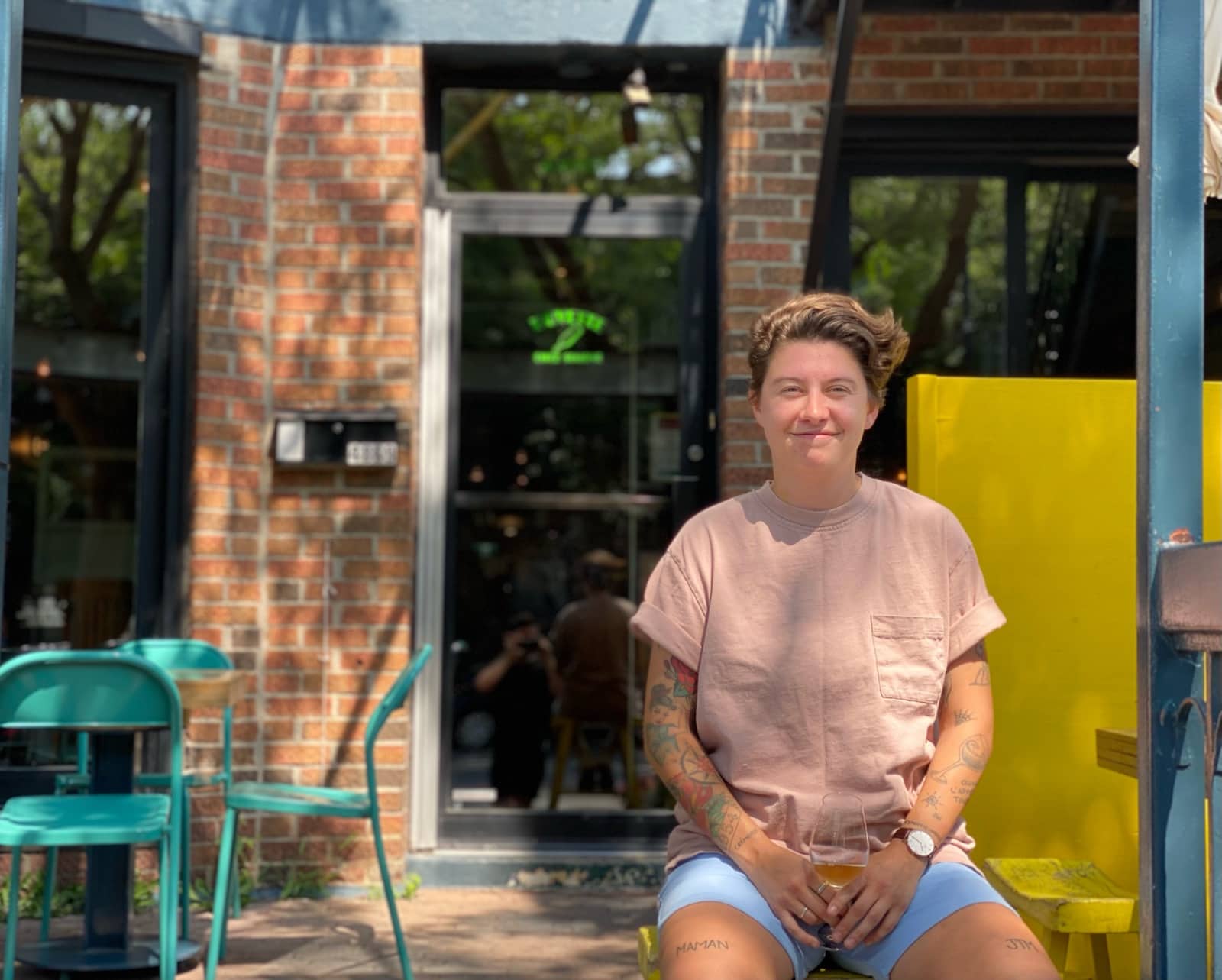 Born and raised in Montreal, Florence Pelland-Goyer became enamoured with the restaurant world at a young age.
From barback to server to mixologist
At the age of 18, while studying at Cégep de Rosemont, Florence began working at Les Enfants Terribles. She immediately fell in love with the work. She stayed there until moving on to Buvette chez Simone, which is where we got to know her. When asked if she had always wanted to work in the restaurant industry, she says no, but that it was a real revelation when she began. "The restaurant industry is perfect, it's an extraordinary environment."
In her early twenties, she tried her hand at everything in service. Barback, bartender, server, mixologist; the back of a bar doesn't hold any secrets for her anymore.
"I did four years at Les Enfants Terribles; I started as a hostess, then I did barback, bartender, and finally server. Les Enfants Terribles is a real school in service, I learned a lot there."
Later, Florence Pelland became a mixologist at the bar Huis Clos in Villeray. While this was a very different experience for her, it was just as enriching, and she met people who changed the course of her career. "It was there that I met Charles from Agence Boire, he was my initiator to the wine world, and I wanted to learn more. That's when I decided to undertake studies related to the field."
ITHQ & Salle à Manger
She enrolled at the ITHQ to take sommelier courses, and make it her career. "For me, in order to be taken seriously in the restaurant industry, especially as a woman, you need to have studied, to have a diploma in order to have credibility and to have positions with greater responsibilities. Especially at the time when the wine world was a real boys club."
During her studies at the ITHQ, Florence applied her knowledge at the now closed but very popular Salle à Manger restaurant where she worked alongside Lindsay Brennan (Alma, Tinc Set), who was in charge of the wine list. Hired as a server, she would work her way up to assistant sommelier.
"Salle à Manger had one of the finest wine cellars at the time. We had great vintages of Belluard, Yoyo and so on… We were selling big bottles every night. It was incredible, the team was magnificent." It was also at Salle à Manger that she met Samuel Pinard, a figure who had a profound impact on her career. "The restaurant industry is a family affair, it's very festive and you get to touch wonderful products."
Travelling through the vineyards of Europe
When her studies at the ITHQ came to an end, Florence Pelland left for France and then Italy to meet some of the greatest names in the world of wine as part of her final internship.
First in the Loire, then to Chablis in Burgundy, and finally to Tuscany. She would spend a total of five months travelling through the vineyards of Europe. Raveneau, Tessier, Lemasson, and Villemade are just a few of the names she came across on her journey across the Atlantic.
"When I was in Burgundy, I went to visit Raveneau. It still seems unreal to talk about him because he is the Pope of wine. We were in his wine cellar for a tasting and there were Japanese billionaires. Raveneau made us drink a Butteaux 86 blindly; I didn't tell anyone but I had already drunk it in the afternoon, I was the only one to guess, all the Japanese billionaires were really impressed. It's funny because we are always impressed when we talk about big names in wine but when we meet them in person, they are very approachable people who cultivate the land. When I was in the Loire, I went to see Lemasson; everyone had great respect for his wines, but he is not at all a person who takes himself seriously. I really enjoyed my five months in Europe. I love the French."
Montreal Plaza
Upon her return to Montreal, she applied for a job at the Montreal Plaza where she worked as a server and then as an assistant sommelier while Samuel Chevalier-Savaria was in charge of the wine list. "I became friends with Cheryl and Charles, and even lived with them. Montreal Plaza is a big family, a beautiful community."
This is how Florence Pelland-Goyer met her future work partners: Simone Chevalot and Gabrielle Bélanger who had come to dine at the staple restaurant on the Plaza Saint-Hubert. "The whole staff was really impressed, no one wanted to serve them, so I went for it. I had already been to the bar, of course, it was a place that I liked a lot at the time. We often tend to overthink wine, we just have to take the plunge and it was a good thing because it really clicked with Simone and Gabrielle".
Buvette
Following this meeting, she developed a true relationship of trust based on mutual respect that led to the era of the Buvette chez Simone for Florence. She went on to work at the Parc Avenue wine bar as an assistant manager. "It makes me laugh now when I think about it because I was turned down at the time when I applied." Florence has been at the bar for four years now; first as manager, then as sommelier, and this year as a shareholder.
When asked "Have there been any highs or lows at the bar?" she answered: "Just highs!"
While her love for the restaurant industry is as present today as it was on day one, Florence Pelland-Goyer has learned a lot through her various experiences here and elsewhere. "I have learned a lot on a human level. The bar has evolved a lot since it opened, as has the restaurant industry. We have learned to pay much more attention to our people."
What's next?
The Buvette chez Simone team has a nice surprise in store for mid-September if all goes well.
"Ever since I started working in the restaurant industry, I've dreamed of having my own bar. So it's quite natural that it was done with my partners of the Buvette. We're taking over the space from La Petite Idée Fixe on Parc. It's going to be something more in my image, more bar. It will be called "Bar à Flot". We can hardly wait!
"If I could drink Burgundy every day, that's what I would drink."
Written by Marc-Antoine Ranger