Phillip Viens: A new approach to charcuterie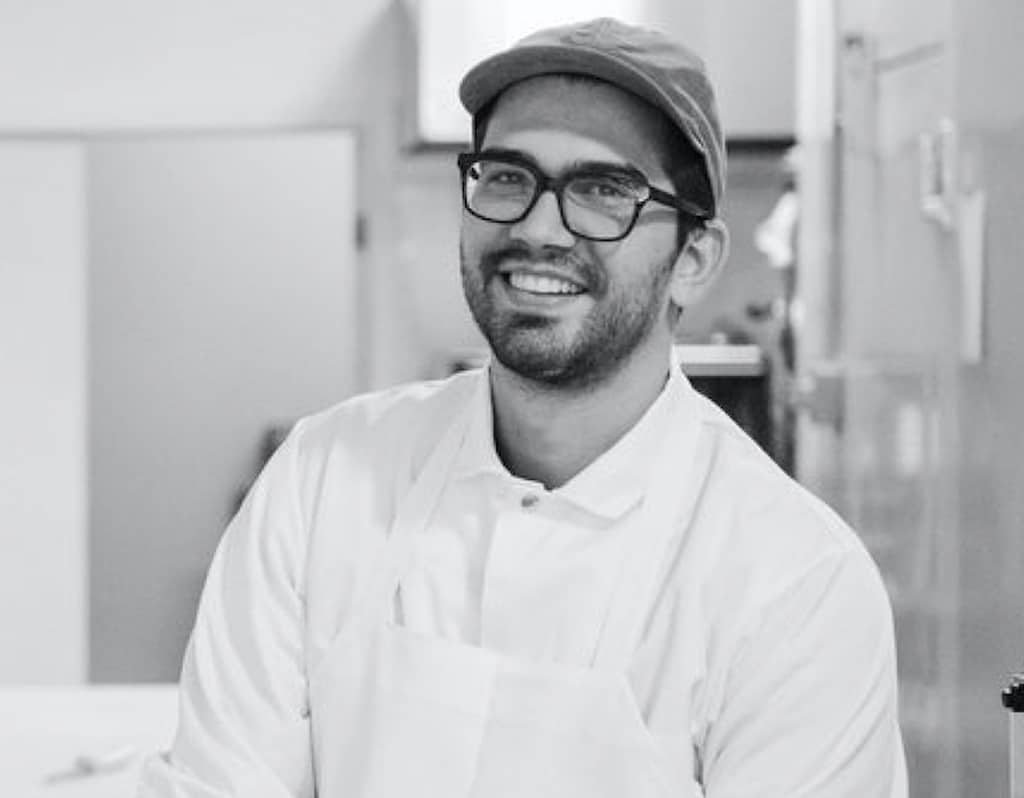 When we met Phillip Viens, we asked him if, 20 years ago, he saw himself working in the restaurant industry, he laughed and answered no. And when asked about making charcuterie as a vocation, he gave the same answer as the first question.
You probably know Phillip from the orange pig outside his butcher shop "Aliments Viens" on Saint Laurent Boulevard. Today we present you with a portrait of a humble and dedicated artisan who has discovered and developed a passion for butchery over the years.
Meet one of the best butchers in town
Phillip and his family are from Granby, but he spent most of his childhood in Vancouver.
When it came time to choose his studies, Phillip decided to invest in a program in mechanization and robotics. The beginning of his studies also marked Phillip's first contact with the restaurant industry. In fact, in order to finance his studies, he split his time between his university classes and a job as a dishwasher in a restaurant.
During his studies, Phillip did not learn to cook, but to organize his work days. Cleaning, managing a team — school taught him common sense, organization, and attention to detail that comes with running a robotics operation. Surprisingly, this framework resonated for him in the kitchen, and he developed a sense of rigour and efficiency that would serve him well for the rest of his career. One thing he retains from his experience in this chain restaurant was cooking steaks; "the first sign of my future career as a butcher," he told us with amusement.
Invested full time in his "two lives", at the end of the year he had a real work overload, and he had to make a choice. The only problem was that if he quit his job, he would have to quit his studies. Phillip decided not to go back to university the following year so he could work in the kitchen with plans to move to Europe. "I dreamed of establishing myself in Europe, but in the end, it never happened; everything went really fast after that."
Instead of moving to Europe, he established himself in Montreal. Here, his orientation towards the world of charcuterie gradually evolved. Phillip returned to Montreal to become a cook.
Why Montreal? "Because Montreal has a gastronomic diversity unlike anywhere else in Canada. I realized that if I wanted to work and learn in the kitchen, this was the place to go."
It was 2006 and Phillip was 20 years old. His first job in Montreal was at the Saint Denis Street institution, L'Express, where he learned the rigour, the meticulous work, and the preparation of meats, sauces, and dishes.
During his time there, he rotated through several positions to learn the great classics from one of the best: chef Joël Chapoulie. He greatly appreciated pastry — "It's a bit like charcuterie. You have to be meticulous, have the exact recipes. I know how to make L'Express' tarte tatin to perfection and that's a great source of pride for me; it's the best in the world."
It was also at L'Express that he tried his hand at butchering for the first time. He became familiar with the art of French charcuterie and learned the basics of butchery; Toulouse sausages, rillettes, and more.
After sharpening his knives at the Saint Denis Street institution, Phillip decided to broaden his horizons and applied for a job at DNA restaurant (now closed). Here, it was the chef de cuisine at the time Derek Dammann who took him under his wing, trained him thoroughly, and helped him perfect his techniques in all areas of the kitchen.
The establishment was a huge success and attracted all of Montreal thanks to its chic decor and its refined and original cuisine. Phillip stayed there for four and a half years.
With no particular expectations, he started as second in command at lunchtime and noted all the advice he was given to improve. Here again, the butcher's side of the business was not his first choice, but he returned to it spontaneously thanks to his position as a grill cook in the evening. He applied the basics he had learned at L'Express in the butcher shop in this new position, which at the same time, he took over the charcuterie program that had been set up. The restaurant was very "fancy", the charcuterie was displayed in a cellar, with everything in metal and glass. With the knowledge he had acquired at L'Express, he in turn began training his apprentices in butchery and charcuterie.
It wasn't long before he became sous-chef of this very chic restaurant
While still working at DNA, he took a few weeks off to go to Europe. He decided to go to Germany to work in Empelde with Fleishirei Scheller who gave him a chance. "It was really special because I don't speak German, so when I was learning, the butchers were pointing out what I should do. He refers to his short experience in Germany as a real eye-opener about butchery. "It was a very different experience compared to what I had learned in Canada. The techniques in butchery and charcuterie are the opposite of what you learn here, both in processing and cutting. They prefer to cut by muscle rather than by parts. In Germany, he discovered another world in butchery, and he brought this new knowledge and vision back to Montreal with him.
Shortly after his return, his former boss Derek opened the restaurant Maison Publique and Phillip followed him. At first, the restaurant did very little charcuterie, and it was Phillip's first time in the kitchen as a chef. "Derek put a lot of trust in me, I owe almost everything I know today to him. We developed the menu together, and I quickly had a lot of freedom to do what I wanted under his direction". Soon, Phillip introduced a lot of charcuterie to the menu. He perfected his techniques once again and made Maison Publique, along with Derek, of course, a well-known address for meats.
In the meantime Phillip became a parent. He quickly realized that he did not see himself working in a restaurant all his life, he did not see his future in this environment where one does not count the hours.
And so, a little rethink was in order. He didn't necessarily want to open a restaurant, but he was 28 years old and his expertise was in butchery, food, and the restaurant industry. After thinking about what he wanted to do, he decided to leave Maison Publique.
At 29 years old, he started to make charcuterie for a few restaurants and his friends. His first customer was Maison Publique, naturally. Then he sold to Fardoche (products from here and elsewhere), but the grocery store closed its doors prematurely. Not having a space, he worked for a while at Boucherie Lawrence.
He experienced a short period of imbalance and took on a few hours of work at Maison Publique while being self-employed to supply various restaurants around town.
In 2017, Phillip opened Aliments Viens charcuterie on St. Laurent Boulevard.
With small steps, he flourished in the store; the space was small, but he had a large restaurant clientele. To his surprise, retail sales were also very popular. In just two years, the small address on Saint-Laurent Boulevard has developed a loyal and consistently satisfied customer base.
And for the future?
Phillip Viens has plans for future expansion: increasing production of cured meats, hams, dry goods, and sausages. Phillip also wants to increase his selection of groceries, to "sell only the best and most local products possible."
Slowly, he is letting his team take on more responsibility and he is taking up less and less space. He is strongly assisted by Kevin Barrière, who trained at Rouge Gorge as a sous-chef and is now Phillip Viens' right hand man in the small shop on the Main.
Phillip Viens is an official butcher in his own right and prepares charcuterie for numerous restaurants in Montreal such as Montreal Plaza, Rouge Gorge, Philémon, Toqué! and Le Diplomate, to name just a few.
"In the kitchen, you always need people; you just have to get in line. Butchery is a much more closed environment; you don't learn the techniques overnight." When Phillip talks about his butchery journey, two names stand out: Karsten Shelley, who gave him the opportunity to learn new techniques in Germany, and Derek Damman, who gave him complete confidence and the opportunity to grow with the meat from DNA to Maison Publique.
Written by Samuel Gauvreau Des Aulniers
Photography by Alison Slattery