Raphaël Vézina takes over the Laurie Raphaël empire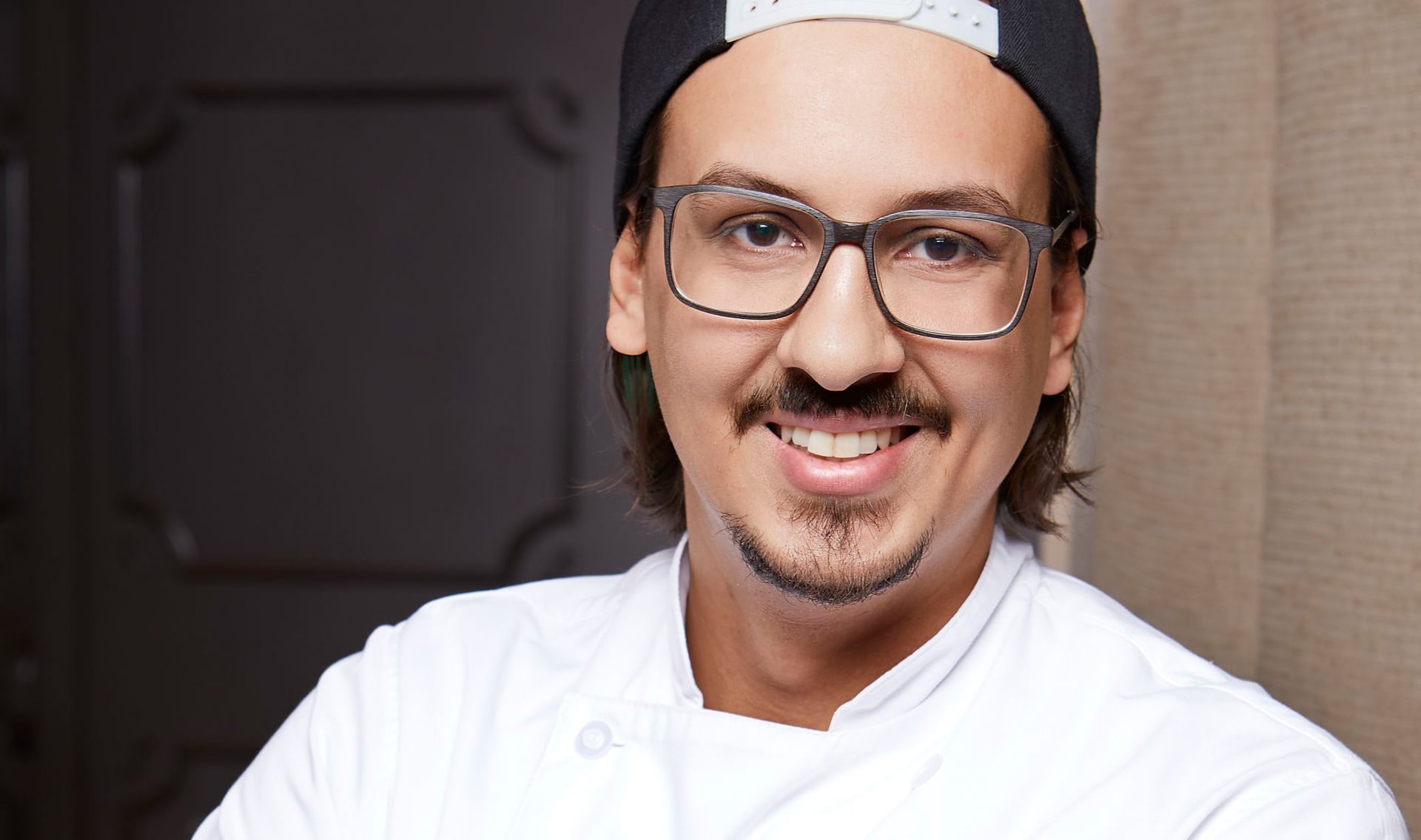 Raphaël Vézina: L'Érable du Québec's culinary ambassador takes the torch of the Laurie Raphaël empire with brio
Raphaël Vézina: Did you know that the great chefs of Quebec often use maple products all year round? In an effort to stay local and to highlight the natural flavours of Quebec's terroir, all while respecting the environment, kitchens are opting more and more for Quebec's high quality maple products as an alternative to sugar. This series of portraits will shine light on the great culinary ambassadors of L'Érable du Québec, all of whom use maple products in their cuisine throughout the year.
Raphaël Vézina is co-owner and chef of the Groupe Laurie Raphaël. Here is our profile of this hard-working young man.
Although Raphaël's father, Daniel Vézina, is a star chef in Quebec, Raphaël started at the bottom of the ladder in the kitchen. "I started working in the restaurant as a dishwasher. In fact, I started in the restaurant when I was 12 years old; I washed the copper pans. My dad would set me up at the sink and I would have to shine the copper. In high school, I was a part-time dishwasher. Then I worked as a prep cook, garde-manger for fish, garde-manger for meat, etc. At the end of high school, I had to make up my mind. I was very good in math, so I had to choose between civil engineering or cooking."
Raphaël chose cooking and went to the École Hôtelière et de Tourisme Paul Augier in Nice. He wanted to travel and to study, and that's just what he did! At the time, Raphaël did an internship at the end of each year; he worked at the restaurant Abac, then to Illucianes in Barcelona, and he also visited Blue Hill in New York. In 2010, after obtaining his bachelor's degree, he returned to Quebec to work at Laurie Raphaël for the summer, just to help out.
"I was supposed to go to Australia at the end of the summer, I had come to help out. Things turned out differently."
Instead, Raphaël took the position of sous chef at Montreal's Laurie Raphaël. However, only a few months after his arrival, the restaurant's chef left, and Raphaël took his place. This was his first experience as a chef and Raphaël was only 21 years old. He learned to be a chef very quickly and at a very young age. "I was a young guy in my early 20s; even if you have the best intentions in the world, you don't know everything. I was stressed to the max; I was making the schedules, managing the staff, managing the orders, making sure the service was going. I was young and inexperienced, so I got by by working harder! I just kept at it." Fortunately, Raphaël was well surrounded, and by putting in all his energy and hard work, he rose up to the challenge and succeeded.
His favourite thing about this period? "I had a big playground and a great learning environment that was fast-paced and particularly intense. I loved deciding what products or what dishes we were going to use. I think I loved that freedom — the freedom to be able to do whatever I wanted, it was amazing. But with all that came a lot of stress! You couldn't screw up. Fortunately, I succeeded, and the relief of accomplishment that came with that success was unique. I don't know how to explain it, but it was a period of stress that brought me incredible satisfaction." Over time, Raphaël learned to structure himself and to understand the many challenges that the job of a chef entailed.
Two years later, Raphaël took the position of chef at Laurie Raphaël in Quebec City. "It seemed so much simpler: no room service, no breakfasts for 200 people, no major corporate events, etc. I like this kind of cooking much more; I can be in the kitchen and create dishes. The hardest part was coming back and taking my place. I remember the day I came back. I said OK, let's start again, let's start over. The difference is that I knew the place, it didn't take long before everything was rolling; it went very well."
Becoming chef at the restaurant industry where it all began was the next logical step for Raphaël. "No one twisted my arm to get me to do this job, it really came from me. No one ever forced me to be a chef, everything always came in its own time."
Thanks to Raphaël, the Laurie Raphaël team in Quebec City is running smoothly — "I've never lost the teams, my teams stay. I manage to stay the course. That's a big part of being a chef: the operations, getting everyone on board."
Laurie Raphaël now seats about 30, with eight people in the kitchen; each visit is a unique occasion, and customers are treated to small bites. Raphaël spends most of his days in the kitchen. With their new design, the chefs shake hands with all their customers who enter the restaurant, through the kitchen, and Raphaël loves it.
"A lot of people still don't know that I'm the chef! But I don't mind at all, I'm really less interested in TV; my dad is great at doing that, I leave it to him. I feel blessed to be able to learn from him. Taking my dad's place, everyone always asks me if it's stressful, but at the end of the day, whether people think it's still my dad in the kitchen and they're happy, it doesn't change anything for me, it doesn't matter. I live through my business and my way of expressing myself is to make it grow. I just want my customers to be happy."
The Laurie Raphaël team has always done everything it can to move toward a principled agribusiness environment. That's where the idea for La Serre came from. "What's important to me is the supply. That's what we work on the most and I think that being able to offer good products is really the basis. To create a dish and to succeed in having the most beautiful products, in summer, we go to Charlevoix, we fish in Gaspésie, we do everything for the supply! We wanted to put our values forward. To make a difference in our own way. Our way of acting, our perfect vision for the future, is to reduce the ecological footprint, prepare our compost, produce on the farm. We are heading towards that! With La Serre, we hope to succeed in feeding a lot of people with good products."
The goal is to be able to feed as many people as possible with no ecological footprint. For the past 25 years, that's kind of what Laurie Raphaël has been trying to do, but on a very small scale.
"We want to succeed in becoming self-sufficient, and to be as local as possible. We want to evolve by going back to what it was before. Each season brings dishes or foods that are great."
If Raphaël is lucky to have a father in the business, his hard work, creativity and kindness have certainly led him to where he is today. Long live the Laurie Raphaël empire.
A few questions for Raphaël Vézina
What is your favourite vegetable? "It's not a vegetable, but the tomato, I could eat it for the rest of my life."
Your favourite meat? "Deer."
Your favourite fish? "It's a crustacean: lobster."
Where else would you eat tonight but at Laurie Raphaël in Quebec City? "At Hono Izakaya."
Where would you go on a trip? "France."
What would you be if you weren't a chef? "A helicopter pilot."
Your favourite sport? "Basketball."
Where would you live anywhere in the world? "In Quebec City. I would live here."
L'Érable du Québec Q&A
Why do you like maple syrup so much? "Maple syrup is a healthy sugar choice that is good for you and good for the planet, so it fits perfectly with our values."
What do you use it with? "We hardly ever use white sugar, with a few exceptions. We use maple syrup instead, both for La Serre and for Laurie Raphaël, it's our sugar. We use it in every sauce, I use it everywhere!"
Written by Élise Tastet
Photography by Laurie Raphaël