Sangria: Where to enjoy the best sangria in Montreal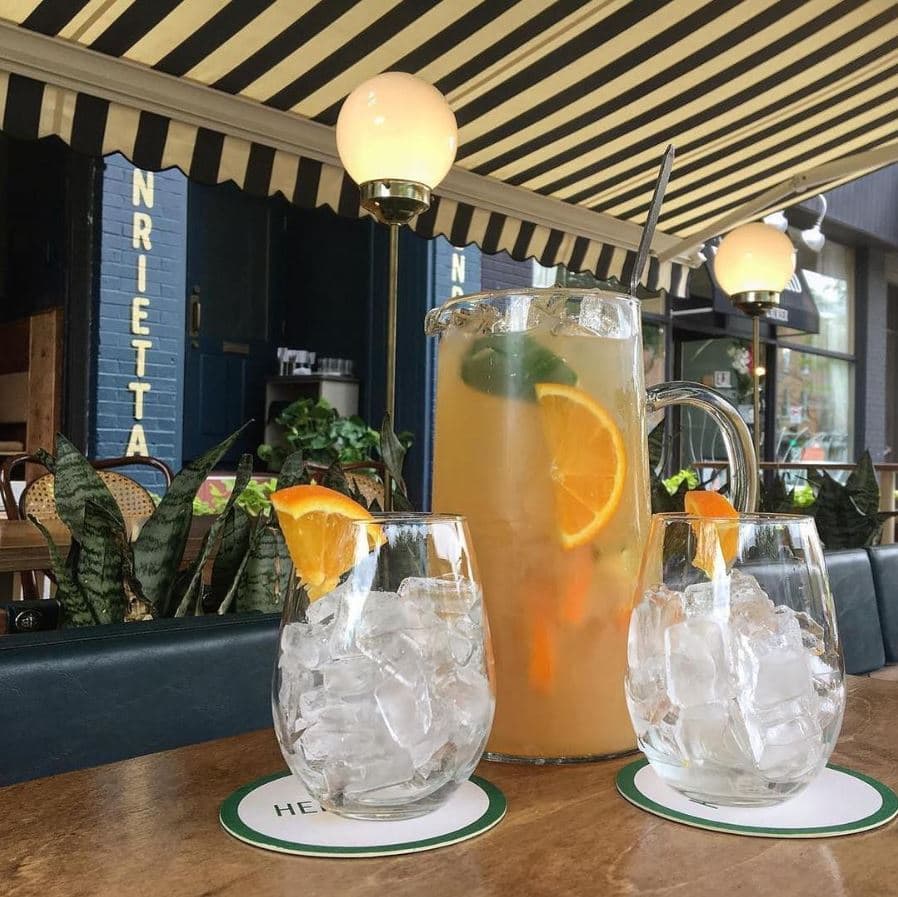 Sangria. A Spanish specialty made from red wine in which slices of citrus fruits and spices have been macerated. The sangria became in some way the drink of the summer by predilection. A pitcher of this more or less alcoholic drink lends itself perfectly to a summer evening on a terrace with friends. Traditionally, sangria is a beverage made from a red wine base – although white or rosé sangria is also becoming increasingly popular. The name sangria comes after all from the Spanish word "sangre", or the French word "sang", both meaning blood; a direct reference to the deep colour of the drink. Citrus fruits, sugar, spices and in some cases, a bit of stronger alcohol are added to enhance the flavour. The secret of any good sangria: the maceration. It is this process that allows the wine to take full advantage of the flavours that are added.
Sangria joins other drinks with an uncertain past. While it is generally accepted that it comes straight from Spain and Portugal, some believe that it comes from the West Indies, invented by the English and drunk mainly in the colonies at the beginning. The term sangria is now protected by a PDO (Protected Designation of Origin). This means that only sangria produced in a specific part of the Portuguese and Spanish territory can bear the name! Appellation or not, it won't stop us from continuing to sip the best sangrias in Montreal on a small terrace under the sun.
For more ways to enjoy the nice weather and the summer, you can check out our lists of the most beautiful restaurant terraces, the most beautiful bar terraces and the most beautiful cafe terraces. We really like to sit on terraces whenever the weather permits! You can also consult our list of places to have a drink and good bars.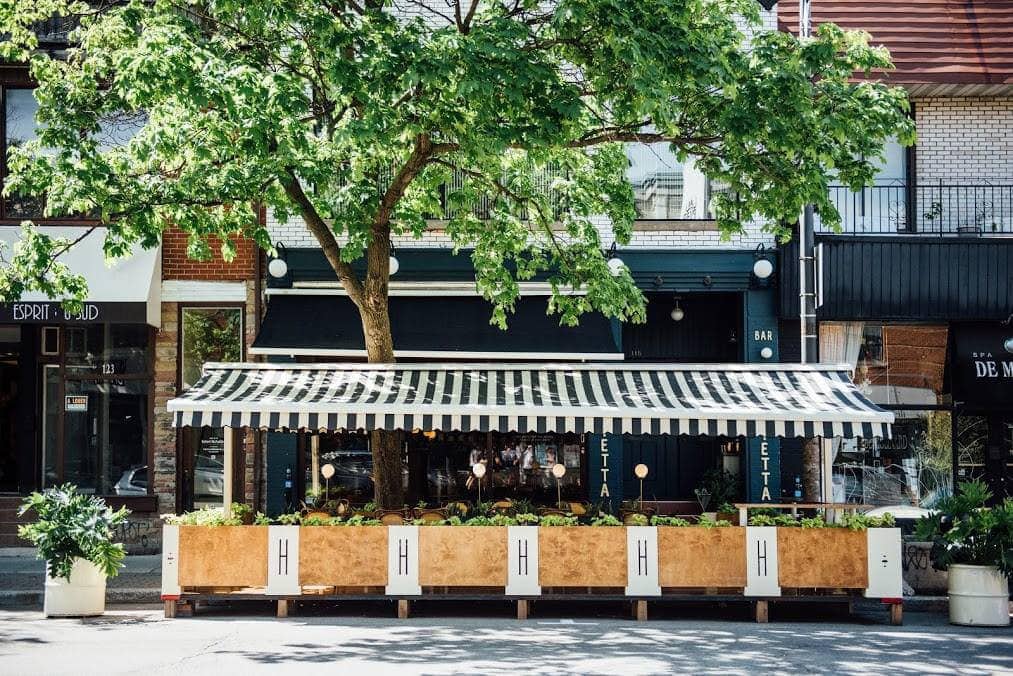 Bar Henrietta has become a popular address for people in the neighbourhood and beyond. The atmosphere is always festive, encouraged by the contagious energy of the place. On one of the most beautiful terraces in Montreal and in one of the best bars where you'll also eat well, we enjoy the summer days. Here, we're offered red and white sangria, prepared in a classic but delicious way. Sometimes simplicity has a better flavour and this is true for the sangria that we drink at Henrietta. N.B.: this recommendation is tinted because the editor is madly in love with one of the owners! (And vice versa…) Photo Alison Slattery
115 Avenue Laurier Ouest
Montréal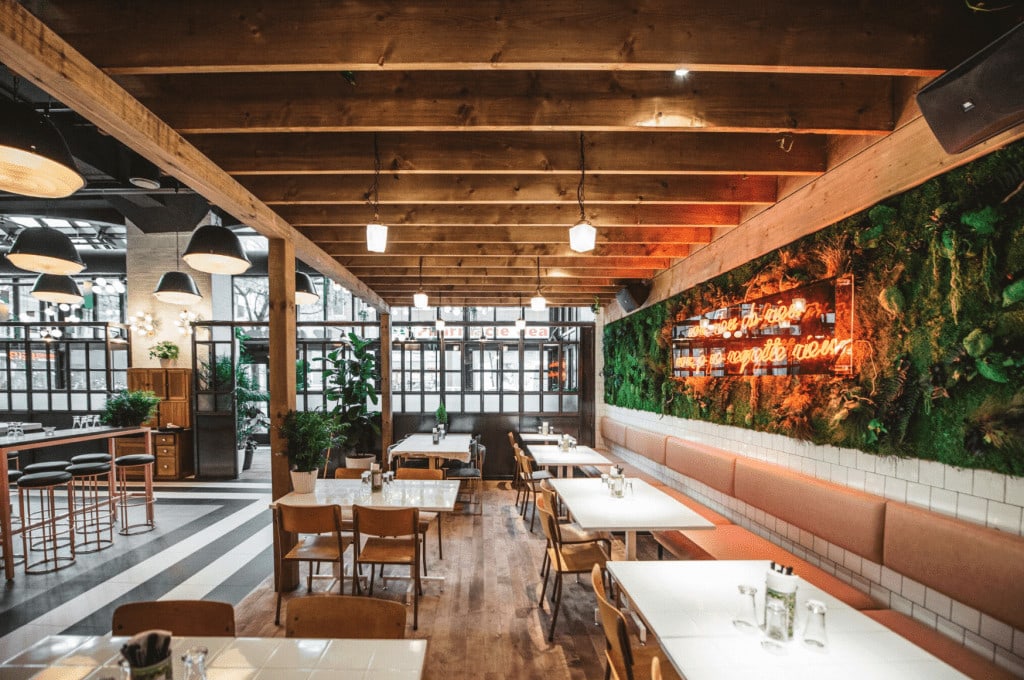 Kampai Garden
Kampai Garden is often synonymous with festivities and summer. In any season, setting foot in Kampai means entering a semi-tropical world – without the stifling temperature. Like the originality of the decor, the sangria at Kampai does not adhere to tradition. Here, we taste Jade's Sangria, a mix of vodka, red wine, pink hibiscus syrup, lime juice, guava juice and soda. This more fragrant version lends itself perfectly to summer. Photo Jade W
1225 Rue Saint Mathieu
Montréal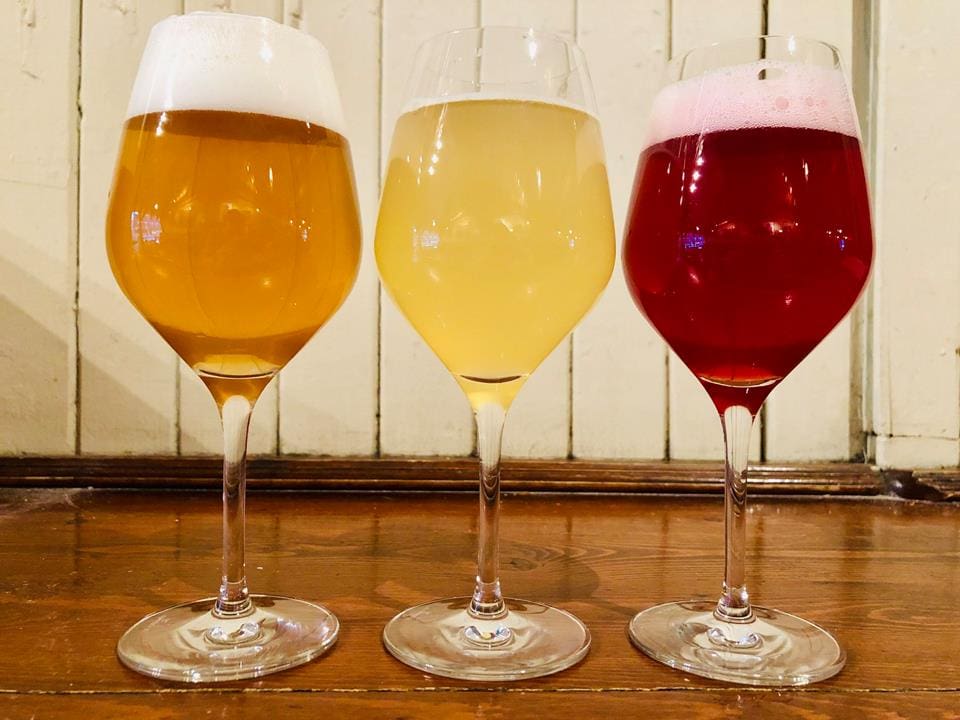 Vices & Versa
Neighbourhood bar Vices & Versa is mainly known for serving very good beers from microbreweries across the province. Belonging to the Dunham microbrewery, we can enjoy their very good beers. Amongst all the beers on the menu you'll find their red and white sangria. This one is prepared without any additional artifice; we come to drink it simply for its good flavour, in a relaxed atmosphere, and always accompanied with a tasty bite to eat. Plus: their tree-shaded terrace in the back of the house is beautiful and always lively. Photo Vices & Versa
6631 Boulevard Saint-Laurent
Montréal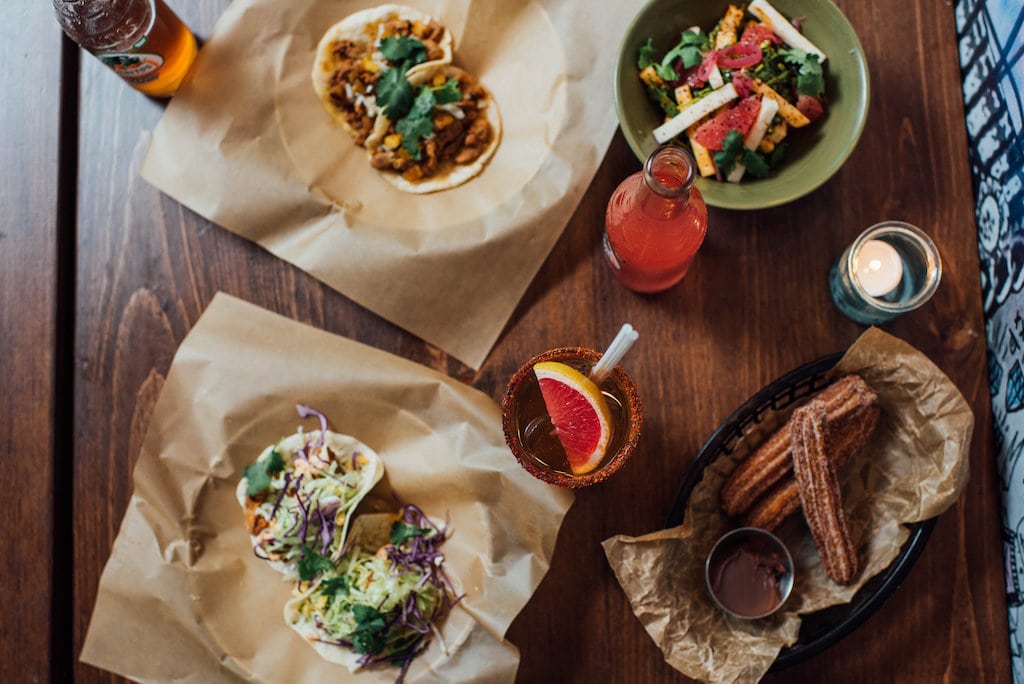 Escondite is a particularly festive Mexican restaurant in the heart of downtown. Like the restaurant itself, the sangria served here is explosive and original. They follow a classic formula of red or white sangria, substituting some ingredients to give it more personality. Here, triple sec and grapefruit juice are used in the preparation, with a touch of tamarind jarrito for a more tangy flavour. Alison Slattery
1206 Avenue Union
Montréal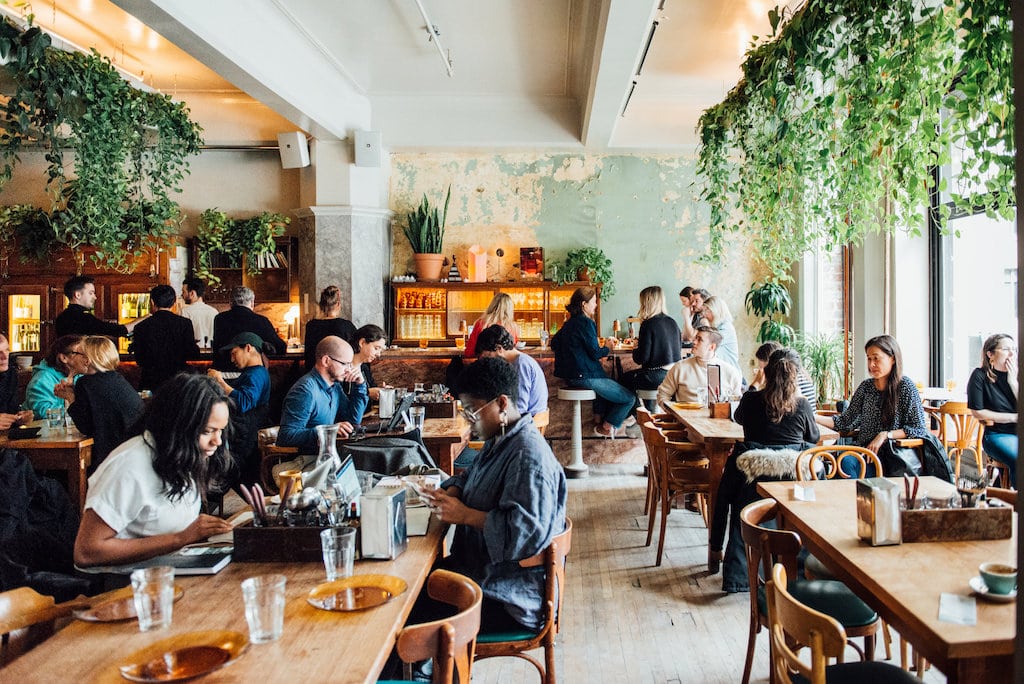 Café Parvis is one of the busiest addresses downtown, and with good reason. The establishment is both a cafe and a restaurant depending on the time of day. In this superb decor, you can enjoy a classic red sangria and another more original white sangria. Indeed, this last one is just peachy! Made with peach nectar, this is a satisfying, juicy, and fruity sangria. photo café Parvis
433 Rue Mayor
Montréal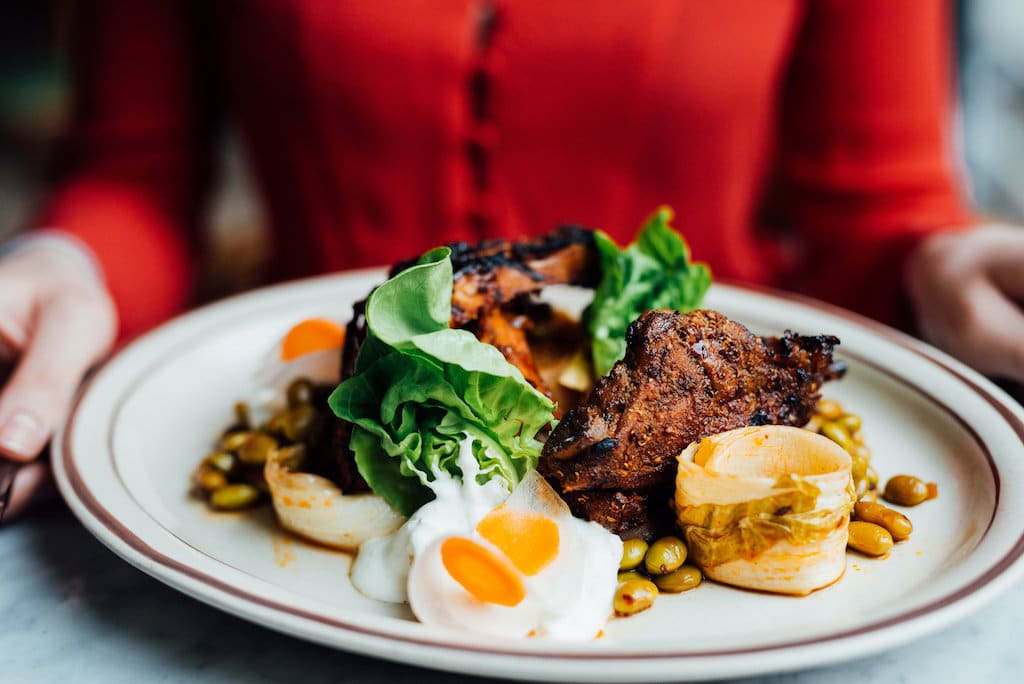 Furco, next door to Café Parvis, is a relaxed and unpretentious downtown address. In a decor with a Berlin feel, you can enjoy their great cuisine – they are one of the best bars in the city where you can also eat very well. Lovers of good things and epicureans converge here to do just this – eat and drink well. The same goes for Furco's red sangria, made according to the classic recipe and effortlessly enjoyed on their terrace. photo Virginie Gosselin
425 Rue Mayor
Montréal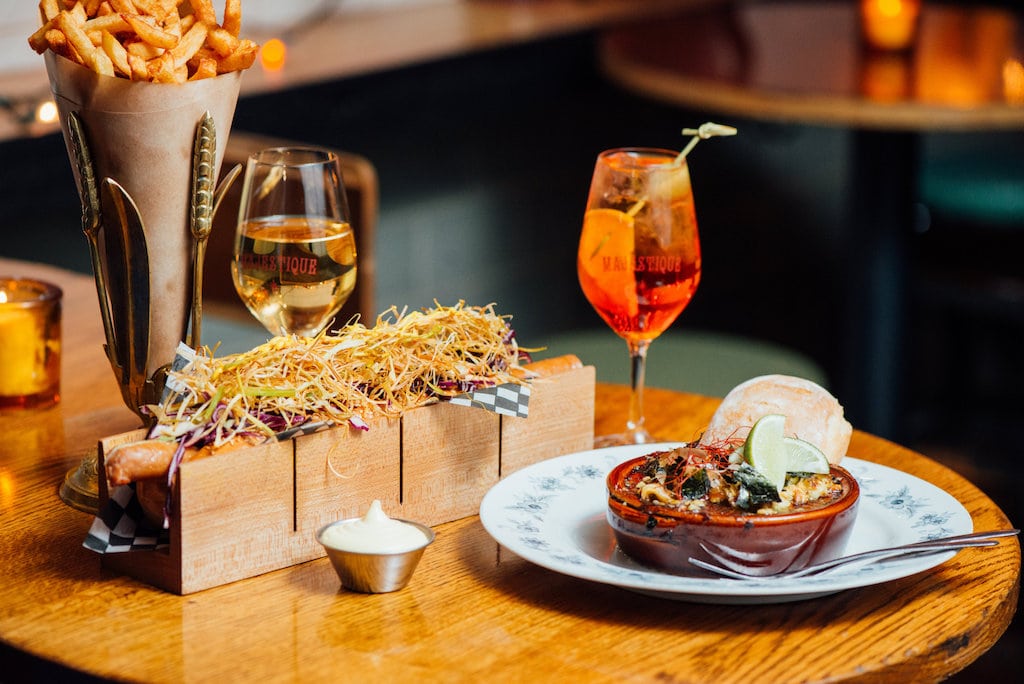 Le Majestique is a favourite address for light summer evenings, and is on our list of the best bars where you can also eat very well. Their sangria isn't on the menu, so you'll have to ask for it. But don't be shy – it's very good! Made according to the classic recipe, without frills, it is offered in red or white, and made by the glass or by the pitcher. On their terrace, in the middle of Saint-Laurent Boulevard, there is nothing better for a summer evening. photo Majestique
4105 Boulevard Saint-Laurent
Montréal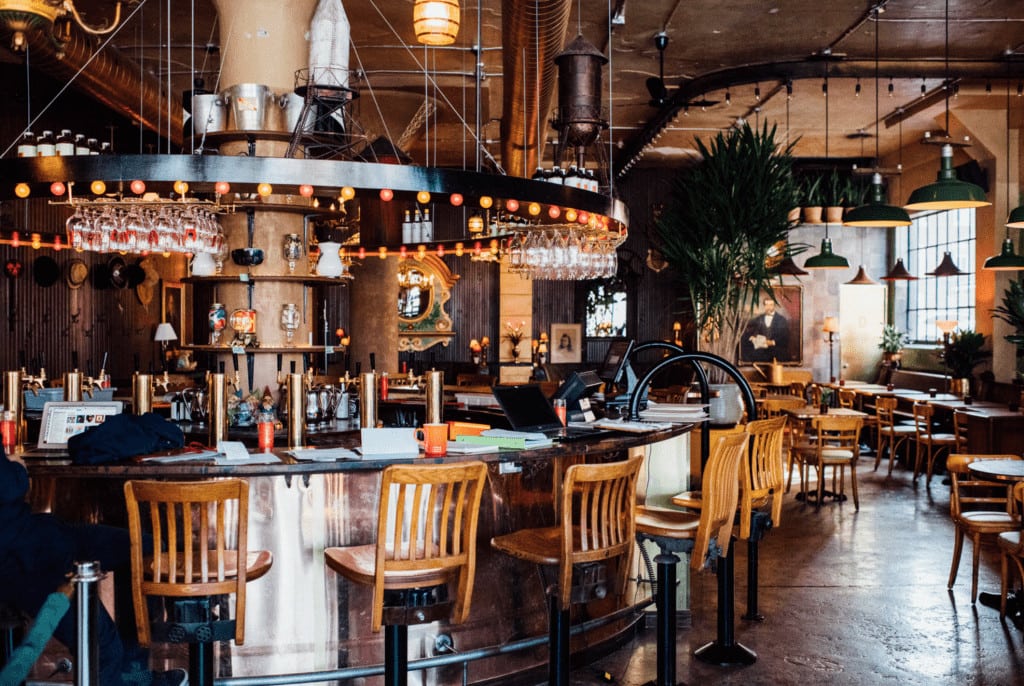 Le Darling is one of the most beautiful bars in Montreal, thanks in part to its eclectic decor. A cafe by day and a bar by night, the place is coveted by the neighbourhood. It serves two varieties of sangria; a red one and a more sparkling one with cider. Both varieties are excellent, but the latter stands out for its originality. Recommended for the curious and the gourmets, it will add a touch of originality to your evening. Photo Alison Slattery
4328 Boulevard Saint-Laurent
Montréal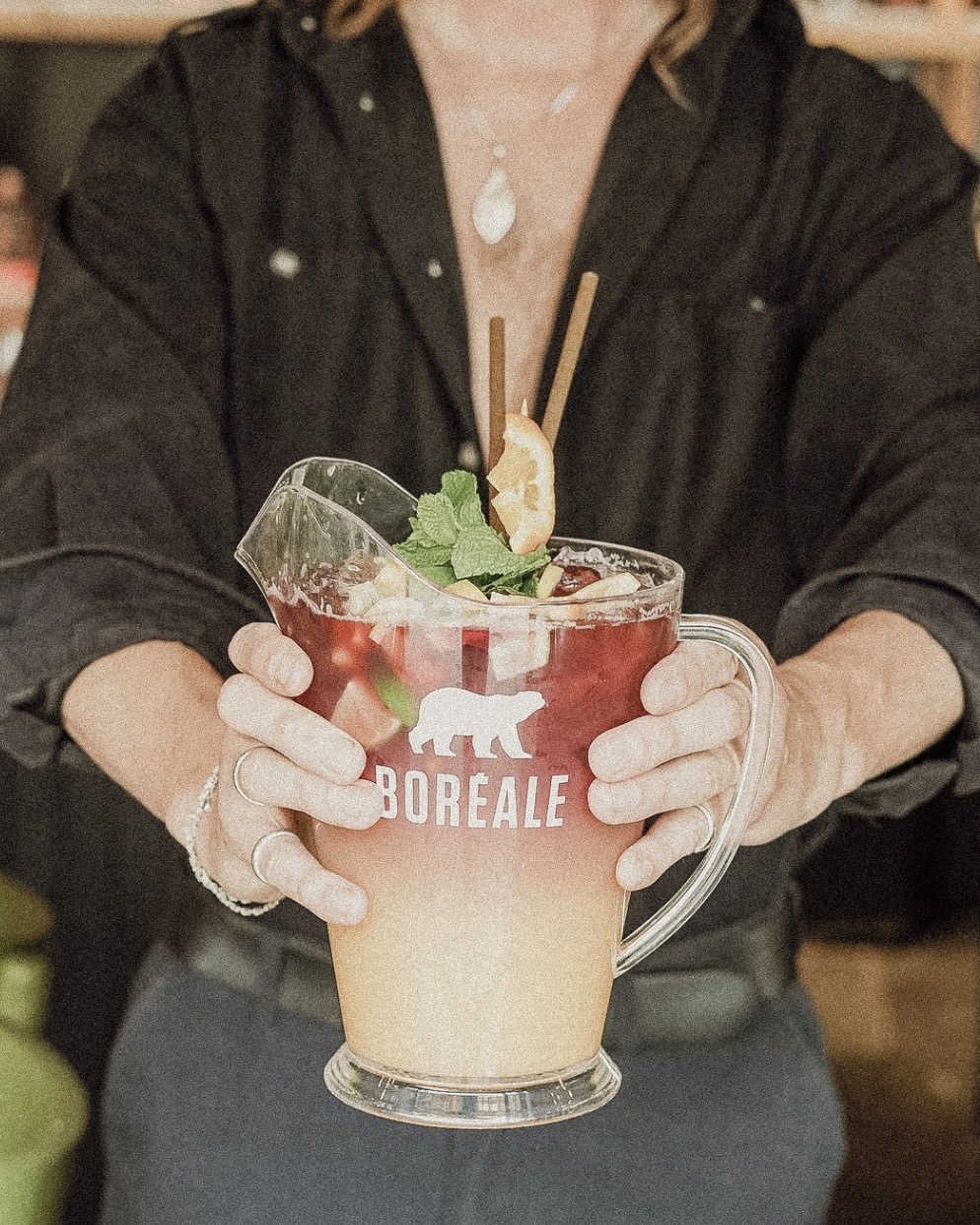 There are few evenings that go without a drink at Club Pelicano. The establishment lends itself perfectly to the party, with a sangria that literally reflects the desires of the mixologists. Sangria lovers should know that you will never drink the same sangria twice, as it changes according to the flavours of the day, as well as the ingredients and alcohols on hand. Sometimes it will have cranberry, peach or other flavours, and at other times it will be pink, white or red. The lucky ones might even find a sparkling wine sangria… Photo Club Pelicano
1076 Rue de Bleury
Montréal
See on map
115 Avenue Laurier Ouest Montréal H2T 2N6
1225 Rue Saint Mathieu Montréal H3H 2P7
6631 Boulevard Saint-Laurent Montréal H2S 3C5
1206 Avenue Union Montréal H3B 3A7
433 Rue Mayor Montréal H3A 1N9
425 Rue Mayor Montréal H3A 1N9
4105 Boulevard Saint-Laurent Montréal H2W 1Y7
4328 Boulevard Saint-Laurent Montréal H2W 1Z3
1076 Rue de Bleury Montréal H2Z 1N2