Vanya Filipovic: Passion, people & wine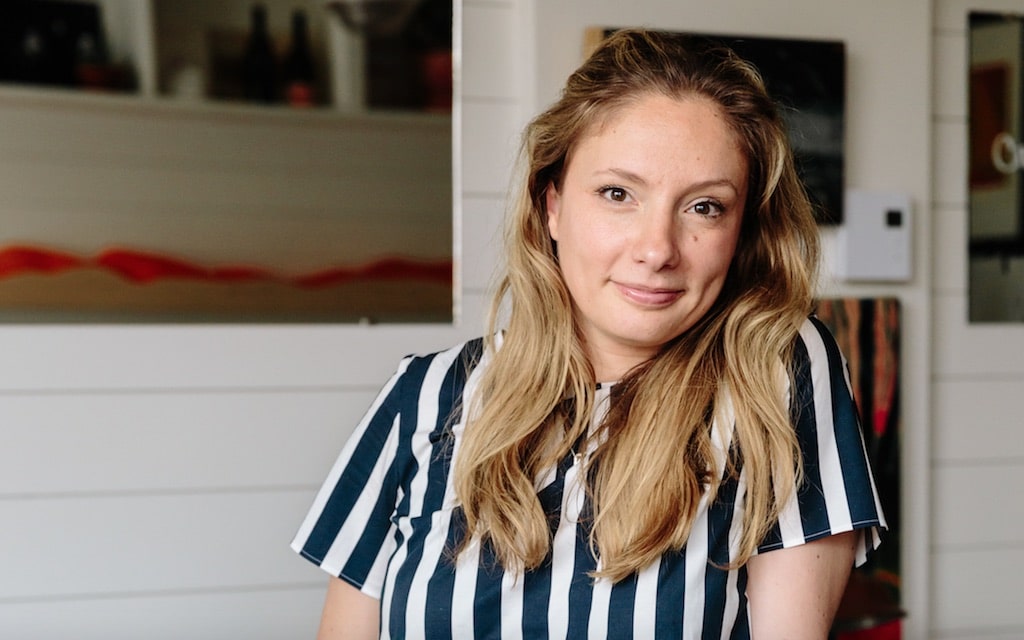 Vanya Filipovic is the owner of the wine agency Vins Dame-Jeanne and co-owner of the restaurant Mon Lapin. However, you may also know her from her 15 years at Joe Beef. In January 2020, she decided to leave the group and focus on her projects. Portrait of a passionate, hard-working, and brilliant woman with a very promising future.
Growing up in the restaurant industry
Vanya's parents owned the restaurant Le Marie-Philip until 1994, in Saint-Sauveur. "It was the good old days in the Laurentians, the restaurant industry was very dynamic; there was La clé des champs, Le Bistrot à Champlain, Anne Desjardins at L'Eau à la Bouche, the École hôtelière des Laurentides, everything was wow! It was a small, precious world, hard to replicate today."
"I had restaurateur parents; my father was a chef and my mother was a sommelier and floor manager. My life revolved around the restaurant industry. Our family trips were always around a specific place to eat or a particular winery to visit. All the dinner table discussions and TV shows we watched revolved around the restaurant industry. At the time, I didn't understand how lucky I was."
Vermont
Vanya moved to Vermont when she was 11 and it was there that she began working in the kitchen. Her parents bought a restaurant in the village of Barnard, Vermont, population 450. Vanya went from dishwasher to sous chef. Her love of Vermont has led her to import three domains from the region; La Garagista, Hill Farmstead and Fable Farm, just to give her more reasons to return.
She spent her teenage years there. In the kitchen as well as in the dining room, she participated in as many tastings as possible. During her studies, she was fascinated by literature — she planned to pursue literary translation from French to English for French authors and poets. She studied the poets Rimbaud, Baudelaire, and others with great interest, all while working in the restaurant.
"I have enjoyed all of my work experiences and have learned from each of them. A lot. I have learned about the rigour of work, about prestige and poise, as well as the importance of humility, simple values, and about humans. I learned about the importance of building a strong team and the attention to detail. And I am grateful for everything."
Montreal
After a few experiences in New Hampshire and Boston, and after studying in California, Vanya returned to Montreal. In her early twenties, she began working at Le Bronté in service. The sommelier at the time was Dave Pendon (now at Œnopole).
She also worked at the Rosalie where she met David McMillan. Her time at Rosalie also marked the beginning of her friendship with Allison Cunningham (Joe Beef, Liverpool House, Vin Papillon, McKiernan), both of whom were waitresses and roommates. Thanks to her proximity to Allison, founder and co-owner, she was able to see Joe Beef through from start to finish, from the idea of the project to its creation. David, Fred and Allison asked her to join their team, but Vanya had never set foot in Little Burgundy or even heard of the neighbourhood; she still thought she was pursuing a career in literature.
Joe Beef
Despite this, she was convinced by her friends at the time. At the age of 22, she arrived on Notre-Dame Street West and David was laying the wooden slats for the restaurant. Vanya decided to embark on the Joe Beef adventure that would change her life forever. "There were two of us on duty: Meredith, author of Joe Beef Books Vol. 1 & 2, and me. This restaurant is impossible to replicate or start over. It was created by two extremely talented chefs, as a reaction to what they had experienced on Boulevard St. Laurent, who wanted to refocus on true French cuisine, with a Quebecois influence, cooking for the people. And it's a restaurant that was created before social media… Unimaginable today."
When Joe Beef opened, Peter Hoffer, Mathieu Gaudet, John Bil, and many artisans, farmers, and artists went to eat there. The space is magical and unique. "It reminded me of a place where Picasso would come to eat in exchange for a painting. I have too many great memories from that experience to pick just one. Every day was unique."
"My favourite thing about the restaurant industry is that every day, it's really impossible to know how the evening will turn out; the encounters are all equally extraordinary."
From Montreal to the Jura Mountains
Over time, Vanya watched the small restaurant evolve: the expansion with the patio, the (first) McKiernan right next door, the closing of that small McKiernan, the expansion of Joe Beef, the expansion of the patio. Gradually, she assumed more and more responsibility, all while still thinking about pursuing her master's degree in literature. "A lot of women's work has never been translated into any language, so that's something I was very interested in, bringing the writings of these women to light. I was preparing to do a master's degree in this subject at Columbia University." Just before going, Vanya changed her mind and decided to dive into the world of wine, and went to the grape harvest in the Jura Mountains.
"This trip was a thousand times more than I expected! I learned a lot and worked a lot. I learned about real wine culture — not just 23 residual gram sugars to make a natural bubbly, but the mom who waits every lunch and serves a more delicious four-course lunch every day, made with a single Laguiole and no cookbook. Blind tastings that last for hours, friends, neighbours who always join in on the meals, everyone coming together to enjoy life. The generosity, the sharing, and all sorts of exchanges to enjoy these moments."
Upon her return, she met Marc-Olivier Frappier — to whom she would marry — who had been hired at Joe Beef in the kitchen while she was away. "We started our relationship with a strong friendship, filled with respect and admiration. We have a special bond, marked by a very similar work ethic. Marco, he's a hyper-creative person, very funny and extremely generous."
Joe Beef sommelier
At work, David gave her the job of wine list manager. At 27, Vanya found herself in charge of all things sommelier at Joe Beef. "I always put a tremendous amount of pressure on myself… It was very important to me to put together a wine list with great integrity, with personal follow-through for each producer and each wine, that the list be a reflection of the place." David is a wine enthusiast extraordinaire, asking a million questions, and with the culture of Old World wines already in place at Joe Beef, Vanya quickly embarked into a world she was passionate about. She savoured great wines, learned to taste and identify rare wines, and the whole experience was exceptional.
Vanya also took part in the import agency Vinnovation, where she became familiar with the import business for the first time. Unfortunately, the agency closed its doors rather quickly, but this experience was a great learning experience for her.
In the meantime, Liverpool House opened and Ryan Gray was appointed sommelier. He and Vanya developed a beautiful relationship. "That period was dynamic, the exchanges we had were so enriching, it was amazing!"
Vin Papillon
In 2013, Vin Papillon was born. She and Marc-Olivier were having a coffee in Saint-Henri when they saw a space available — the future home of Vin Papillon. They immediately called David and an hour later the sign "for rent" was removed.
"I had always wanted to open a wine bar, and so did all my partners at Joe Beef. When we took over the place, we decided to make that project a reality. It allowed us to work an even more comprehensive range of products from the winemakers represented on the menu. If a winemaker makes five vintages, having three different cards was exciting; we could offer some vintages by the glass, some by the bottle, keeping each card distinct and dynamic. It allowed us to really dive into the work and range of wines from each of our favourite winemakers. We also started working with magnums, which at the time were rarer, and this festive format was an instant hit!"
Vins Dame-Jeanne
In 2015, Vanya created the wine agency Vins Dame-Jeanne. The name is a nod to old bottle formats and practices of the past. Wine, before bottles and barrels, was transported in dames-jeannes, large capacity carboys. It's a tribute to that time and a sort of return to the roots.
"This time, I did it on my own terms. What I had started with Vinnovation — which is to defend the work of artisans and communicate with winemakers, to develop relationships of trust — I continued. I really see wine agencies as a long-term partnership between a winemaker and an international representative. It's certain that we can't be everywhere. I've been lucky enough to visit several places often, to follow up over several seasons and to establish great relationships, but I'm not closed off to other regions, on the contrary. There is nothing more exciting than tasting a wine in pre-fermentation and then seeing the eyes of the customer who tastes it when you uncork the bottle months, sometimes years later. It's like coming full circle. I feel very privileged to be able to observe that."
A very personal venture
Vins Dame-Jeanne is a very personal venture. Vanya wants first and foremost for the wines to spark something in her, for her to feel strong emotions for the products she represents, for the winemakers to become partners, friends, and accomplices, and for them to develop the market together according to each other's needs. "I want to further solidify my relationships and maximize the visibility of the winemakers I work with (about 60 at the moment). These partnerships are exciting! There is always something new, new vintages. These are people I love deeply. Sharing is what I love most about the wine world; it's a history lesson every time. The power in a bottle of wine is incredible. Problems are forgotten, and the world comes to a halt just with the energy a bottle gives off."
Mon Lapin
In 2018, Vanya opened Mon Lapin restaurant. It's a bit of a similar story as Vin Papillon; Vanya and Marco were having a coffee in Little Italy and saw a space for rent. "I had lots of sparks flying with this project, and I thought it was exciting to be invested in a new neighbourhood. I had been working on Notre-Dame Street West for 13 years, and I found it exciting to go and start something new, a new adventure!"
A smoother future
Vanya Filipovic and Marc-Olivier Frappier announced their departure from the Joe Beef Group — where she was head sommelier and Marc-Olivier the group's executive chef — returning from Italy in summer 2019. They gave six months to train their successors.
"I learned everything from the Joe Beef group. How to stay focused and extremely calm in dealing with the craziness. I was invested 1,000 percent. I've learned a lot about patience, human resources, and crisis management (which happens all the time!) over the years. With Marco, we thought a lot about our future and, while developing our future and all our responsibilities, we concluded that we needed to take a break to be able to invest in other projects. It was impossible at that moment to add anything else to our plate. We very well could have stayed there another 15 years and been happy, but we felt it was time to make some room, help the people that were there, and move on."
Casgrain BBQ
The year 2020 also brought some much less pleasant surprises. The arrival of the pandemic disrupted Mon Lapin's expansion projects and instead gave way to a new concept at the corner of Saint-Zotique and Casgrain, a delicious fried chicken joint called "Casgrain BBQ". Of course, there is also a wine offering including some great bottles of Vins Dame-Jeanne, a unique opportunity to get some great wine by the bottle. "It wasn't exactly how we envisioned our first year on St. Zotique Street, our big life change was in fact completely dominated by that awful pandemic. But it has allowed us to find ourselves creatively challenged and to create new opportunities. I'm not one to complain — we are some of the lucky ones. We had a great summer with amazing support from our clients and a dream team."
Written by Sophie Monkman
Photography by Alanna Hale