Dyan Solomon: Co-owner of Olive et Gourmando and Foxy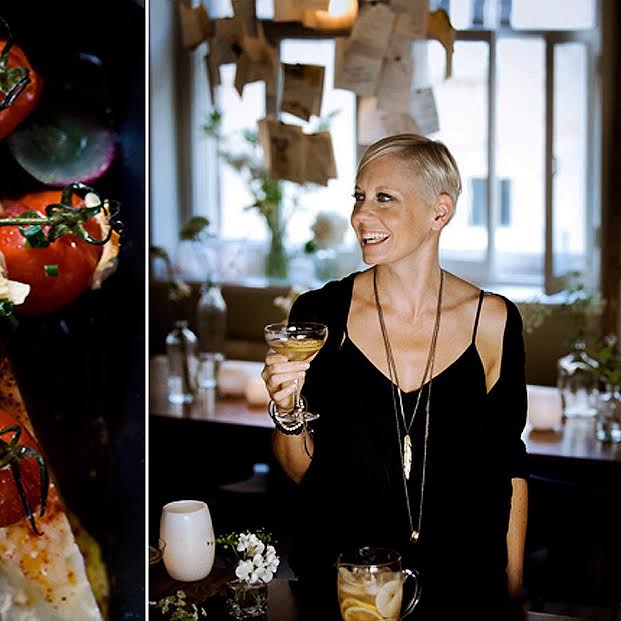 Dyan Solomon is co-owner of the renowned Olive et Gourmando cafe-restaurant. We spoke with this savvy businesswoman about her eclectic background and her latest venture, Foxy Restaurant.
Dyan Solomon's beginnings
First experience — At 14, Dyan asked her mother to help her find a job and got her first experience in cooking at a family friend's catering business. Dyan worked for two women chefs, where she learned the basics of her cooking: everything was fresh and homemade – the vegetables, sauces like mayonnaise or aioli, desserts, and more. "I thought it was normal at the time, but absolutely not. That experience shaped my whole career, changed the way I look at food forever. Those two chefs were doing things right, simple, everything 'just right'."
Her catering company — Dyan went off to study at McGill where she completed both her bachelor's and master's degrees in literature. While studying, she started her own catering company, which she ran out of her home; she catered for launches, meetings, and other events for the university. "I had turned an entire room into a giant walk-in fridge! My boyfriend at the time helped me, it was sick." (Laughs)
Resourceful chef — She went on to work as a chef for the tree planting reforestation program in Western Ontario. "I cooked from a bus, with no electricity, we even had to build a fridge in the ground! There were many constraints, but it was a great experience: I learned how to become a tough and resilient cook, how to respect budgets, how to prepare orders, how to preserve food and how to plan portions. I developed resourcefulness and strength of character."
Culinary school, Toqué
Toqué 1 — She then left to attend culinary school in Vermont and chose to do her first internship at Toqué. "I went to eat there with my dad, it was back in the day when they were on St. Denis Street. I fell in love with the restaurant. I wrote a letter declaring my love for the place, explaining why I absolutely wanted to work there, and gave it to Normand [Laprise]. He hired me." It was there that she met Eric Girard, her future business partner, who at the time was in charge of the Toqué's breads.
Boston and Corinna Mozo — She did her second internship at a restaurant in Boston for chef Corinna Mozo, who is now in Toronto. "At the time, this chef had been named Young Talent of the Year by Bon Appétit Magazine, so that was something." Dyan has always worked with a lot of women in the kitchen, and she enjoys it immensely: "It's such a macho environment; a kitchen full of guy's is not very nice. You don't have to yell or be mean to be understood. I think that's why I enjoyed working for Normand so much; he is so elegant, respectful and delicate in his work. I really admired him for that."
Toqué 2 — Dyan then returned to Montreal for Christmas and offered to help Normand with the holiday season. "I just never left. I don't know if I would've stayed in Montreal if that didn't happen, but hey, everything happens for a reason, right?" Dyan takes on the role of assistant chef of the garde-manger, the largest station in the restaurant. She became friends with the pastry chef who, when she left, referred Dyan for her position. "Normand sent me to intern at the Ritz Carlton in Washington, D.C., in pastry." It was upon her return that she greatly developed her relationship with Eric. An entrepreneur at heart, he told her about his desire to open his own bakery. "I told him he was crazy! Then he got an important scholarship. He was 25 at the time. And he convinced me to become a partner with him in this… Two months later, I left Le Toqué to open Olive et Gourmando.
Dyan and Olive et Gourmando
Olive et Gourmando — In 1997, Olive et Gourmando opened its doors as a tiny bakery. At the time, Old Montreal was empty; "it was almost scary, and creepy in the morning when we arrived." Eric and Dyan offered breads, some pastries, coffees, and cheeses. The place had five seats at the time, but supplied bread to places like the Globe and MED, restaurants that were popular at the time, but are now closed. "At one point, we were making sandwiches and BOOM! Everything was gone in two seconds. So we saw an opportunity. We made a stationary kitchen and specialized in lunches, offering small salads and cold sandwiches to go." In 2005, Olive et Gourmando doubled its space and stopped supplying restaurants. "We now only make bread for our own sandwich making." The place is now a Montreal staple; one of the best lunch spots in town.
After more than 35 years in the kitchen, Dyan still doesn't consider herself a chef. "I'm a very good cook and restaurateur, but not a chef. People throw that term around all the time. It takes decades of experience in the kitchen, with large brigades to be a 'chef,' and you still have to be in your cooking; people often forget that."
Foxy
Eric and Dyan had said no to a new project, but almost 20 years after Olive et Gourmando opened, they are embarking on a new adventure with the opening of Foxy.
Why Foxy? "The real reason is that five years ago, Eric and I separated. We had been a couple for 15 years, best friends, and business partners, but we broke up. We never argued and everything was done with respect, but it was a big change. Furthermore, we even waited eight months before telling our employees to prove to them that it wouldn't change anything. Everyone was sad. Eric is an entrepreneur and every time he wanted to do a new project, I was afraid it would affect our life as a couple. But we weren't a couple anymore, so I pushed him to do his thing. He wanted an evening restaurant, and I don't know how he did it, but he convinced me to do it with him!" (Laughs) They decided to establish themselves in Griffintown, not far from Olive et Gourmando, in a building with many charms.
As you've probably read elsewhere, Foxy is for Dyan's dog's name, "but our amazing chef is a redhead, and it goes with her personality. It's funny, it's light, it's a little silly, but our branding is thought-out, and it feels a little wild, woodsy, I really like it."
The food and people at Foxy
With chef Leigh Roper (ex-chef of Vin Papillon), incredible baker Marc-André Cyr, and top-notch cook Vanessa Laberge (Olive et Gourmando), Eric and Dyan will offer a winning formula. At Foxy, customers will eat as they would in the country; with lots of great products, all worked according to their nature, and all homemade — feta, yogurt, ice cream, sausages, pancettas, etc. As for the wines, they will be serving private imports and natural wines, especially from Dame Jeanne, Œnopole and Rézin. The style of cuisine is a mix of Eric and Dyan's with Leigh's, and all the cooking is done in the wood oven. "It keeps us limited and pushes us to be creative, but also not to be all over the place." A little wink to Dyan's reforestation camp kitchen. If the place decides to serve breakfasts, it will be so Marc-Andre and Vanessa can showcase their talents. The decor was designed by Éric and Dyan, and realized by Éric Filteau and his team from MO Design Workshop and Architecture. Everything was custom and homemade. Foxy is now one of the best restaurants in Griffintown.
"At the end of the day, I love the people, I love the craziness of the people in the restaurant industry, their personalities. It's such a stimulating environment." Thank you, Dyan for your contagious energy, for your generosity, and for your optimism. Thank you also for sharing your inspiring journey and best of luck!
NB: Foxy restaurant is located at 1638 Notre-Dame Street West – 514 925-7007. Open in the evening seven nights a week. There is also a Foxy counter at Time Out Market!
Written by Élise Tastet
Photography by Louise Savoie