Franck Putelat: Starry-eyed determination & creativity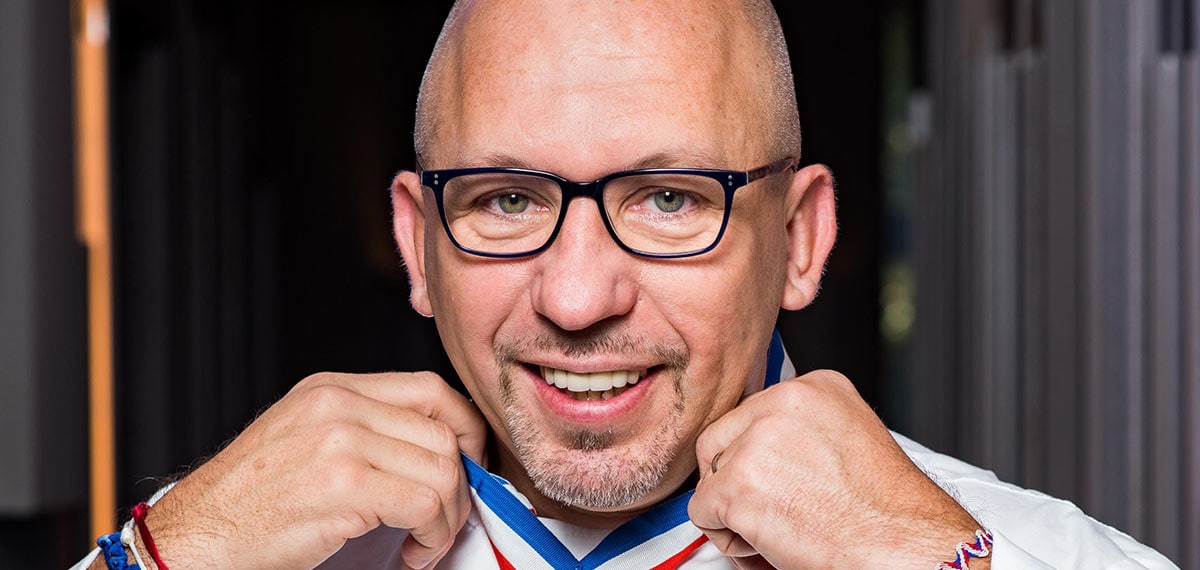 As part of the Montréal en Lumière Festival, Air France is once again presenting its Finest Tables, and is announcing that chef Franck Putelat will be at the Rosélys restaurant for two delicious evenings on February 28 and 29. For the 21st edition of the festival, thanks to Air France, 50 participating restaurateurs will be working around the theme Journey into a World of Flavours to offer exclusive and colourful menus to festival-goers.
From an early age, Franck Putelat dreamed of Michelin stars and cooking competitions. These dreams seem to have come true since, in 2003, the Jura chef won the silver Bocuse, and last year, he was awarded the very prestigious distinction of Meilleur Ouvrier de France. His gastronomic restaurant La Table de Franck Putelat has two Michelin stars.
Born in Mignovillard in the Jura region of France, Franck was raised in a family of cheese makers. Despite the abundance of cheese in the family home, Franck quickly and clearly stated that he did not want to follow in his parents' footsteps. Instead, Franck developed a keen interest in cooking as a teenager, when a friend of his shared his dream of becoming a chef.
Together, they dreamed of opening a restaurant for the local youth. With this in mind, they enrolled in the hotel school in Poligny. While his friend was accepted to the school, Franck's application was refused. Frustrated, he started his apprenticeship at the Centre de Formation d'Apprentis de Gevingey in the Jura. At the age of 16, Franck set himself two challenges: to work in starred restaurants and to succeed in cooking competitions.
Despite the audacity of his objectives, Franck wasted no time in reaching them. Still a minor, the young man left to a mountain village in the Jura region to apprentice at the Hôtel de France in Les Rousses, which had a Michelin star at the time. In the kitchen, he met chef Roger Petit who advised him to complete his education if he wanted to become a great chef.
In 1990, Franck took over the management of Pierre Carpentier's Auberge de Chavannes where he obtained his master's degree. He condensed his studies by sacrificing several hours of sleep and obtained his certificate in one year, whereas the curriculum provided for two.
His training now completed, Franck went to the army. He was then assigned to the kitchens of the Hôtel Matignon where he worked in the team assigned to the politician Michel Rocard. Here, Franck rubbed shoulders with Christophe Muller (executive chef of Paul Bocuse's restaurants) and Jean Chauvel (one Michelin star).
A large part of the team took over the prestigious restaurant Le Taillevent, a three Michelin starred establishment owned by Philippe Legendre, established a few steps from the Arc de Triomphe. He would spend a year and a half there before heading to Vonnas. In fact, Franck heard that Bruno Oger would be appointed chef at the Georges Blanc restaurant, which also had three stars, and that he was recruiting for his team. In 1991, Franck joined the team and, after only one year, was appointed executive chef. Franck was then barely 30 years old. He describes his years in the Auvergne-Rhône-Alpes region as absolute bliss as the 80 cooks under his command allowed him to freely explore his creativity.
After Georges Blanc, Franck Putelat's next stop on his journey was at La Bastide in Saint-Tropez. He did not hesitate to leave when he was approached by the team at the Hôtel de la Cité in Carcassonne. In 1998, Franck took over the management of the Languedoc. His beginnings at the Hôtel de la Cité were difficult as he was slow to find his bearings and his bases. The pressure was slowly building up while the star was slow in coming. Everything came to a head in 2002, when the restaurant obtained its first Michelin rosette. The following year, Franck won the silver Bocuse, just one point away from the gold.
The chef has never hidden his desire to open his own restaurant. In 2005, he acquired a plot of land at the foot of the medieval city. The following year, he announced to the administration of the Hôtel de la cité — after 10 years — that he was leaving to work on his own. In 2006, the restaurant La Table de Franck Putelat opened its doors.
Now at the head of his own project, Franck proposes a menu in his image and dictated by emotions. Very marked by the Jura and now offered near the Mediterranean coast, the dishes of La Table ebb and flow between land and sea. The chef describes his cooking as fictional, but he likes to revisit the great classics of French cuisine. You can savour the Tarbouriech oyster tartare, the duck foie gras bouillabaisse, and the beef tenderloin that earned him his silver Bocuse.
One year after opening, La Table de Franck Putelat was awarded its first Michelin star. In 2012, the second one arrived. The following year, Franck opened a four-star hotel that provides guests with an enveloping experience. Despite the Michelin recognitions and an established reputation, Frank still keeps his second youthful goal in mind: to succeed in cooking competitions. In 2019, he entered the Meilleur Ouvrier de France competition for the fourth time. He finally brought the palm home and proudly wears the blue, white, and red collar at age 50.
Today, Franck Putelat does not hide his hope to see his restaurant receive a third Michelin star. To do so, the Jura chef finds inspiration in risk-taking figures. He cites avant-garde chef Paul Pairet, for his ability to define and redefine fashions, as well as the legendary and late Joël Robuchon, chef and entrepreneur extraordinaire.
Montrealers will have the chance to taste Franck Putelat's cuisine on February 28 and 29 when the chef will be in the kitchens of Rosélys as part of the festival. At Rosélys, he will be reunited with a long-time friend, pastry chef Jean-Marc Guillot, who is also Meilleur Ouvrier de France. Franck invites you to come with an open mind to discover and be guided by his inventive cuisine.
Written by Inès Duguen