David McMillan: Surviving the apocalypse of the restaurant industry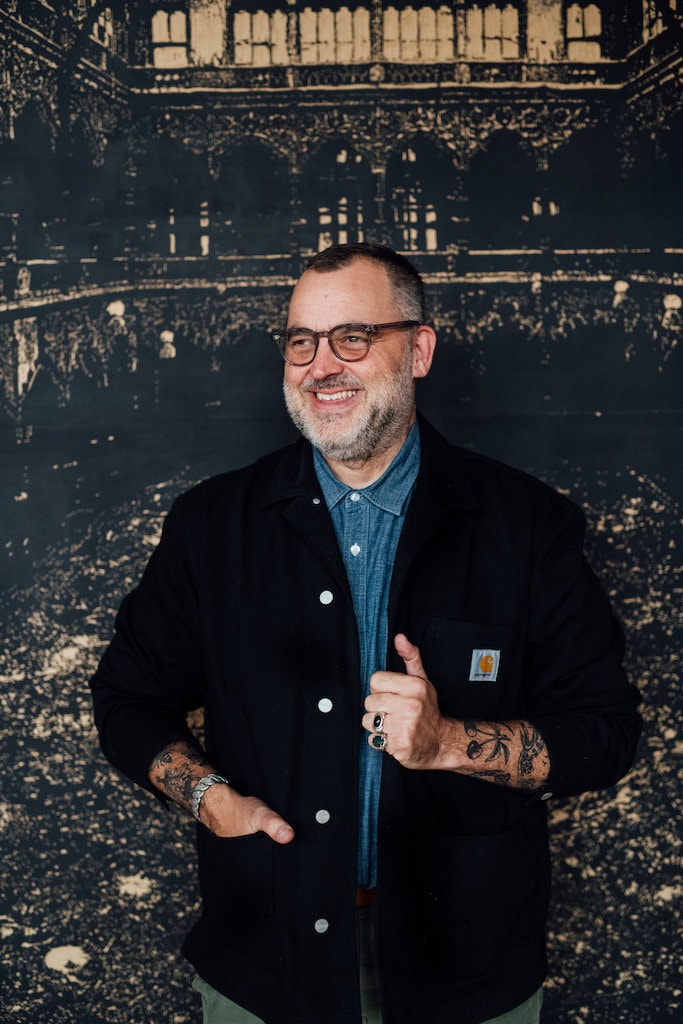 David McMillan is an important figure in the restaurant industry of Montreal. Co-owner and co-founder of Joe Beef, Liverpool House, Vin Papillon and McKiernan Luncheonette, the soon-to-be 50-year-old is known for his outspoken opinions that have earned him both praise and criticism. Beloved or not, he is largely responsible for an empire of five restaurants, writing two books, creating products sold in grocery stores around the world, and hiring more than 100 employees. Here is a portrait of an atypical, surprising, and touching businessman.
David McMillan is of Scottish and Irish origin and grew up on Montreal's West Island. At a young age, he was immersed in cooking and the love of creating meals. "Cooking has always interested me. My grandmother was an extremely good cook. She would often babysit me and cook cakes, breakfasts, snacks. She was an exceptional housewife and homemaker." He quickly became interested in the PBS Cooking Shows and Food Shows. "I watched them all and watched a lot of them. I was fascinated by those shows."
His first job in the kitchen was as a dishwasher at Le Péché Mignon restaurant in Sainte-Anne-de-Bellevue. Soon, David became more seriously interested in cooking and decided to make it a profession. In order to learn the basics, he decided to go to the ITHQ. "I don't give credit to the school for teaching me anything. I learned what I learned with my own resources. My real teachers were chefs who worked in real busy restaurants."
David McMillan's breakfasts at Le Caveau
David got his first job in the kitchen as a garde-manger at the late-night restaurant Le Caveau in downtown Montreal. Under the direction of chef Daniel Schandelmayer, he worked there while still in school. "The Lyonnais cuisine in the restaurant under this chef was incredible. It was exceptional classic French cuisine. It set the stage to what I do with Fred. What we do now is loosely based on that internship. It was one of the most impactful restaurants in my career." David started every morning at 6:45 a.m. and was in charge of the breakfasts. There, he prepared breakfast for many personalities: Daniel Johnson, Jacques Pariseau, Pierre-Marc Johnson, Pierre Trudeau, and many others. "At 7:15 a.m., the room was completely full and we were in the juice. All the politicians were coming for breakfast. I thought it was cool, I loved my job. I had the chance to cook for people I read about every day."
David went on to do several internships, including at Les Halles restaurant and Toqué! when Martin Picard was the chef. He then left to do an internship at La Crémaillère restaurant in Burgundy, before returning to Montreal and going back to school. "I guess I needed to learn more."
A tough learning curve for David McMillan
During his second round of school, he went to do an internship for Jean-Paul Thibert in Dijon. "I loved it. It was a very aggressive and abusive kitchen. There was a lot of yelling and we worked very hard." The 20-year-old David McMillan worked every day from 7 a.m. to midnight in that kitchen. "I was abused physically and mentally. At that time, I enjoyed it. I wanted to work in a very competitive kitchen. I know differently now, but at that time, I liked that military feel; that's what I was looking for and I got it there."
Nicolas Jongleux and David McMillan
David then returned to Montreal and worked for the late chef Nicolas Jongleux. "It was back and forth all over the place." David moved on to Le Cintra, La Cigale, Nicolas' Caprices and did a lot of back and forth between each restaurant.
A positive learning experience for David McMillan
Afterwards, he moved to the Pacific Coast to work at Sooke Harbor House. "That was a very important part of my learning curve. It was the West Coast, the people were nice in the kitchen, it was a bit hippy, everyone was much nicer, nobody shouted, there were plants in the kitchen and a lot of hugs. (Laughs)." The restaurant was right on the ocean and the menu was made up of very strict ingredients. "It changed my idea about cooking really." David learned the importance of working with the produce available in the restaurant's immediate environment and stayed at Sooke Harbor House for two years.
He then returned to Montreal and developed the idea of not working in the restaurant industry anymore. Why? "I was really tired."
The crazy nights at Globe
Things obviously didn't go as planned. He was offered a job as the chef at the now-defunct Globe restaurant, and he accepted. "It was a total mess, but it was still easy. I had a lot of experience and the place was a bit of a mess: they served pasta, sushi, it didn't make sense." David cleaned up the menu, fired a lot of staff, and started over. He fought to make his vision of cooking known to the owners: he had the chance, for the first time, to show what he was capable of. The influences of Nicolas Jongleux, Chandel Meyer and the Sooke Harbor were evident in his menu. It was also where he met Frederic Morin, who would become his business partner and one of his best friends. "The owners were nice, and I worked, worked, worked and worked some more. Everything I didn't like was removed and the address became popular. At the time, St. Laurent Boulevard was very cool and very competitive, there was the Mediterraneo with Claude Pelletier and the Primadonna with John Ledwell."
David McMillan stayed at Globe for a little over a decade, where he would work alongside Fred Morin to keep the kitchen running smoothly. "When Fred came to Globe, I was the chef, but technically we were always co-chefs."
Crazy nights at Rosalie and Globe
While David continued to run Globe, he physically left to open the same owners' new restaurant, Rosalie, which is also no longer open. He worked there for a few years. "It was a very expensive project. There were unbelievable debts, right from the opening. It was a very stressful job and I was really tired. I was physically and mentally exhausted, and I started having serious problems with my health, related to stress and anxiety. I never left the kitchen in my head, I was always organizing groups, making orders and reservations."
Because of the situation, David left the restaurant. "I was burned out." He took a year off and stayed home to spend time with his daughter and his wife, and try to recover. He suffered from major anxiety and stress and needed time.
Joe Beef for Fred and Allison
How did you find the Joe Beef space? "I used to go there for a coffee with Fred. It was called Joe's Cafe. We used to eat delicious sandwiches there. Joe wanted to sell. I never thought I'd go back to the restaurant industry, I wanted to go work with produce." (Laughs) Yet the space was very small — with a six-ring stove and a deep fryer — and located in a not-so-popular neighbourhood in Montreal. David decided to take the lease with Fred's wife Allison. The two pressured Fred to resign from Globe and start a project together. And, of course, it worked. David opened Joe Beef with Allison and Fred, assisted by Meredith Erickson, Julie Sanchez, and Vanya Filipovic. The result was surprising: what are they doing in this remote area? However, the small team managed to develop something unique. The neighbourhood quickly became one of the most popular in Montreal and one of the most famous for food lovers around the world.
"Everything that has happened and led to today is not what I wanted. I wanted to open a restaurant that served steaks and oysters, I'm just a cook. The sophistication of Montrealers has made Joe Beef what it is today. It's their extraordinary tastes that have shaped the restaurant." It's also one of the team's qualities: adapting to the clientele and knowing how to make their customers happy.
Meanwhile, the Joe Beef team opened the McKiernan Luncheonette next door, but quickly realized the timing was not right. The restaurant closed and instead they expanded Joe Beef's space.
Liverpool House to "piss off"
At the time, David was very angry with the ex-partners of his former restaurant and wanted to open a restaurant serving Italian cuisine: Liverpool House. At the time, Emma Cardarelli was in the kitchen and Ryan Gray was in the dining room. "It was complementary to Joe Beef. But we were never serious about it. It was to mess with them a little bit, but it quickly evolved into Dave and Fred's cooking that we know and the customers love." Within a year, the restaurant that started as an Italian restaurant became French. While Liverpool House was, for a long time, "the restaurant for people who can't get to Joe Beef!", it has, over the years, built a reputation as a friendly neighbourhood restaurant with French cuisine, easy-to-share dishes, and very generous portions. 
Many years passed with Joe Beef and Liverpool House, with both restaurants improving and gaining in popularity. David and Fred hosted some of the world's greatest chefs and celebrities and became friends with world-renowned chefs including Anthony Bourdain and David Chang. Soon, the whole world was talking about Joe Beef and, by extension, Montreal.
Vin Papillon to complete the offer
"I always wanted to open a wine bar, but I wasn't ready for that kind of thing. A lot of customers would come in and just eat the Joe Beef appetizers. Both of our restaurants were very male-oriented." With Vin Papillon, the group succeeded in proving that they can create delicate and delicious small plates; a more feminine version of their other two addresses. Critics praised the restaurant and customers flocked to it.
McKiernan for Chris and James
So why did you open McKiernan, and what did you like about it? "Again, nothing. I have to be brutally honest again, but I'm very happy with the three restaurants on Notre Dame West. I'm not looking to open any more restaurants. But you have to understand that there are talented young people inside the company who will either leave and open their own business or you work with them to become a partner. Here, I am only a financial partner and I give my opinion. All the hard and heavy work of this address was done by Chris (Morgan), James (Simpkins), Derrick (Reinhardt) and Derek (Dammann). In this project, I'm also very happy to be working with Derek Dammann; it makes so much sense. I always thought he should be in the Joe Beef group."
A second book for Meredith
"You have to be careful, I can't put myself in a position where I'm ruining my life with too many things. I already fucked up in my life before. I know what it's like to have mental health problems, to not be well. Preserving my mental health and happiness is much more important than my wealth."
In 2012, the Joe Beef team wrote a first book that was a hit. Why write a second book now? "Meredith has a wonderful career in writing and she saw a window of opportunity. Writing the book is fun, but all the press, what we're doing here, I don't like it. I'm very, very, very busy in November and I have a hard time managing. I like not having 35 things to do, I like when my schedule is free, my days are free and I can enjoy my kids. I'm not complaining, but it's intrusive. Always speaking about yourself is not easy and it feels wrong."
What's so great about this new book? "It's not a cookbook, it's more of a book about cooking in general, about understanding tradition, culture, the time and place." 
Surviving the apocalypse according to David McMillan
What can we wish you for the future? "Basic things. No drama. I would like everything to go well. I would like to open a restaurant for Arie (current chef at Liverpool House), for people around me to be healthy and happy… It's been a tough year, we lost Tony (Anthony Bourdain) and John Bill. I've also dealt with my many addictions over the years — food, wine, drugs — but I've settled in. I worked hard, but I am in a better place, I am seeing things a bit clearer. I lost a lot of weight and got my health back, but it all starts with psychology, mental health, and stopping substance abuse."
"My job today is really to ensure the mental health of the team and keep the work environments positive: lots of jokes, a light atmosphere, etc. That's really important. Working with the kids is great, but I can't cook anymore, I have to look at the business as a whole. Every restaurant has its chef and managers, and from where I sit today, it's a business. My responsibility is to make sure everyone is happy. It's to maintain the culture of the company, to value kindness, seriousness about work. Understand it is food and wine first. And not to take ourselves too seriously. I'd like to have a farm one day, maybe a small restaurant of my own, I'm working on that right now…"
David McMillan acts like he doesn't care about a lot of things, and that may be true, but looking at the perspective of his professional life, it's clear that everything has been built for the people he cares about around him. His restaurants are certainly known for their great food, but their success is also and perhaps primarily based on the unique hospitality found there, and it all starts with the teams and staff. All the young people around him and with whom he works have a remarkable admiration and respect for the businessman, as do his long-time customers. We can't wait to see what he does next!
Written by Sophie Monkman
Photography by Alison Slattery