Jeffrey Finkelstein: The six-star baker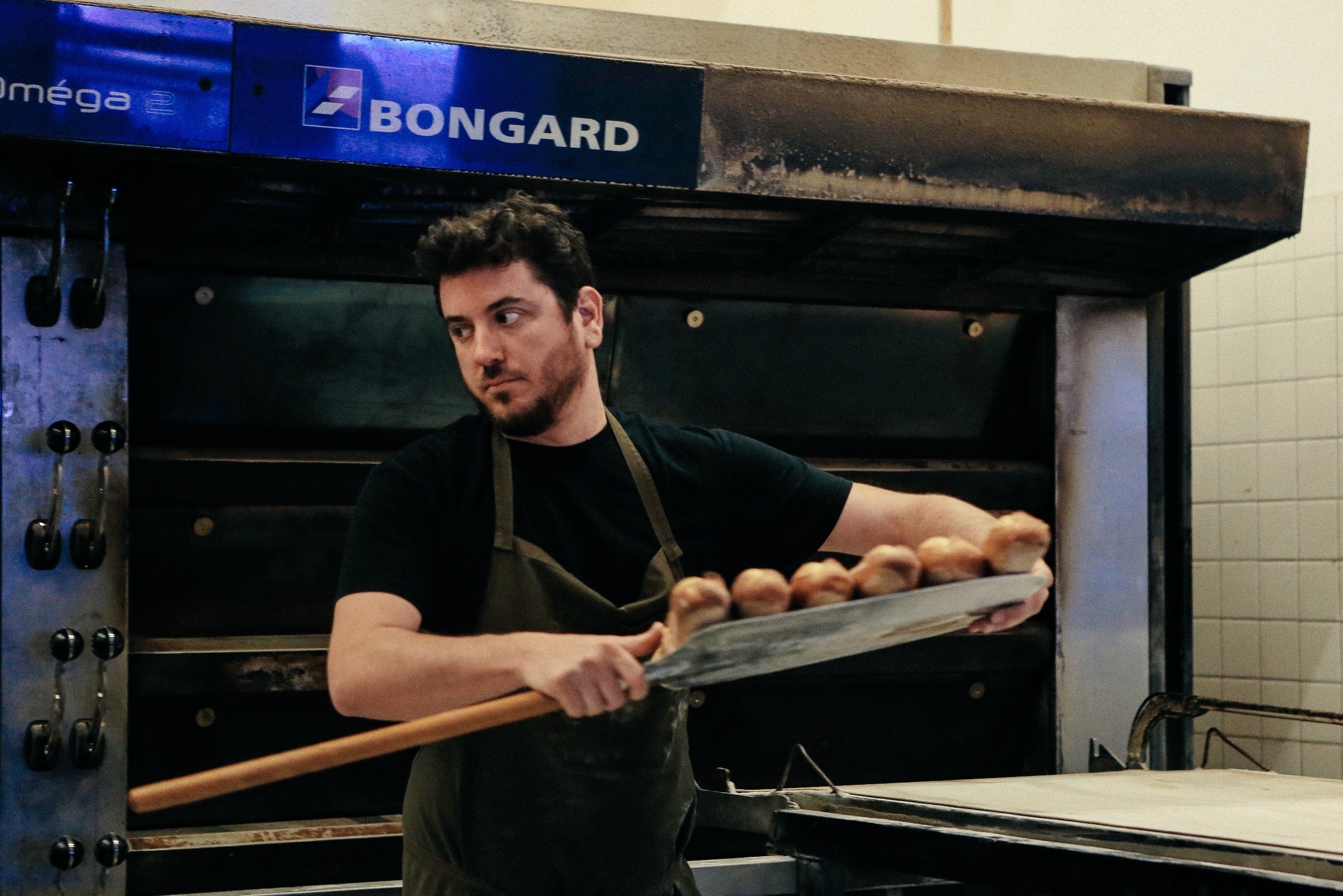 Jeffrey Finkelstein is one of Montreal's top bakers and his background is one of the most impressive.
"I grew up eating rye bread and bagels for breakfast. It's still my favourite meal."
The first cook who inspired Jeffrey Finkelstein was his grandmother. "She cooked from scratch and knew the butchers by their first names. She instilled in me the importance of culinary tradition, of sharing meals. Her execution of dishes and attention to detail was also always perfect, which I deeply admired."
Jeffrey Finkelstein, like his grandmother, is very detail-oriented. This is most definitely one of the factors contributing to the success of his bakery, Hof Kelsten.
Jeffrey began studying Anthropology at Concordia, but didn't complete his studies. He was 18 and had no idea what he was going to do, so he decided to travel in India and become a vegetarian – it would last 7 years. In university, Jeffrey "had fun" with the stock market, where he both made a lot of money, and lost a lot. To make his money back, he started working at Zyng's restaurant – "they didn't need a waiter so they put me in the kitchen. After that, I worked at the glamorous Pasta tutti giorno chain!" (laughs) Jeffrey then made a short stop at the restaurant Le Petit Italien before leaving to travel again.
Jeffrey left for a year and worked all over the world – "and then one day I was in Mauritius reading Anthony Bourdain's Kitchen Confidential and decided I wanted to do this with my life. I enrolled in The French Culinary Institute of New York and flew directly to New York. I was on a mission. "There, he dabbled in everything, but particularly learned basic techniques and French cuisine.
He then left to intern at the opening of the three Michelin-starred restaurant Per Se as an intern. "There, I learned that I knew nothing!"
After the internship, Jeffrey worked as a garde-manger at Toqué!, where he handled oysters, salads, raw fish, and more cold foods. "Charles-Antoine Crête was my boss. He was the sous chef at the time. It was intense." There, he learned how to work in a fine dining restaurant and how to work with a large team. "The products used at Toqué! are some of the best in the world. I've worked in a lot of places and I've never seen such outstanding product quality."
Jeffrey then left Montreal to go on a road trip to California where he had an internship at French Laundry. There, he wanted to learn more about gardening and butchering. "So I spent a lot of time in the garden and with the butcher… Being around these people is a big part of why you do what you do. I wanted to learn so badly. I spent a lot of time watching. I was around so much that I even helped Thomas Keller move books from his library! It was crazy."
After that, Jeffrey applied to every Michelin Star restaurant in the world. The only responses he received were from England. "And I don't know if you know, but I was actually sending real CVs… I was looking up addresses, printing my CVs, sending them through the mail – 'the actual mail' – and waiting for a response."
Jeffrey received a response from Gordon Ramsay's Royal Hospital Road restaurant, Tom Aikens, and Claude Bosi at Hibiscus. He chose the Hibiscus restaurant. "At the time, there were very few Americans or Canadians working in good kitchen positions in Europe. I was very proud to get the job of chef de partie, and even more proud to become a junior sous chef. At that time, it was a big deal." Jeffrey worked for a year and a half alongside his boss; he never cooked without him. When he put his first dish on the menu for the first time, he was thrilled: "But then again, I learned that I knew nothing. And I tried to learn everything." 
After accomplishing what he wanted, he decided to leave Hibiscus and learn more about pastry. He met Oriol Balaguer at a conference on the great chefs of Europe and "I then followed him to Barcelona, with the goal of one day working at El Bulli restaurant!" Jeffrey found more pleasure working there, as he was older and found his footing more quickly. He also discovered a great interest in pastry making. He learned the techniques of the art, as well as how to make perfect chocolate mousses, chocolate and pastries.
And then Jeffrey's dream came true: he was accepted at El Bulli. "Unlike Oriol Balaguer, El Bulli had no rules. I was surrounded by the most creative people in the world and it was amazing! There were about 60 of us in the kitchen from all over the world. The bonds created during this period are very strong. There, I wanted to see what makes the best restaurant in the world the best restaurant in the world. I understood that it is creativity, marketing, innovation, and hard work. They were very focused on all of that."
After this intensive internship, Jeffrey went to work at Noma for a week. "No one knew about the place at the time, but I knew it would be one of the best restaurants in the world. Rene Redzepi was pushing the creativity to the max while maintaining his finesse and accuracy in everything. After a week, to thank me, we went for a beer together. The timing was incredible, I could never do that with him today. But I realized that I didn't want to do this for other people anymore, I wanted to do this for myself."
Jeffrey's friends, however, warned him of the crisis and told him not to come back: with the crisis, haute gastronomy was dead. At the time, great restaurants like the Raza, Les Chèvres and Anise were closing their doors. "I still came back. But my dream of opening a gourmet restaurant was over and I was very poor. I went back to my mother's house and hid for a while… (laughs) I had no idea what I would do and it scared me. I wasn't ready to make a decision: I was hyper-qualified in gastronomy and no one wanted it."
For fun, he started making bread and took samples to restaurant friends. Then one day, his friend Alexander Baldwin challenged him to supply his restaurant Dominion Square Tavern. "It was kind of like a dare… And obviously it worked."
Hof Kelsten Bakery offers some of the best bread and pastries in Montreal. It also has some of the best babka. And all sorts of other exceptionally well-made products. Jeffrey Finkelstein has taken his knowledge of fine dining and applied it to a simple product that everyone uses. He succeeded in putting Montreal bread on the international gastronomic map! He wanted to do few things, but do them well, and he succeeded. To this day, Hof Kelsten is one of our favourite places in town. We send tourists there and bring our hungry friends, and it's always a success. Simply put, Hof Kelsten Bakery is remarkable; just like its baker. Do you plan on opening anything else in the near future? "I hope so!" 
In May 2017, Jeffrey opened Foodchain in Montreal!
Written by Élise Tastet
Photography by Paul Labonte