Cabane d'à Côté: Au Pied de Cochon's country-dining experience all year long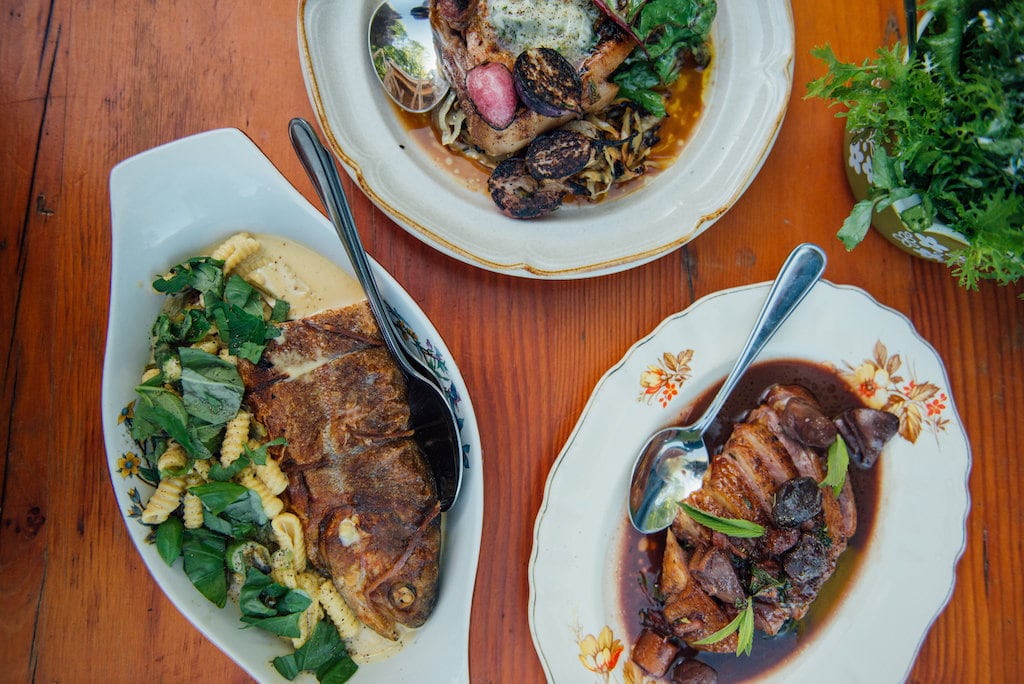 Au Pied de Cochon's newest sugar shack has opened in the Mirabel region. This second location, "la cabane d'à côté", is serving simple but classic, and very well-made Quebec country cuisine and offers a continuous country-dining experience all year long!
"Because everyone always talks about 'the house next door', we figured that by calling this new sugar shack la cabane d'à côté, it would also work, and it does. We bought the property six months ago and have been working on this project ever since, so I've really been looking forward to the opening," says Vincent Dion Lavallée, co-owner of this venture. The two other co-owners are Martin Picard and Marc Beaudin (au Pied de Cochon, and its nearby Cabane à Sucre), but it's the charming Vincent who is in charge of this new project. Not only had Vincent worked at au Pied de Cochon for some years, but in recent years, he has been the chef at La Cabane à Sucre. "We had the opportunity to buy the land next to the cabin which includes an orchard of maple trees which in turn, means more taps for syrup. When we explored the property, we saw what a beautiful location it was and decided to build another sugar shack, but this time we wanted it to be completely different. This is about enjoying ourselves and doing things well. Our goal is to produce at least 50% of our own food and become a place that is known for serving rustic, country cuisine."
"Our wish here is to focus on the land and build on its connection to au Pied de Cochon. This is an opportunity to slow things down, so we've pretty much bought ourselves an adventure. In order to preserve a traditional-style operation, nearly all the cooking is done with an evaporator using wood or with our Bélanger wood oven, not directly over the flames, but just about."
Cabane d'à Côté could be your friend's cabin and after walking through the door, you find yourself facing the kitchen. It's a cabin and the decor reflects this with its simple surroundings like the wooden-panelled walls, and is the result of a team effort. The adjacent dining room features four large revamped picnic tables with room for 38 people. "This is what happens when friends and family come together to create such amazing surroundings. We took the old tables from La Cabane à Sucre and refurbished them with additional table sections to make them larger. There is even a section down the middle designed around pulling taffy." The Bélanger oven is a real eye-catcher and we like the large windows that let in the natural light plus the mix-matched plates and dishes. It's all very rustic, cozy and friendly.
If you want to stay overnight, the main house beside Cabane d'à Côté sleeps 14, and can be rented at $1000 per night, the perfect solution to a boozy evening! "We host around 300-350 guests per week, not 2000, which means the atmosphere here is quite different." The idea behind the menu is to serve simple dishes that are well made, recognizing that simplicity is more often than enough, more difficult to achieve. The two talented young chefs behind these dishes are Camille Bletton (ex Kadeau [a two-star Michelin restaurant in Copenhagen], Cabane à Sucre from au Pied de Cochon) and Clément Boivin. They are joined by Catherine Ouellet and Mélanie Terziyan. The menu changes with every season, depending on what is growing. "We only prepare what's available. The most incredible thing about our location is that you get to choose from what's around you – Mother Earth is our pantry. It can't get better than this." For $56 you get a dozen main courses. These can include veggie soup, bison tartare, asparagus with morels, trout with herbs, pig, duck and much more. These are classic dishes that have been expertly prepared with much care and much butter! And it's all delicious.
The smooth running of the dining room is covered by everyone. Jean-François Fournier is responsible for the wine and cocktail menu. There are numerous wine options for all tastes and all prices, and the cocktail choices are determined by what is on the menu and the time of year. Right now, the classic cocktails are being pumped up a notch or two, and there are also cocktails samplings to share.
"I'm always proud when people come in and I am very much aware that they are being welcomed by me into our 'home'. I'm also proud of the teamwork because alone, you're nothing. Everyone here has an essential role and continues to be closely involved in this project, and I believe that this stands out when you walk in. It's small, intimate and customers can tell that we're enjoying ourselves."
If you are looking for an evening of Quebec gastronomy that is exceptional, then head for La Cabane d'à Côté. For $56 per person, we can think of few comparable experiences. We can't say enough about the people behind au Pied de Cochon whom we know and love very much. They have invested much love and effort into La Cabane d'à Côté, and it will undoubtedly become one of Quebec's essential dining destinations. To book, click here.
Nb. Chef Camille Bletton is a member of the Tastet family – so we have to admit that we are probably somewhat biased!
Written by Élise Tastet
Photography by Alison Slattery