Spicy Sicilian Squid from Maison Publique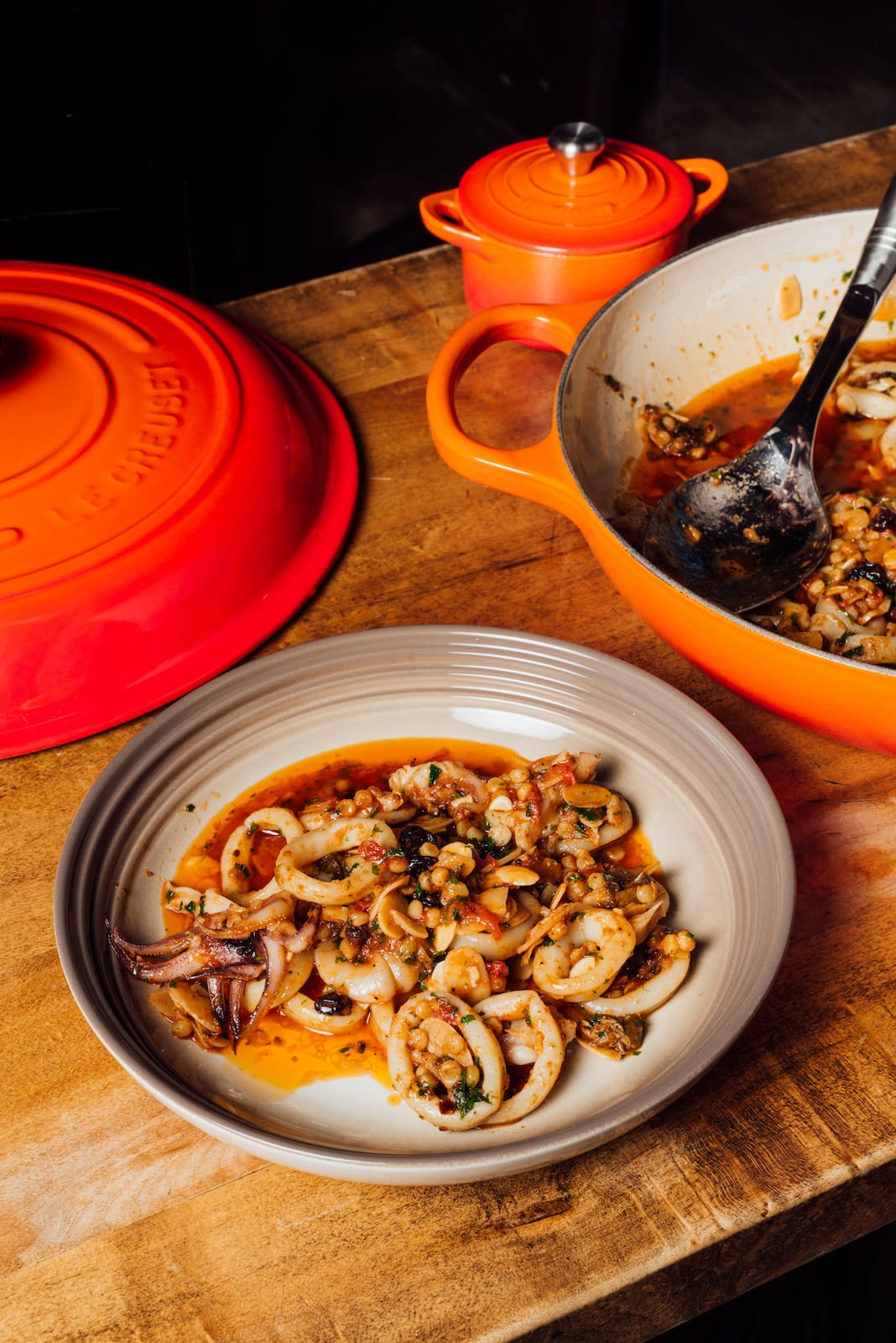 The recipe for Spicy Sicilian Squid from Maison Publique is a perfect recipe for busy epicureans. In fact, if everything is ready, this dish can be prepared in 3 to 5 minutes! The recipe is from the friendly and talented chef Derek Dammann, who drew rave reviews when he was at DNA (which has since closed). He brought this recipe to Maison Publique because it is a sure-fire hit.
Maison Publique is one of our favourite restaurants in Montreal. They make generous and tasty dishes in a cozy atmosphere. The service is friendly and full of bonhomie, just like the owner. The house serves dishes that adjust to the seasonality of Quebec products, but you will always find a lot of love and taste in each plate.
The chef has given us two little tips to succeed with his recipe for Sicilian-style squid: "It is very important to make sure that your squid is dry – paper towels are all you need. It's also very important to use a large, heavy-bottomed pan and not fill it with all the ingredients, as it could get cold and boil it all into a soup! Other than that, it's very easy".
Maison Publique's Spicy Sicilian Squid
Serves: 4
Preparation: 30 minutes
Cooking: 5 minutes

Ingredients
Tomato Sauce 
One 14 oz can of good quality whole tomatoes. (I use the Bianco brand).
6 oz of good quality tomato paste. (I use Mutti brand).
2 tablespoons of extra virgin olive oil
2 sprigs of fresh basil
2 teaspoons dried marjoram
½ teaspoon garlic, grated on a microplane
1 bay leaf
2 teaspoons kosher salt
Squid
¼ cup extra virgin olive oil
2 tablespoons slivered blanched almonds
2 tablespoons dried currants
2 tablespoons small capers
1 tablespoon red pepper flakes
3 cloves of garlic, thinly sliced
1 strip of orange zest (with a peeler, not a microplane)
1 cup fregola, cooked just short of al dente
2 lbs. squid, clean and cut into ¼ inch rings, dried on paper towels
Kosher salt and black pepper to taste
1 cup white wine (never chardonnay)
2 cups basic tomato sauce (recipe follows)
3 tablespoons of chopped Italian parsley
High quality olive oil to finish the dish
Flaky sea salt
Method
Tomato Sauce 
Mash the tomatoes (out of the can) as best you can with a fork.
Combine all ingredients (including the ½ can of water used to rinse the can of tomatoes) in a heavy-bottomed saucepan and bring to a boil.
Simmer the sauce for 30 minutes, until it thickens slightly and the flavours blend well.
Taste and adjust seasoning.
Let cool, then remove bay leaf and basil sprigs.
Squid
In a large, heavy-bottomed sauté pan, heat the olive oil over medium-high heat until you start to see wisps of smoke.
Add almonds, currants, capers, chili flakes, garlic and orange zest all at once. Stir quickly with a wooden spoon until the almonds begin to toast and the garlic is barely browned.
Add the fregola and squid all at once and season with kosher salt and freshly ground black pepper.
When it starts to sizzle, add the white wine and bring to a simmer for 30 seconds before adding the tomato sauce.
Stir the sauce into the squid mixture, bring to a simmer and taste for seasoning. Adjust if necessary and add chopped parsley.
Transfer to a decorative serving dish, drizzle generously with olive oil and add a few sprinkles of sea salt.
Note/Variation
You'll get more sauce than you need for this recipe, but it freezes very well and is very versatile.
The Braiser's thick enamelled cast iron bottom and wide shape makes it the perfect piece to follow the Chef's orders. Plus, it's spacious enough to simmer your sauce and assemble the dish.
Enjoy!