Anita Feng's Jiao Ma chicken recipe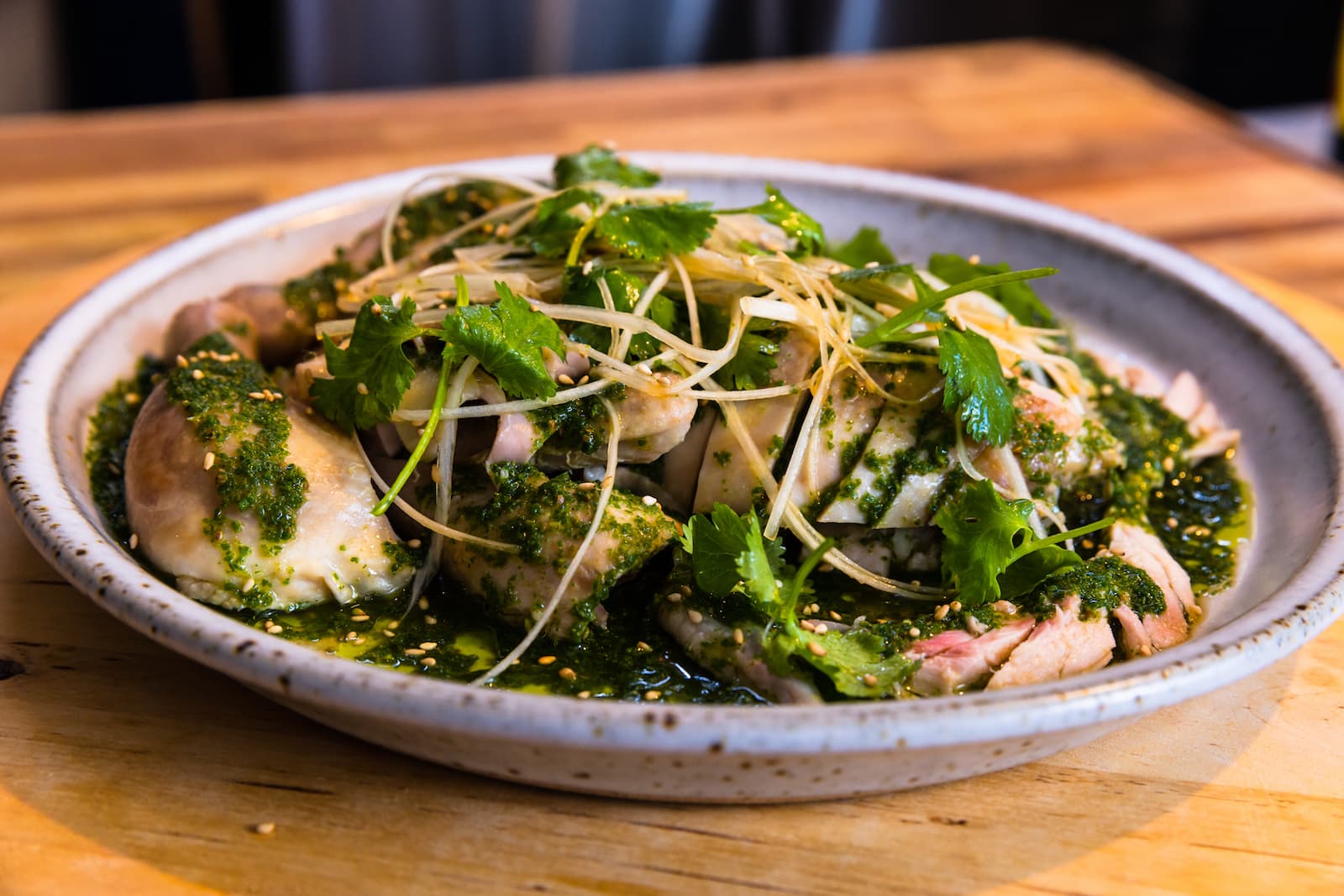 Looking for some culinary inspiration? Look no further! Chef Anita Feng presents you today with a recipe that will shake things up from the traditional Sunday rotisserie chicken. In collaboration with Poulet du Québec, Tastet and Anita Feng have invited themselves into your kitchen to give you a taste for chicken like you've never had before, with a typically Szechuan recipe called "Jiao Ma chicken" that uses an uncommon cooking method.
After conquering the hearts of Montrealers with her thousand and one Szechuan flavoured pop-ups across the city, Anita Feng is about to open her own restaurant "J'ai Feng" which is shaping up to be one of the most anticipated openings of the year.
Quebec chicken can be served in our everyday meals as well as for special occasions. Ideal for entertaining, a chicken dish is synonymous with conviviality and sharing… but also with eating local! In fact, since the beginning of the pandemic, buying local has become a major concern in Quebec households and poultry is no exception. It is more important than ever for consumers to know that their meat comes from caring local farmers.
Chicken is ubiquitous across the world, and is unsurprisingly a unanimous favourite. Portuguese, Indian and North American recipes are widely available, but chicken prepared according to traditional Chinese recipes is less so. This is why we are introducing you today to flavours and cooking methods that are not very common in North America, promising a trip for your taste buds!
Anita Feng honours both Chinese traditions and Quebec chicken with this recipe that makes us fall in love with this protein all over again. While the cooking method, specific to Anita's cooking, may be far from all the methods we know, it gives a unique and different texture to the chicken. Less delicious at first glance, the poached chicken defies any apprehension we may have had about this cooking technique. And it is only more succulent to taste thanks to this Jiao Ma sauce.
Jiao Ma chicken is easily shared as a main dish. It can be served with rice and any other side dish that you like.
Enough talk, let's hear from the professional: "Jiao Ma is a unique flavour of Szechuan cuisine. The combination of Szechuan pepper and green onion gives it a fresh, floral and aromatic feel. Contrary to popular belief about Szechuan cuisine, this dish is not spicy. This is an example of a dish that stands out because of its flavour. Anita adds that the Quebec chicken, a quality meat that is ideal for small or large tables, gives the recipe a delicious and unique texture. It's the perfect combo of ingredients for an explosion of flavours!"
Jiao Ma chicken
Cooking: 35 minutes

Ingredients
Brine
1kg of whole Quebec chicken with skin
30 g ginger, coarsely crushed
75 g green onion, white part cut into pieces. Reserve the green part.
1 tbsp. red Sichuan pepper
2 liters of water or until chicken is covered
120 g salt
Poached whole Quebec chicken
2 liters of water or until chicken is covered
30 g ginger, coarsely crushed
75 g green onion, white part cut into sections. Reserve the green part
1 tbsp. red Sichuan pepper
2 tsp. turmeric
20 g dried chillies
3 tbsp. rice wine
1 tbsp. salt
Jiao Ma sauce
½ tbsp. red Sichuan pepper, dipped in cold water
80 g of green onion which has been reserved
1/4 cup of canola oil
3 tbsp. light soybeans
1 pinch of sugar
1 tsp. salt
1/2 cup cold water
1 tbsp. sesame oil
Other
30g leek (white part julienned to dip in cold water, dry, and reserve)
2 stems of coriander, leaves removed
Sesame oil to taste
Soy sauce to taste
Sesame seeds as garnish if desired
Method
Brine
In a bowl, mix everything together and leave the chicken in the brine for 4 to 8 hours (depending on the size of the chicken) in the refrigerator.
Poached chicken
Remove the chicken from the refrigerator, remove from the brine and bring to room temperature for 20 minutes.
In a saucepan, add all ingredients — except chicken — to  a boil.
Add the chicken to the broth and bring back to a boil. Turn off the heat and let the chicken sit covered in the broth for 35 minutes (for a 700g chicken, allow 15 minutes of cooking time). Check the cooking of the chicken by inserting a thermometer until the temperature reaches 165 F.
Remove chicken from pot and place in ice water for 5 min.
Let dry for 15 minutes.
Jiao Ma sauce
Drain the red Sichuan pepper and separate the black peppercorns from the red husk. Arrange black peppercorns.
Chop the green onion and red Sichuan pepper into a fine paste. Add the paste in a bowl.
In a small saucepan, add canola oil and heat to smoking point. Pour the hot oil into the bowl with the green onion and Sichuan pepper mixture.
Add the rest of the ingredients on top of this mixture and taste as you go to adjust the amount of salt.
Assembly
Cut up chicken pieces and place on a large plate. Pour the sauce over the chicken and marinate for about 15 minutes before serving.
Combine leek and cilantro in a bowl and drizzle with sesame oil and light soy sauce to taste. Place on top of chicken and garnish with sesame seeds if desired.