Joon's Braised Eggplant Stew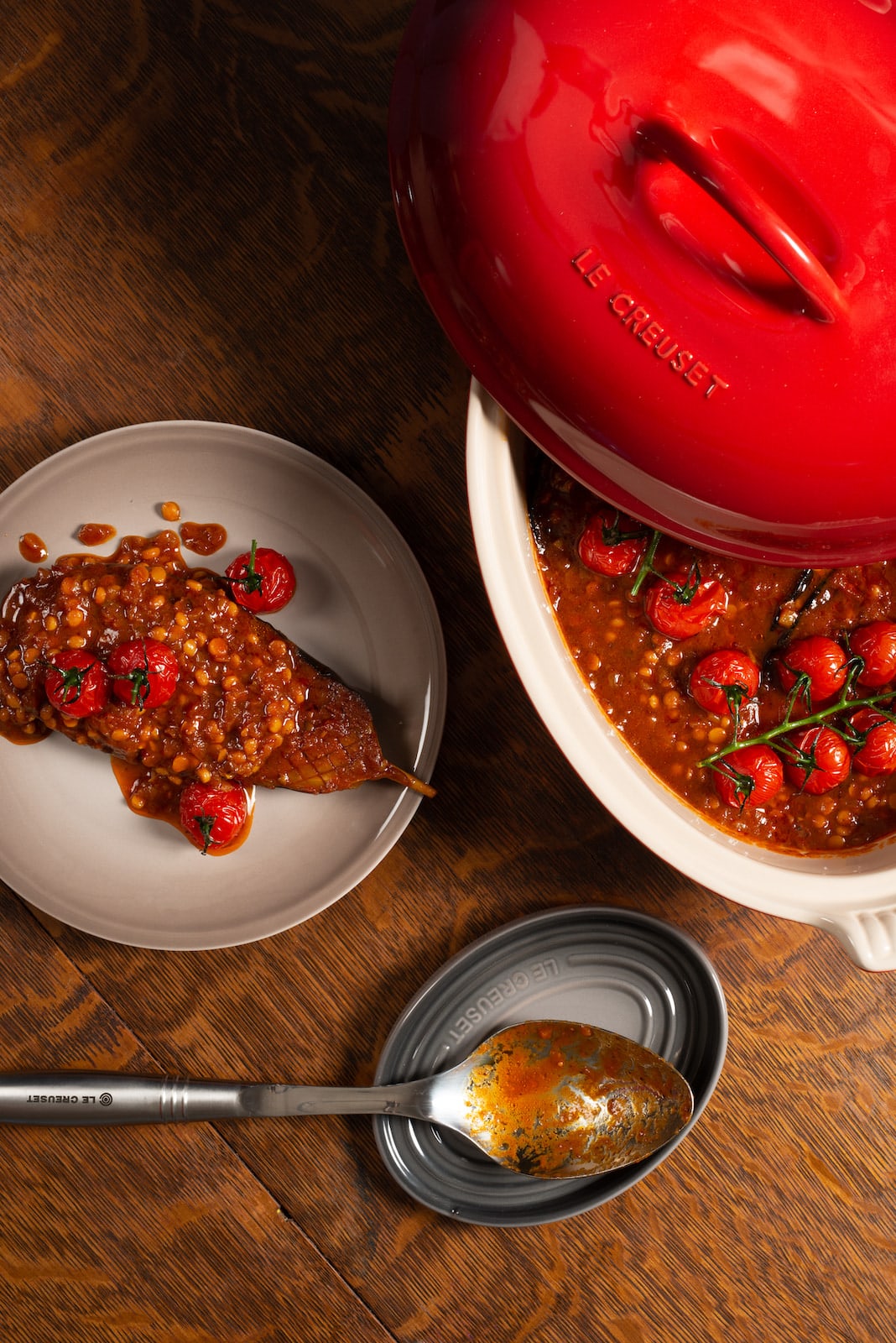 It is with great pleasure that we present to you Joon's Braised Eggplant Stew recipe. Joon was one of the most anticipated restaurant openings of 2020. However, the official opening of the Little Italy restaurant was constantly postponed due to the pandemic. Behind this project is chef Erin Mahoney; who we know from her years at restaurants like Le St-Urbain, Impasto, and La Bête à Pain. Due to the pandemic, government restrictions, and successive closures and reopenings over the last two years, Joon sadly closed its doors for good in February 2022.
This Braised Eggplant Stew recipe is a tribute to the chef's excellent cooking and Persian cuisine.
"Traditionally, this Iranian stew is made with meat as well as eggplant. However, I find that it lends itself perfectly to a complete vegetarian meal, and you'll never miss the meat." explains Erin.
Thank you, Erin, for this delicious and comforting recipe. Every time a Tastet reader makes your recipe, they will think of Joon, and all of your admirable work.
Long live Persian cooking!
Braised Eggplant Stew
Ingredients
600-700 g (approx 3 to 4) mini eggplants/Italian eggplants
100 g yellow split peas
300 g sweet onion, diced
12 red cherry tomatoes on the vine
250 ml quality tomato purée, not too liquid
½ teaspoon cinnamon
½ teaspoon black pepper
1 teaspoon turmeric
½ tablespoon salt, or more to taste
1 tablespoon lime juice, or more to taste
2 cloves garlic, chopped
200 ml sunflower oil from Quebec
Optional: 1 good pinch of saffron crushed in a mortar and rehydrated in 1 tablespoon of warm water
Method
Cooking split peas
Cook split peas in 500 mL of water until tender but not fully cooked.
Skim as needed.
Depending on the brand or even the age of the split peas, it can take anywhere from 15 minutes to sometimes 45 minutes to cook. Check frequently for doneness.
When peas are tender, but still al dente, drain and set aside.
 Sear the eggplant, caramelize the onions and prepare the sauce
Wash the eggplants and cut into fairly small halves. Set aside.
Heat a drizzle of sunflower oil in your favourite casserole dish over medium heat.
Brown your cherry tomatoes (always on the vine, no big deal if a few fall off) and set them aside; they will be served as a garnish at the end.
Add the remaining 200 ml of sunflower oil and heat over medium heat.
Start browning the eggplants (sometimes the eggplants can absorb a lot of the cooking oil; add more if needed to get a nice browning on the pieces). Set aside.
Caramelize the onions in the same oil until they are soft and golden.
Add the chopped garlic and spices and sauté a little.
Add the tomato purée and 2 cups (500 mL) of water.
Bring to a boil, add the salt, and reduce the heat to a gentle simmer for 45 minutes in a 325˚F oven or on the stovetop.
Assemble
Add the split peas and gently drop the eggplant into the sauce
Cover your casserole dish and finish cooking for 20 minutes, until you have a rich, but not too thick sauce. At this point, the peas will be tender and the eggplant will be cooked.
Add saffron (if using), lime juice and salt to taste.
Garnish with the cherry tomatoes and serve from the oven to the table directly with the side dishes of your choice.
Side dishes suggestions: good fresh bread, a green salad or basmati rice. Garnish with salted yogurt, pickles, fresh fine herbs and feta cheese
Note/Variation
Chickpeas can be used instead of split peas for a less traditional twist
Lift the lid on the Heritage Oval Casserole to reveal a delicious sight! Rich and flavourful braised eggplant cooked slowly and served right from the dish.
Enjoy!