Masami Waki: The art and finesse of pastry making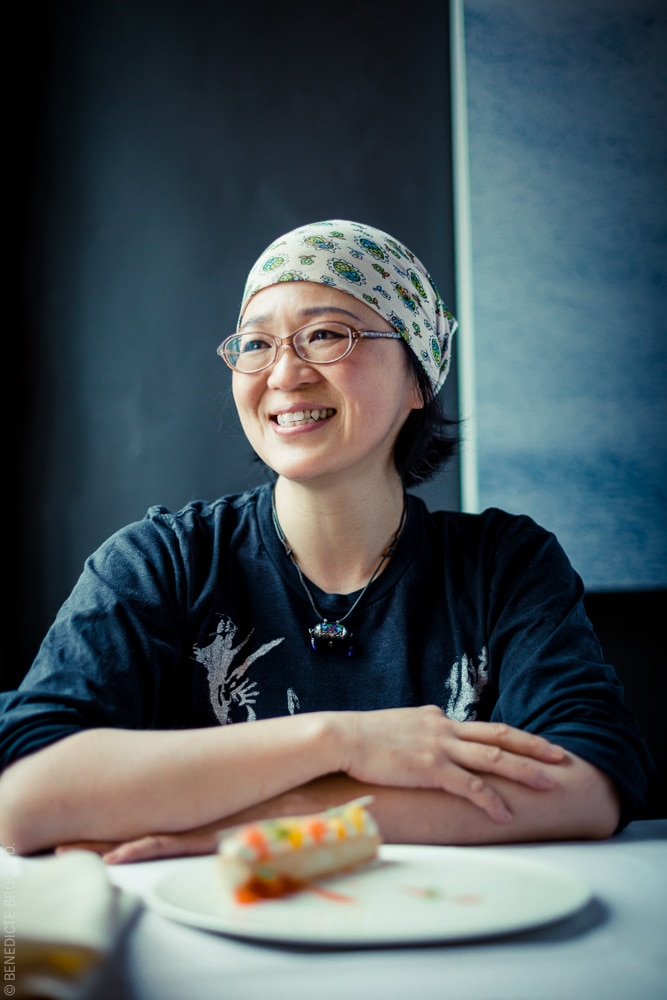 Originally from Japan, Masami Waki arrived in Montreal in 1998 with no training in cooking, let alone pastry. Some 20 years later, recognized as one of the best pastry chefs in town, she is in charge of the dessert menus at three top Montreal restaurants: Le Club Chasse et Pêche, Le Filet, and Le Serpent.
Masami Waki was born in Japan in the small seaside town of Marugame. At a young age, she decided to study Russian, but realized during a trip to the land of the Tsars that she had not yet found her calling. Back in Japan, she announced to her family that she was moving to Montreal with her broken English. In 1998, she landed in Quebec for a stay that was to last only one year.
Upon arriving in Montreal, she got a job at the now closed Primadonna, a restaurant that mixed Italian and Japanese cuisine. At the time, Masami had no training in cooking. Because of her Japanese origins, she was hired in the kitchen to make sushi.
Her transfer to the world of pastry was a bit of a coincidence. While she was working in the kitchen at Primadonna, a position as a pastry chef opened up at the Italian restaurant Bice, also now closed, which belonged to the same owners. The owners decided to transfer Masami from one restaurant to another and from the position of cook to that of pastry chef. Masami agreed without question. Without really knowing it at the time, this change was a real blessing for the future pastry chef.
Masami arrived in the kitchen of Bice without any pastry skills. She tried to learn from her colleagues and followed the instructions given to her perfectly. It was here where Masami met Bertrand Bazin, the restaurant's pastry chef, who would play an important role in Masami's training.
Bertrand, whom Masami affectionately calls "Bert", taught Masami the basic techniques of pastry making, but more importantly, he shared his philosophy on how to be in the kitchen. Masami loved Bertrand's relaxed and friendly approach to cooking. She shared that he almost never got angry and his sense of humour created a great atmosphere in the kitchen. "When we were together, I would sometimes roll around on the floor laughing so hard," Masami said with a smile.
So when Bertrand left Bice for Daniel Langlois' new private club project where John Ledwell was the executive chef, Masami followed him. At Club 357c, Masami discovered a more refined kind of pastry making that targets a more discerning clientele. She would go on to spend a little more than two years in the kitchens of 357c on de la Commune West.
Masami's next step was at Le Cube in Montreal where she met another important figure, chef Claude Pelletier. Her time at Le Cube was short-lived, as Claude decided to open Le Club Chasse et Pêche with Hubert Marsolais in 2004 — a restaurant that would soon become a landmark in the city — and Masami jumped in with him.
At Club Chasse et Pêche, Masami was appointed pastry chef. Her new role brought with it new responsibilities, but also endless creative possibilities. Being in charge of the dessert menu of a new project, she had carte blanche while having to integrate her creations into the identity of a project still under construction. This experience allowed Masami to really discover what pastry was for her and what she likes about it.
Today, Masami talks about pastry as a beautiful story of balance, an art where you have to find the right middle ground between the precision required to make a recipe and the madness necessary to create new delights. It is this duality that makes Masami love her work so much.
Alongside Claude Pelletier, co-owner and executive chef of the restaurant, Masami developed her own style of pastry following the theme of the restaurant's menu. Masami's desserts have a signature finesse, just like the Club's menu, where she tries to highlight the quality of the product in each plate. For her, a dessert that advertises Quebec strawberries must taste and shine with Quebec strawberries.
After the opening of the Club Chasse et Pêche, the Pelletier-Marsolais duo struck again with two projects: Le Filet in 2011 and Le Serpent in 2013. Not surprisingly, the task of pastry chef fell to the talented Masami. Masami's increased workload forced her to leave the kitchens of these restaurants, now too small to manage such a large production; she moved to her own kitchen on Saint-Roch Street in Parc-Extension.
In 2016, Masami received the Pastry Chef of the Year award from the Gault & Millau Guide. Very proud, she sees the award as a sign of appreciation for her work and that of her team. "It's not just me, it's my team. We work together and we work very hard. The award means that someone recognizes and appreciates our work. It's appreciated."
Today, Masami prepares the dessert menus for five restaurants: Le Club Chasse et Pêche, Le Filet, Le Serpent, Il Miglio, and Il Miglio Express. She seems satisfied with the work she has accomplished, which is enormous by any standard, but even more impressive when you consider that Masami became a pastry chef somewhat by chance. For the future, she sees herself continuing to evolve with Claude Pelletier and Hubert Marsolais who have opened a project in the Time Out Market food court that has just opened in the Eaton Centre in downtown Montreal; a new challenge that Masami is looking forward to.
Written by Samuel Gauvreau Des Aulniers
Photography by Bénédicte Brocard