Downtown Montreal: Our suggested addresses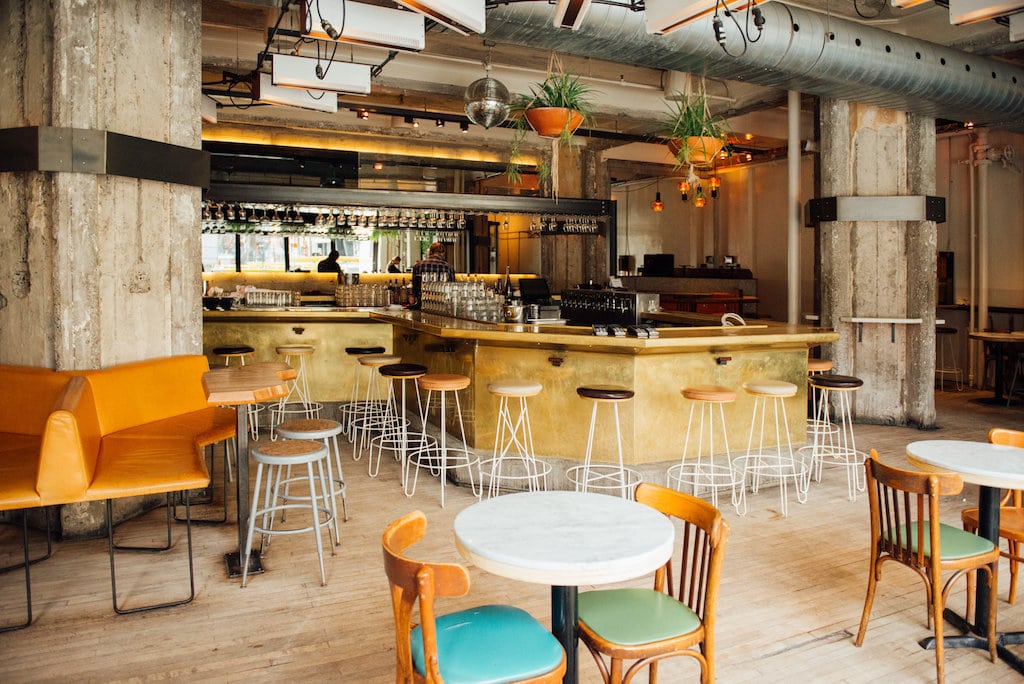 Downtown Montreal is usually associated with office towers, busy streets, large crowds and endless shopping. While this is all true, at Tastet, we prefer to associate the neighbourhood with some of our favourite restaurants in the city!
Downtown, there are a thousand things to do. You meet the busy students from the local universities, often rushing to get to their classes. The professionals who spend their days in the countless buildings that make up the majority of the neighbourhood. And, of course, the tourists who visit the neighbourhood's most popular attractions: the Montreal Museum of Fine Arts, beautiful Dorchester Square and the Eaton Centre. The streets of downtown are constantly bustling, year-round.
With so much traffic, it's no surprise that the neighbourhood is peppered with a ton of incredible cafes, bars and restaurants. Taking the time to visit some of the wonderful eateries on this list can be the icing on the cake of a busy day downtown. This list features our favorite spots in the neighbourhood. Not only are these places great stepping stones into the world of Montreal dining, but some of them are also on our lists of Montreal's finest restaurants and bars.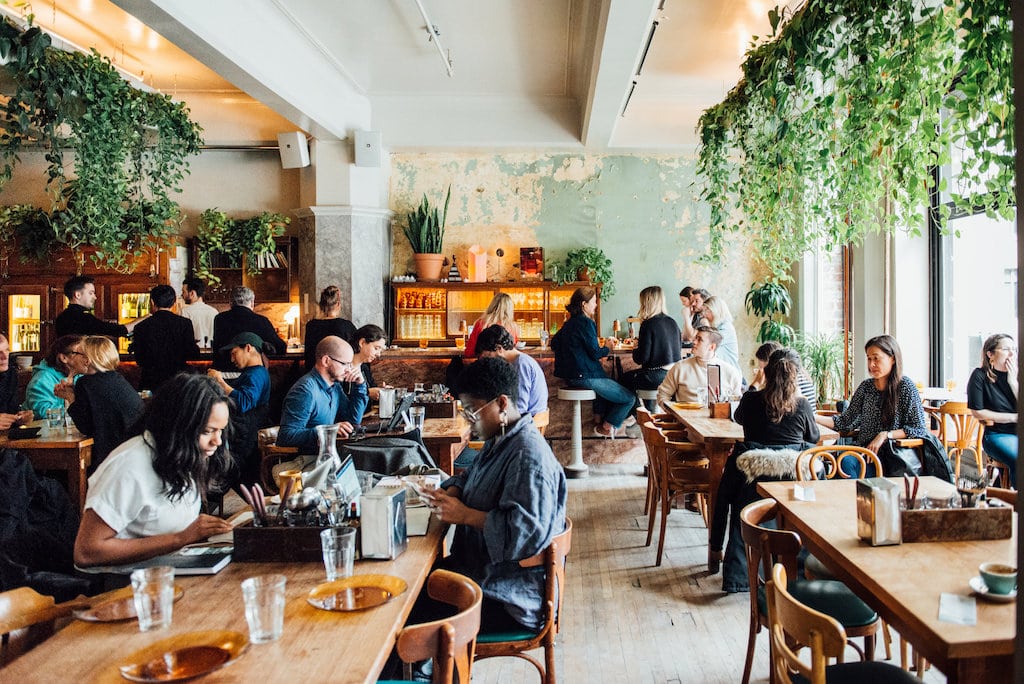 Café Parvis
Café Parvis is the kind of place you enjoy at any time of day and for any occasion. This beautiful restaurant was designed by the famous Zébulon Perron: unfinished walls, rustic wooden tables, candles dripping with wax and a lot of hanging greenery. It creates an incredibly natural and welcoming atmosphere. The large wooden bar is perfect for enjoying a cafe or a cocktail, depending on the time of day. If you're in the mood for food, Café Parvis has a menu of seasonal salads and homemade pizzas that changes weekly. Please note that they also have a delicious weekend brunch menu!
433 Rue Mayor
Montréal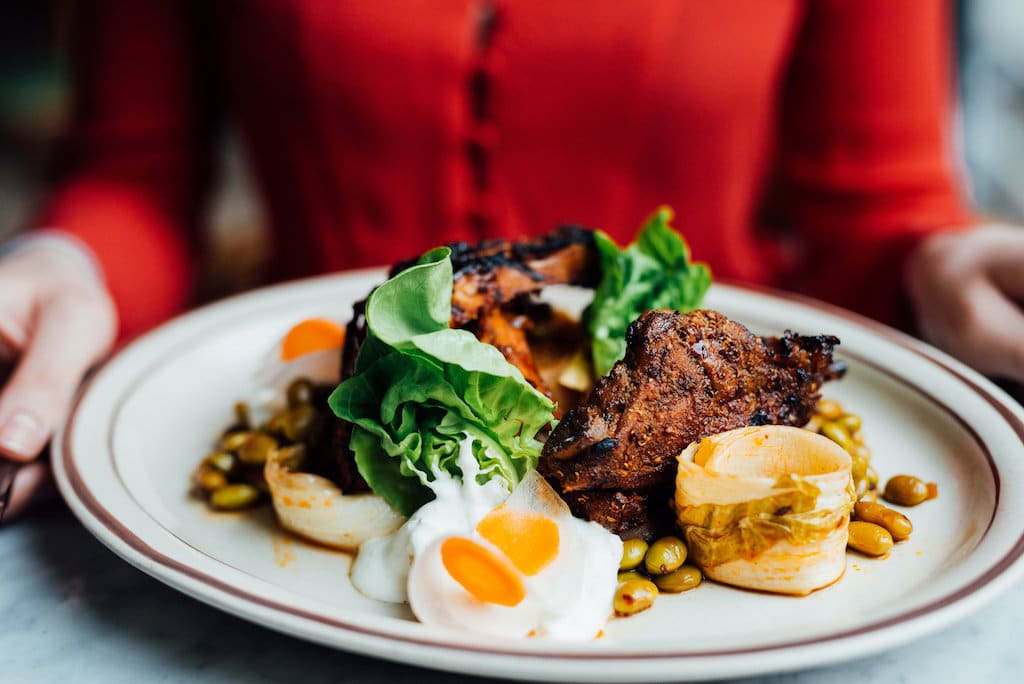 Located right next to Café Parvis, Bar Furco is owned by the same team as its neighbour. The beautiful interior of this bar was also designed by Zébulon Perron. The address is on our list of the most beautiful bars in Montreal! Slightly more modern than Le Parvis: with high ceilings and large windows, Furco is reminiscent of the style of Berlin bars. We come to Furco for the atmosphere, the beautiful wine list in constant evolution and the delicious plates to nibble. The menu, developed by chef Joëlle Trottier, changes weekly and offers dishes with generous, fresh, and easy-to-share portions. This address is a real gem in the Montreal bar scene!
425 Rue Mayor
Montréal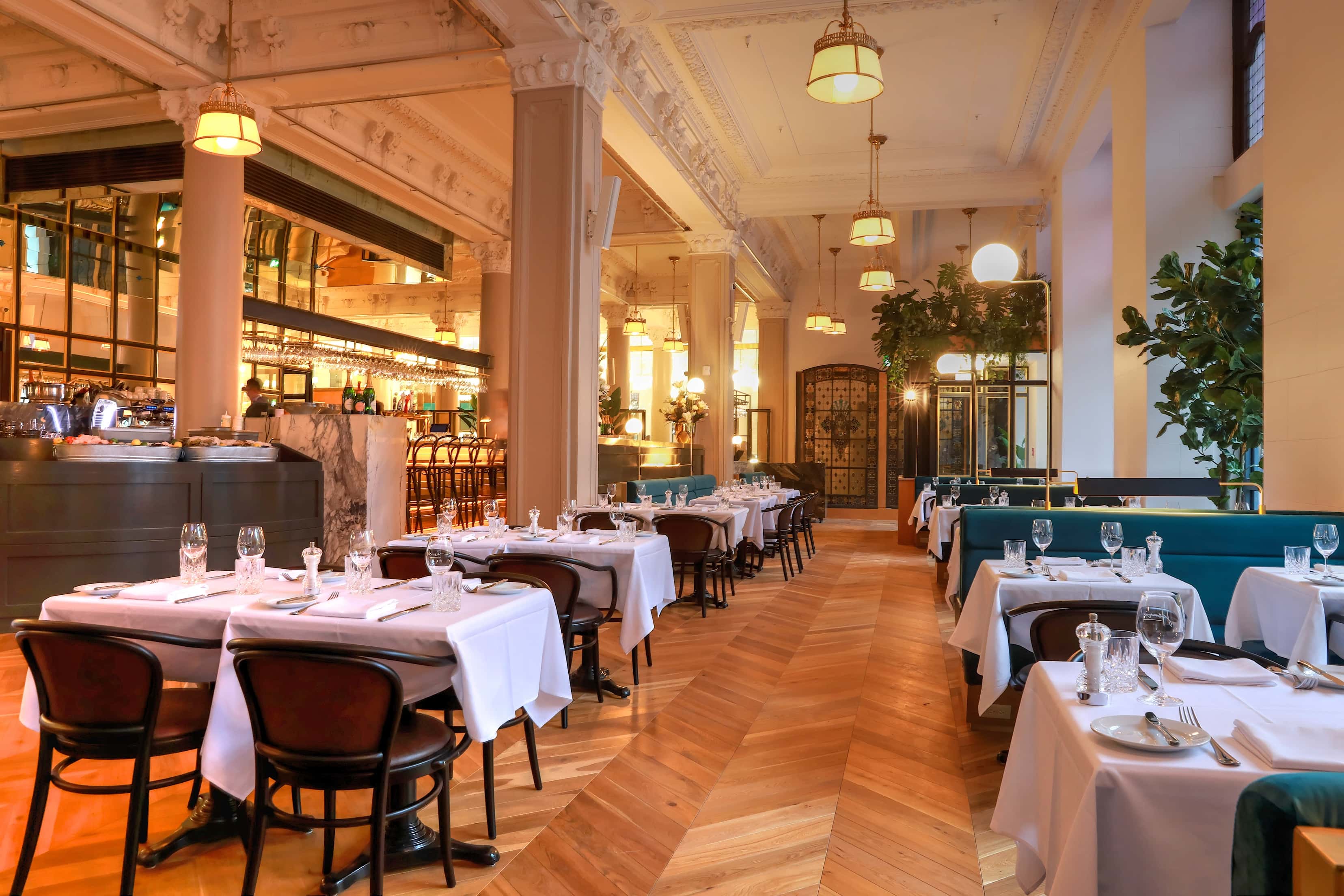 Everything at Henri is a spectacle, from the absolutely beautiful architecture of the building to the attentive service. Since opening in November 2018, the restaurant has become one of the best and most beautiful restaurants in Montreal. It consists of a 130-seat dining room, a 30-seat bar, a lounge, and two beautiful private rooms. On the menu, you will find classic French brasserie style dishes, executed with finesse and precision. It is the ideal place for a business lunch or a festive meal!
1240 Phillips Square
Montreal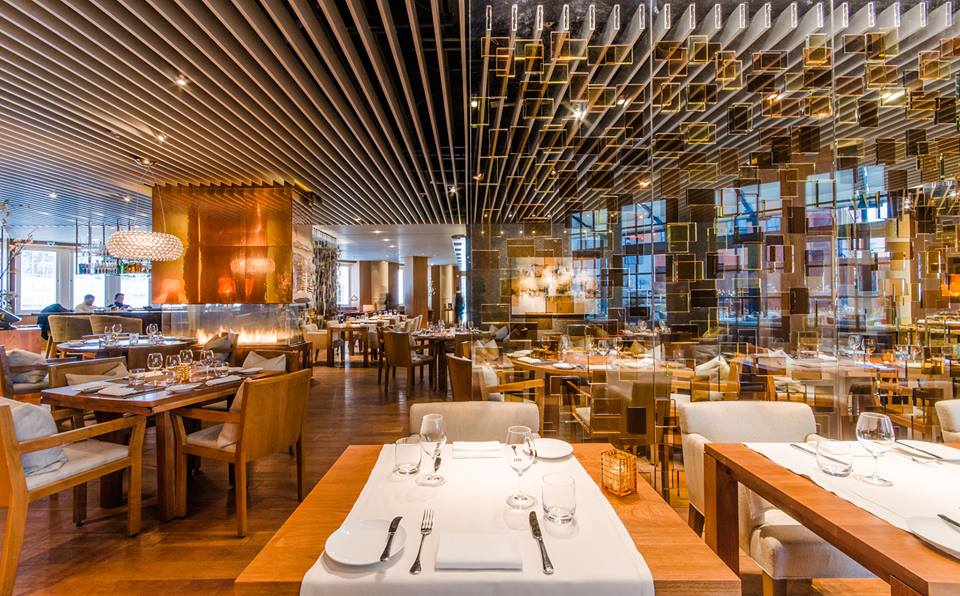 Maison Boulud
The Ritz Carlton is one of the most chic hotels in Montreal. In 2012, the establishment finally welcomed within its walls a restaurant worthy of the hotel. Indeed, the famous chef Daniel Boulud established an exceptional place here, Maison Boulud. A restaurant of high gastronomy, Maison Boulud has quickly become a staple in Montreal and one of the best French restaurants in the city. The restaurant offers a cuisine inspired by the French tradition, that changes with the seasons, and highlights the products of Quebec as much as possible. It is one of our favourites for business lunches, a nice afternoon tea, and is an address where you can hear yourself speak!
1228 Rue Sherbrooke Ouest
Montréal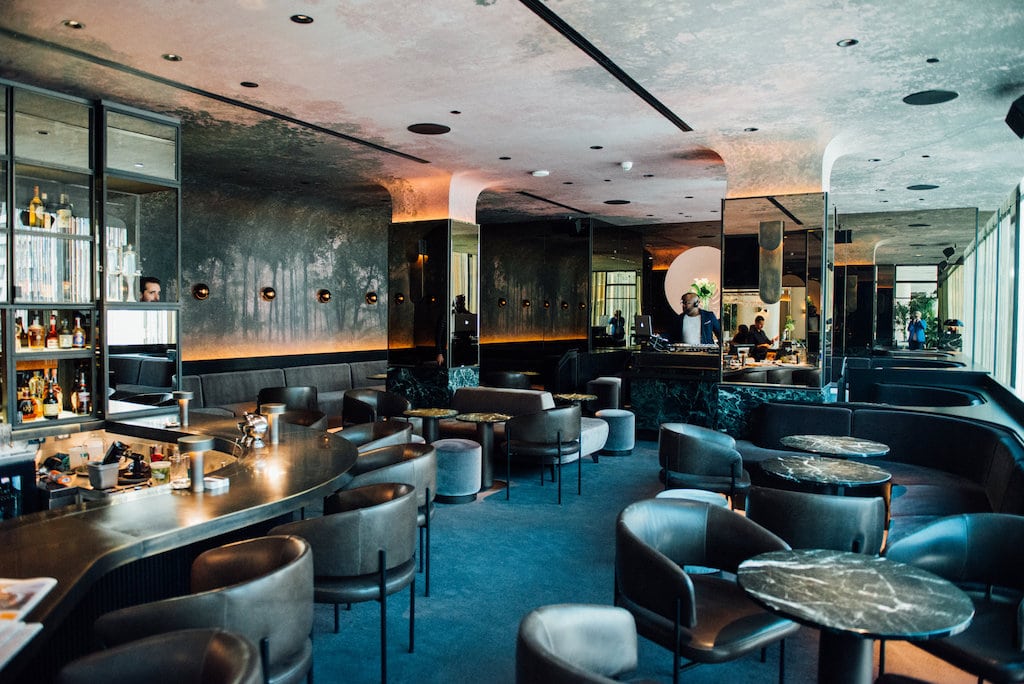 Marcus is the restaurant of the new Four Seasons Hotel on De La Montagne Street, and one of our favourites in the neighbourhood! Another creation of the talented Zébulon Perron, Marcus is housed in an elegant, contemporary space with a brasserie feel. Even better, the dining room offers a beautiful view of the lively downtown streets! As for the menu, we find a "bistronomic" cuisine that highlights many products from Quebec and Canada. The dishes are mainly built around seafood and travel and will invite you to discover new flavours. As for drinks, Marcus offers a wine list mainly composed of private imports and delicious cocktails.
1440 Rue de la Montagne
Montréal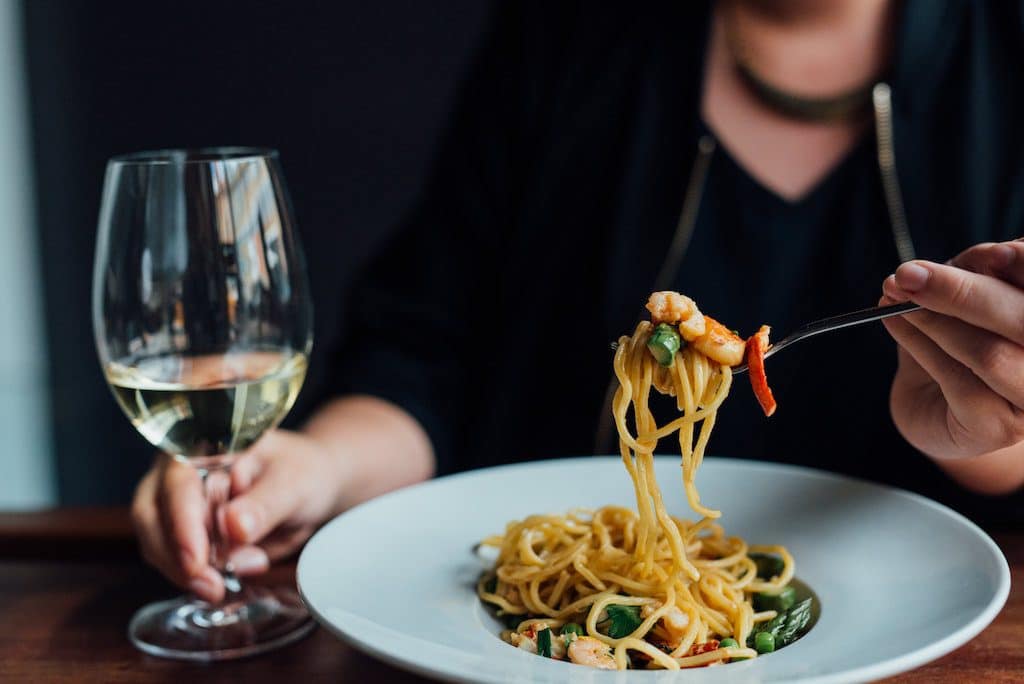 Located on Avenue du Parc, Pullman is one of the very first wine bars in Montreal, and to this day, still one of our favourites! Pullman's wine list is absolutely exceptional. It includes over 300 labels, 98% of which are private imports. There is something here for every taste and budget. On the menu, you'll find some very delicious dishes to savour – just what you need to keep the wine from going to your head. Their grilled cheese is one of our favourites!
3424 Avenue du Parc
Montréal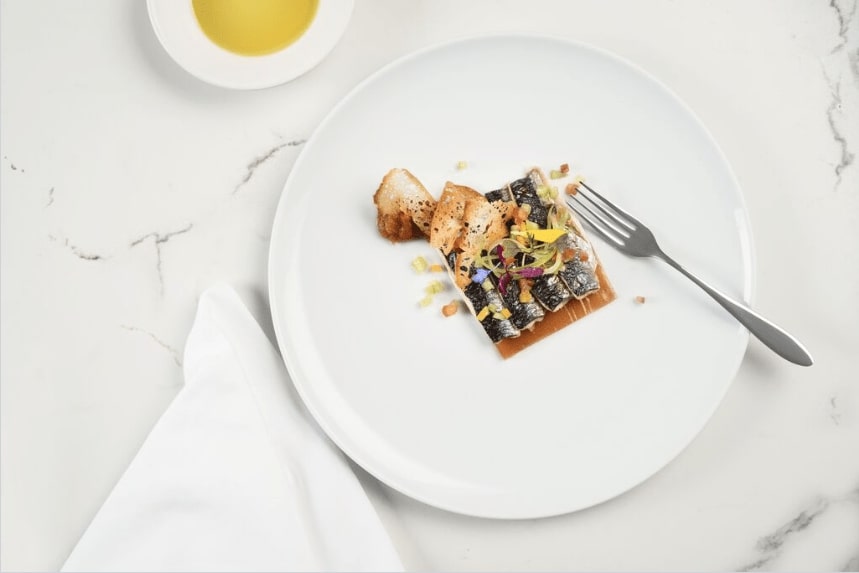 Ferreira Café
Ferreira Café is one of the (if not the) best Portuguese restaurants in Montreal, and one of our favourite places in the neighbourhood! It's been open for almost 25 years now, and there's a reason for its popularity: exceptional service, beautiful decor and an incredible menu. We come to Ferreira for their delicious fish and Portuguese-inspired dishes. The wine list is very Portuguese oriented, a great opportunity to make new discoveries! Plus, bottles of wine are half price on Tuesdays during the hockey game.
1446 Rue Peel
Montréal
See on map
433 Rue Mayor Montréal H3A 1N9
425 Rue Mayor Montréal H3A 1N9
1240 Phillips Square Montreal H3B 3H4
1228 Rue Sherbrooke Ouest Montréal H3G 1H6
1440 Rue de la Montagne Montréal H3G 1Z5
3424 Avenue du Parc Montréal H2X 2H5
1446 Rue Peel Montréal H3A 1S8