Antonin Mousseau-Rivard: Chef extraordinaire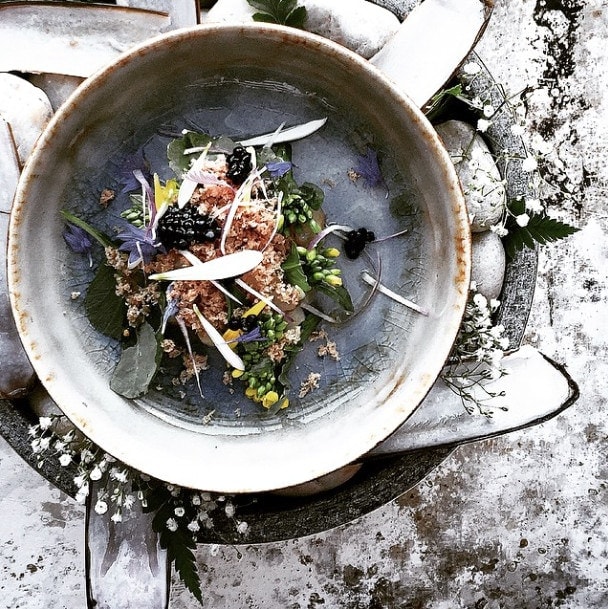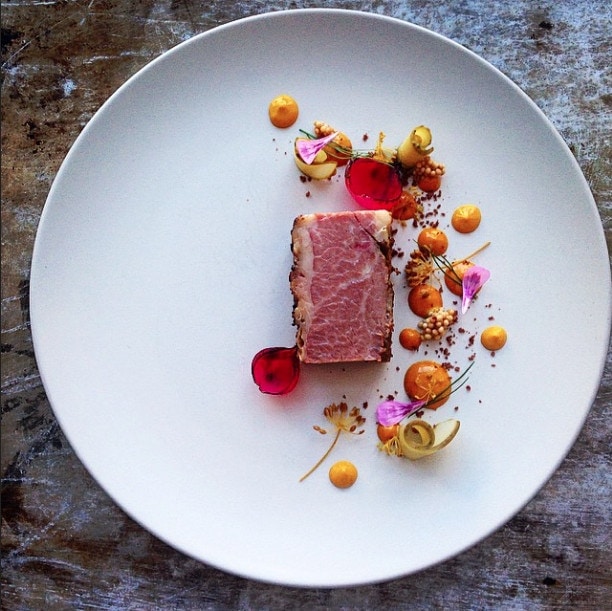 Chef Antonin Mousseau-Rivard is 31-years-old, and here's why he's poised to be one of Quebec's most influential chefs.
Antonin Mousseau-Rivard is a really good guy. Now you're thinking, yes, but that's not so important when you're a chef. Indeed, you can be a bit of an asshole and still be an excellent chef, but it's always nicer to give credit to someone who doesn't have a big head, is friendly, and has an open mind.
Antonin Mousseau-Rivard is a hard-worker who started at the bottom. Antonin was never good at school. At 16, his mother signed a paper for him to quit school. However, the agreement was that he had to work, or he would go back. He started as a dishwasher at the SVP Maestro and sold hot dogs at festivals in the summer. Then, one day, he had an opportunity to become a cook at Sarcelles restaurant in St. Lambert. "It's a French institution, with old school French cooking; a lot of steps for little results. I learned a lot, but at some point I got sick of it." He quit and took a break from gastronomy. Somewhat by chance, he got a job at Frite Alors on Rachel. Before long, he was a kitchen manager, helping to open the new Frite Alors! and could whip out a burger in under a minute. He left Frite Alors! after four years to work as a caterer, for Star Académie among others. One day, for a private caterer, he served his food to the director of Le Devoir newspaper and the director of Place-des-Arts. Some time later, he received a call to be a cook for the restaurant at the MAC, Le Contemporain, and this is where things became interesting. Starting at the bottom of the ladder is not necessary, but it allowed him to both learn and respect every position in the kitchen.
Antonin Mousseau-Rivard comes from a family of influential Quebec artists. His mother, Katerine Mousseau is an actress and his father Michel Rivard is a singer. His grandfather, Jean-Paul Mousseau, is an important Quebec painter, who's works are also on display at the MAC. He was a student of Paul-Émile Borduas and co-signatory of Refus Global. "I draw a lot of inspiration from his work" Antonin explains. The rest of his family also includes Muriel Guilbault, Quebec actress and co-signatory of Refus Global as well; Robert Rivard, Quebec actor and president of the Union des Artistes for several years; and Dyne Mousso (hence the name of his next restaurant) who is an actress, artist, and another co-signatory of Refus Global. Impressive!
He himself is also an artist. In addition to making exquisite food, his plates are stunning. They say that you taste with your eyes first, and do you ever with his cuisine – you'll be astounded. Seriously. To give you an idea, you can check out his Instagram account, which has tens of thousands of followers; from food lovers, to chefs from all over the world, including Michelin starred ones. He truly creates art with his cuisine. He has also done a lot of painting, drawing, graffiti, and was once even a rapper!
Antonin Mousseau-Rivard is exceptionally talented. Without having gone to culinary school, Antonin pushes the limits of cooking. The first time I tasted his work, my father took me to eat at Le Contemporain for work. A museum restaurant is a bit boring, I thought. And suddenly, without expecting it, we received small wonders, one after the other. We were both amazed. Textures, tastes, colours, presentation, everything was perfect. So much so that my father talked about it everywhere he could. It was like our surprise crush. He has the best museum restaurant in Montreal. He's an entrepreneur: three months after starting at Le Contemporain, he became a chef. A year later, he bought it with his mother and at 24, he rediscovered gastronomy, went back to the recipes, and allowed himself to experiment. "It really took me a long time to love my restaurant. For a long time, I wanted it to be something it's not. A museum restaurant is a museum restaurant. I can't change that. And that's why he won't keep the restaurant and is opening his new restaurant, Le Mousso." Ohhh, that famous new restaurant.
Antonin Mousseau-Rivard will open Le Mousso on September 5th, again with his mother. This anticipated restaurant is likely to be one of the best in Montreal. Le Mousso is located on Ontario Street, at the corner of Atateken. "Depending on where you look, you see different neighbourhoods. I'm on the border of the Centre-Sud, the Plateau, downtown, and the Village." Le Mousso will seat 40 and feature "the essentials of Le Contemporain's plates; still minimalist, but with atmosphere, music…" We're talking several formulas; four courses, eight courses, charcuterie, and not a lot of choices. "I want to force people to discover. I have a bar license! I want the world to have fun! And from everywhere you are in the restaurant, you see my kitchen. I want to bring out the connection between the cooks and the customers. I think that's really important." We truly can't wait.
Le Mousso is now one of the best restaurants in town!
Written by Élise Tastet
Photography by Maybe Watson et