The indomitable Antonin Mousseau-Rivard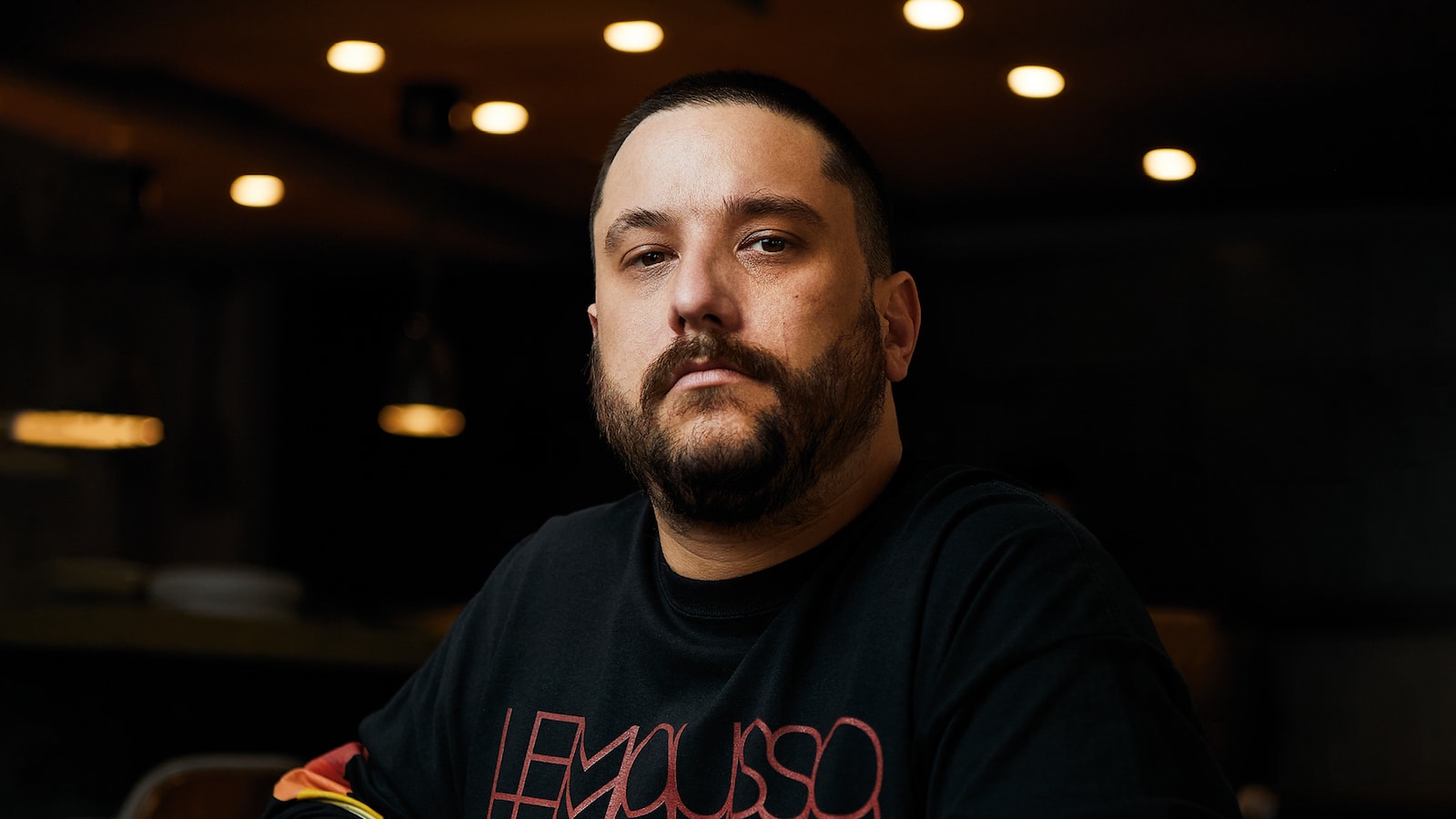 "My childhood memories are categorized by what I ate. To give you an example, I remember my father's wedding menu, but not the event itself." – Interview with Antonin Mousseau-Rivard.
With great power comes great responsibility. It's a motto that applies perfectly to the career of Antonin Mousseau-Rivard, chef-owner of the famous restaurant Le Mousso in Montreal. For several years, the young chef has been sitting at the same table as the best chefs in the country. Since then, he has carried the weight of excellence on his shoulders, as well as the reputation of his establishment. A great responsibility for this epicurean by nature who never set foot in a cooking school.
Gourmet by nature
"All the shopkeepers on Monkland Street knew me. My mother would give me five bucks and I would go buy a mille-feuille at Nancy's Pastry Shop and sausages at the business next door. At eight years old, I already knew how to cook, I wanted to be a chef."
Antonin's gourmet side doesn't come from much, even to this day, he's excited about cafeteria food. He pleads guilty to this cardinal sin and would probably rather go to hell than deprive himself of good food. Le Mousso's chef has always loved to eat, it is his passion, his reason for living.
Antonin's unorthodox culinary training began at his mother's cottage in front of the television. "I was always watching television. When we were at the cottage, on the edge of the U.S. border, we just had two channels. On Sundays, at mass time on Radio-Canada, I would switch to the American station." It was there that he met Jacques Pépin and Julia Child, his first cooking teachers. From that moment on, the chef in the making began to binge watch cooking shows. He was passionate, and he absorbed and retained all the information that was offered to him.
"Fake it till you make it"
"My first job as a cook, I got it by lying," he says with a laugh.
Antonin Mousseau-Rivard quickly realized that school was not for him. When his mother went to the school to sign the paper allowing him to drop out, she made it clear that he had to enter the job market immediately. That's how he started working as a dishwasher in the kitchen of the Maestro SVP. Unfortunately, the owner of the restaurant did not like him very much. Despite Antonin's numerous requests to work behind the stove, he was left to work as a dishwasher. A few months later, he left the Saint-Laurent Boulevard address.
"We regularly went to eat, with my family, at Sarcelles in Saint-Lambert. It was a beautiful French restaurant where food was served in large silver trays. During one of our visits, my little cousin asked me what was in the dishes. Trained by Child's and Pépin's shows, I shared my knowledge with him. The owner of the restaurant, Viviane Brousseau, heard me in the distance. She came to ask me how I knew all this. I lied, I told her I was a cook. She hired me. I was 16 years old."
It was at the restaurant Les Sarcelles that Antonin learned to master French techniques. At the same time, he worked in several small establishments where he learned many aspects of the industry that would be essential to his future career. "I started experimenting at Viviane's restaurant. On Sunday mornings, in Sarcelles, we served big brunches. There were always plenty of ingredients left over for the evening menu. She let me freestyle, gave me free rein to be creative. That's when I started to break out of the norms, to do crazy things."
The artist
"Instagram allowed me to get comfortable with what I was doing".
One thing led to another, and Antonin began to draw people's attention. One evening when he was organizing a private catering for the management of the Place des Arts in Montreal, he was offered the position of head chef for the restaurant of the Museum of Contemporary Art. " Those were the years of the duck confit, and I arrived at the MAC with my fucked up stuff. That was the time! I abused the concepts, but for good. We went so far as to reproduce flat paintings. I put colour everywhere, I had fun." He admits that this is when he started thinking about opening Mousso. While his body was in the kitchen of the Museum's restaurant, his mind was already in the kitchen of his future restaurant. He was taking risks and it paid off.
"I love old cookbooks. As soon as I opened a more modern book, an anxiety took hold of me. I was afraid to copy, I wanted my creations to be unique, my own. I owe a lot to Instagram, it is thanks to this application that I allowed myself to observe and admire the creations of great chefs of my time". It is, in fact, social networks that would launch Antonin Mousseau-Rivard's dazzling career. By sharing his work from the kitchen of the MAC, he emerged from media anonymity and quickly reached twenty thousand followers.
Le Mousso
"Starting out without a base and developing an expertise is complicated. But when you reach the level, you stand out because nothing you do is standardized or pre-programmed."
In 2015, Antonin opened Le Mousso with his mother, Katerine Mousseau. "We opened this on a high note. We weren't from the business world. I was overwhelmed by my popularity before the restaurant even opened. I quickly realized that it wasn't just about cooking, it was a business. Thus was born one of the most coveted restaurants in Montreal. In 2019, it was named the sixth-best restaurant in Canada – in Canada's 100 Best. Mousso's fixed menu changes regularly to surprise us with each visit. A meal at Le Mousso is a unique dining experience with rap music and 13-course tasting menus; never before seen in Montreal.
A few years later, the chef decided to open Le Petit Mousso next door. Unfortunately, the pandemic would get the better of this new address, which closed shortly after its opening.
The new formula or Mousso 2.0
"There had to be something positive to come out of all this crap. We took the negative and transformed it. They wanted us to reinvent ourselves, and well, we did".
The pandemic led to Le Mousso becoming more of a high-end restaurant than ever before. In order to survive, the restaurant had to make a major shift in its approach. That's how Le Mousso changed its formula. "We had to raise the prices. Anyway, when you come to our place, you know it's going to be expensive. You also know it's worth it. It's not a trip you pay for every week and our customers know that. Now, Le Mousso is a real show. Everyone arrives at the same time and everyone eats at the same time. I get on a stage of sorts and explain each dish to the guests, and my sommelier does the same with the wine pairing. This avoids the mess caused by the masks. People like it, it's nice to see! And we're having fun again."
Antonin Mousseau Rivard is a truly unique individual. A friendly and charismatic character with the sensitivity of great artists. His dishes, like small masterpieces, arouse astonishment and emotions in addition to being delicious. As well as continuing to establish himself as a pillar of the gastronomy of the country, the chef has, over the years, seen former members of his brigade win great prizes and take off on their own.
We can safely say that if the indomitable beast that is Antonin Mousseau-Rivard has never been able to conform to an academic plan, his restaurant has become, in spite of himself, a kind of school from which solid cooks emerge. And that's just as well.
You don't get off track by taking the road less travelled.
Written by Sophie Monkman
Photography by Rodolphe Beaulieu — L'actualité