Onion soups: The best sources of comfort in town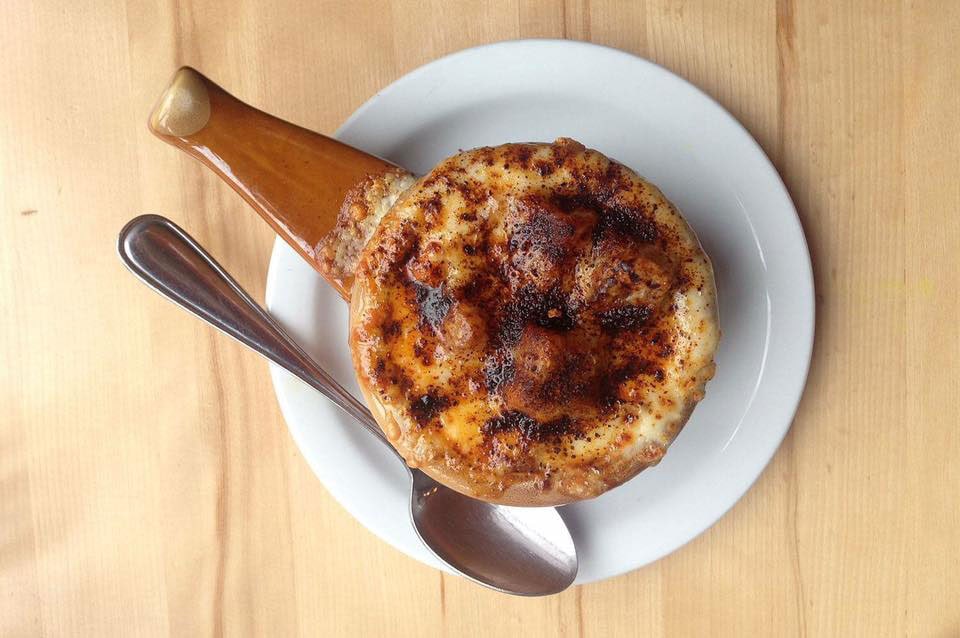 Today we're talking about onion soup. Add onions and breadcrumbs to a base of broth – traditionally beef – then sprinkle generously with grated cheese and broil to perfection. The result is a delicious dish that is bursting with comfort. Perfect for those unrelentingly cold winter days.
Rumour has it that onion soup is attributed to a late night snack of the French King Louis XV, after he returned from hunting. That particular evening, the pantries contained only onions, champagne and butter. Served together, the ingredients appealed to the king, who included in his noble diet what we know today as French onion soup (made with wine). The accessibility of the ingredients contributed to the democratization of the dish which quickly found its way into the homes of many French people.
Some 300 years later and across an ocean to the west, onion soup has been warming up and winning over many Montrealers for ages. Indeed, this French classic was quickly adopted by the city's establishments. It can be enjoyed in cozy taverns, but also in more upscale restaurants where some chefs try to give onion soup a gastronomic touch by reinterpreting it.
It is in the spirit of a balm against the cold weather that we have prepared a list of the best places to enjoy onion soup in Montreal.
To help you in your quest for comfort, we also suggest you check out our list of comforting restaurants in Montreal where you can eat extremely well or our list of the best soups in the city. Something to warm up your body and mind!
Bon appétit!
See on map
38 Rue Beaubien Est Montréal H2S 1P8
4057 Rue Drolet Montréal H2W 2L5
2496 Rue Notre-Dame Ouest Montréal H3J 1N5
1 Boulevard Robert-Bourassa Montréal H3B 4S6
536 Avenue Duluth Est Montréal H2L 1A9