Bars and restaurants where you can watch hockey in Montreal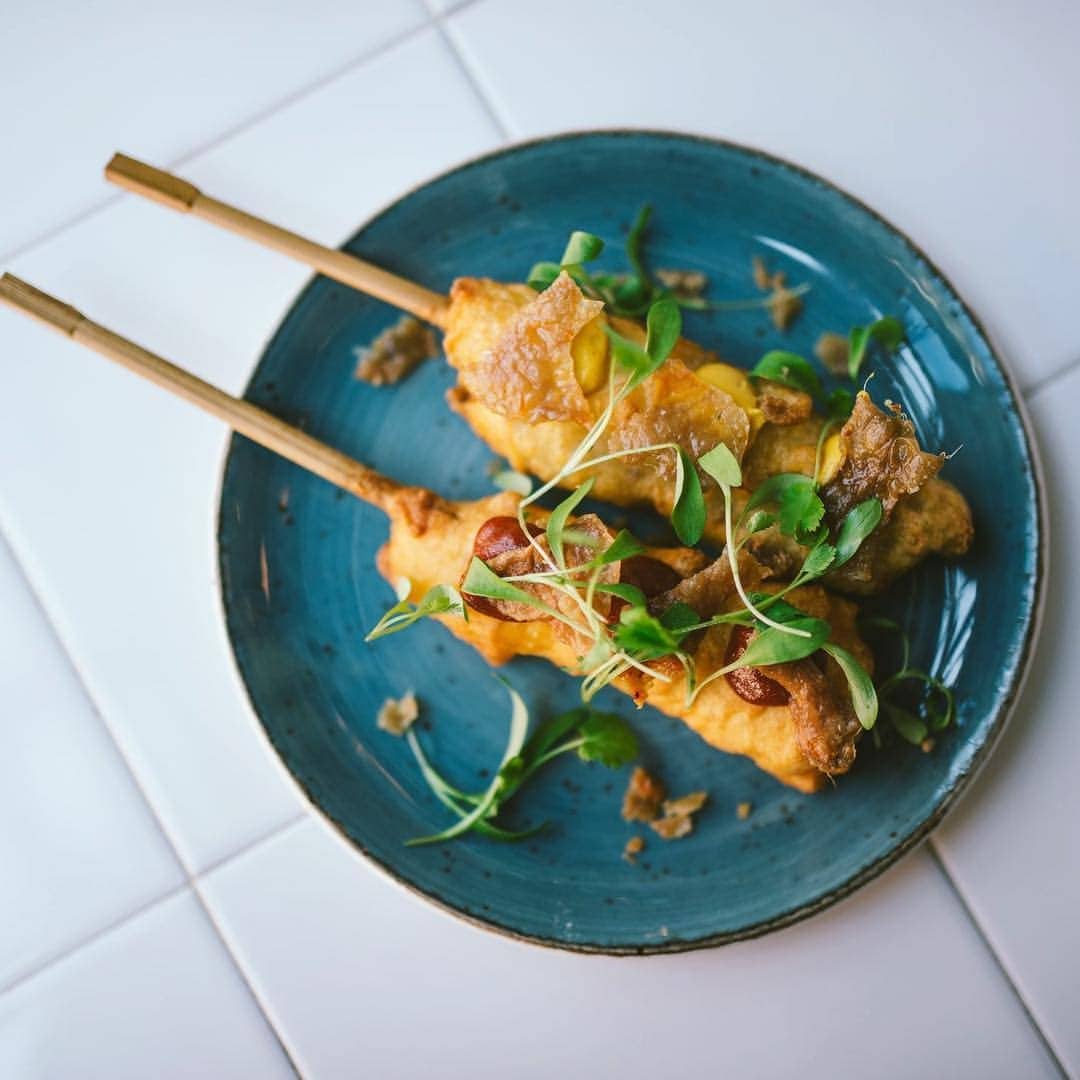 Where to go to watch hockey game while enjoying a good meal in Montreal – The Montreal Canadiens are much more than just a hockey team for Quebecers! It was Loco Locass who said that the social fabric of Montreal is made up of Sainte-Flanelle. In Quebec, hockey has reached the status of a true religion for some, and sitting down with family or friends to watch your favourite team play is the equivalent of Sunday mass. Throughout the year, you can feel the excitement from all corners of the city when our players strap on their skates and jump on the ice. This year, the prowess of Cole Caufield, Carey Price, Tyler Toffoli and others kept the fans' hearts beating until the final week of the season.
The playoffs promise to be exciting right up until the very end and you can feel the excitement from the fans. While the playoff fever has already taken hold of us, we are already thinking about the game nights spent savouring good food in good company. Knowing that like us, some fans like to watch the game while having a good meal, we have prepared a list of places where you can eat well while watching the game. To make it easier for you to find the right places to eat, we have separated the addresses into two categories: those for festive evenings and those that are more gastronomic.
For other gourmet options for watching hockey, we suggest you check out our list of the best chicken wings and the best fried chicken.
Bon appétit and enjoy the game!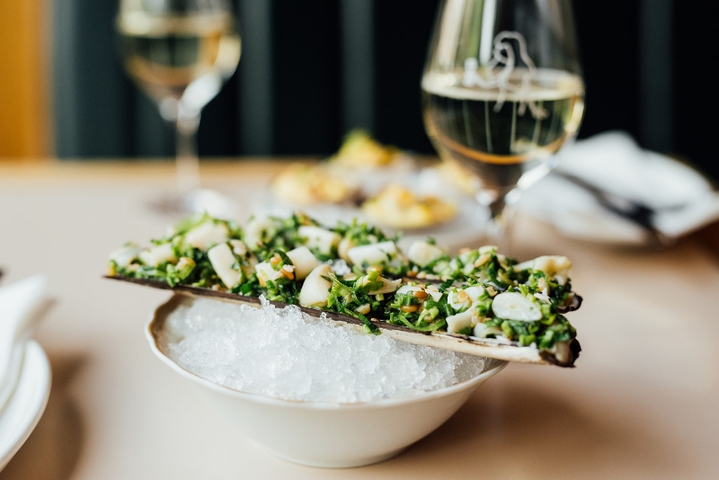 Bar St-Denis will broadcast the games of the current series, to the delight of fans of their famous chicken croquettes!
6966 Rue Saint-Denis
Montréal
Bar Social Verdun
Festive evenings – Located in a booming Verdun, Bar Social is ideal for a quiet drink with friends. Located on Wellington Street, the small bar offers a warm and inviting atmosphere. In the center of the place, an imposing round bar made of wood overlooks a dozen tables where you can settle down to a classic cocktail, executed to perfection, or a local microbrewery beer. When the weather permits, the glass front opens to let in a pleasant breeze, always welcome to cool down during the intense heat of a playoff game.
3819 Rue Wellington
Montréal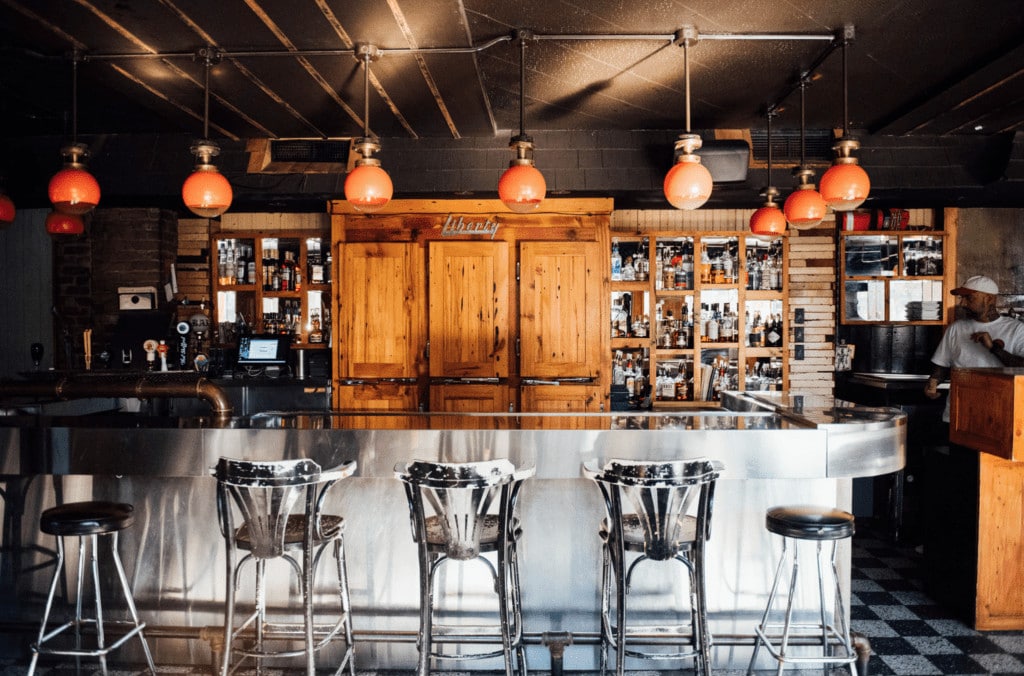 Festive evening – The Bar de Courcelle has been around for over 50 years! Reopened in 2013 by new owners, the Bar de Courcelle is a great dive bar in Saint-Henri where you can enjoy the game in good company. They serve good beers and the food menu is always interesting. A perfect spot to watch the playoffs!
4685 Rue Notre-Dame Ouest
Montréal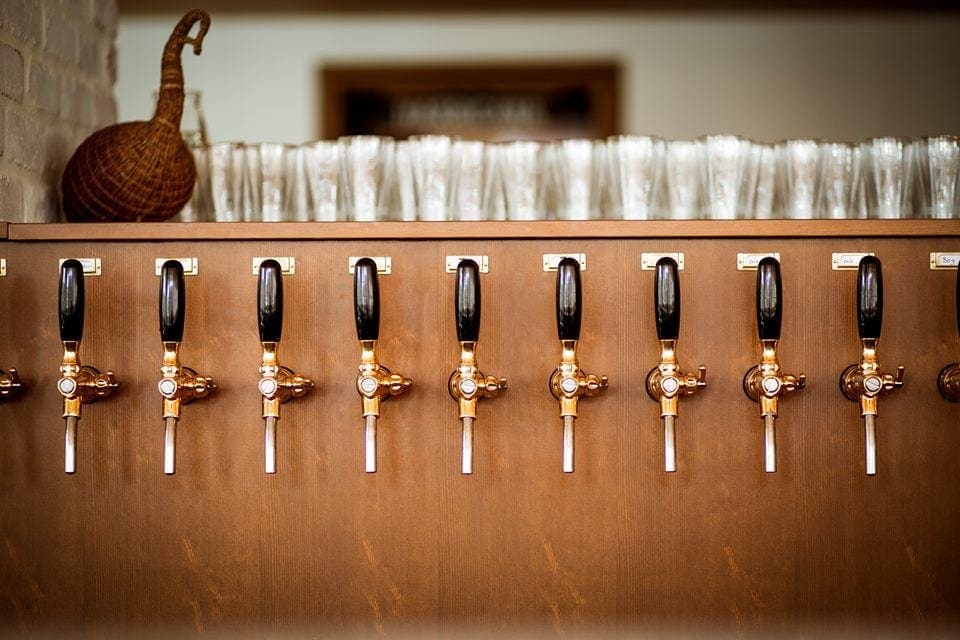 Festive evening – Near the Jean-Talon market is the Harricana Brewery, one of the most beautiful microbreweries in Montreal. Throughout the playoffs, the brewery broadcasts the games on a projector screen. The place is ideal to celebrate the victories of our glorious team since we eat and drink very well here. The brewery offers beers brewed on site, and ciders at good prices. You can savour a menu inspired by the recipes of the owner's mother, appetizers, snacks, salads and more substantial dishes, all of which are geared towards sharing. An original detail to note: the Brasserie Harricana broadcasts the games without sound.
95 Rue Jean-Talon Ouest
Montréal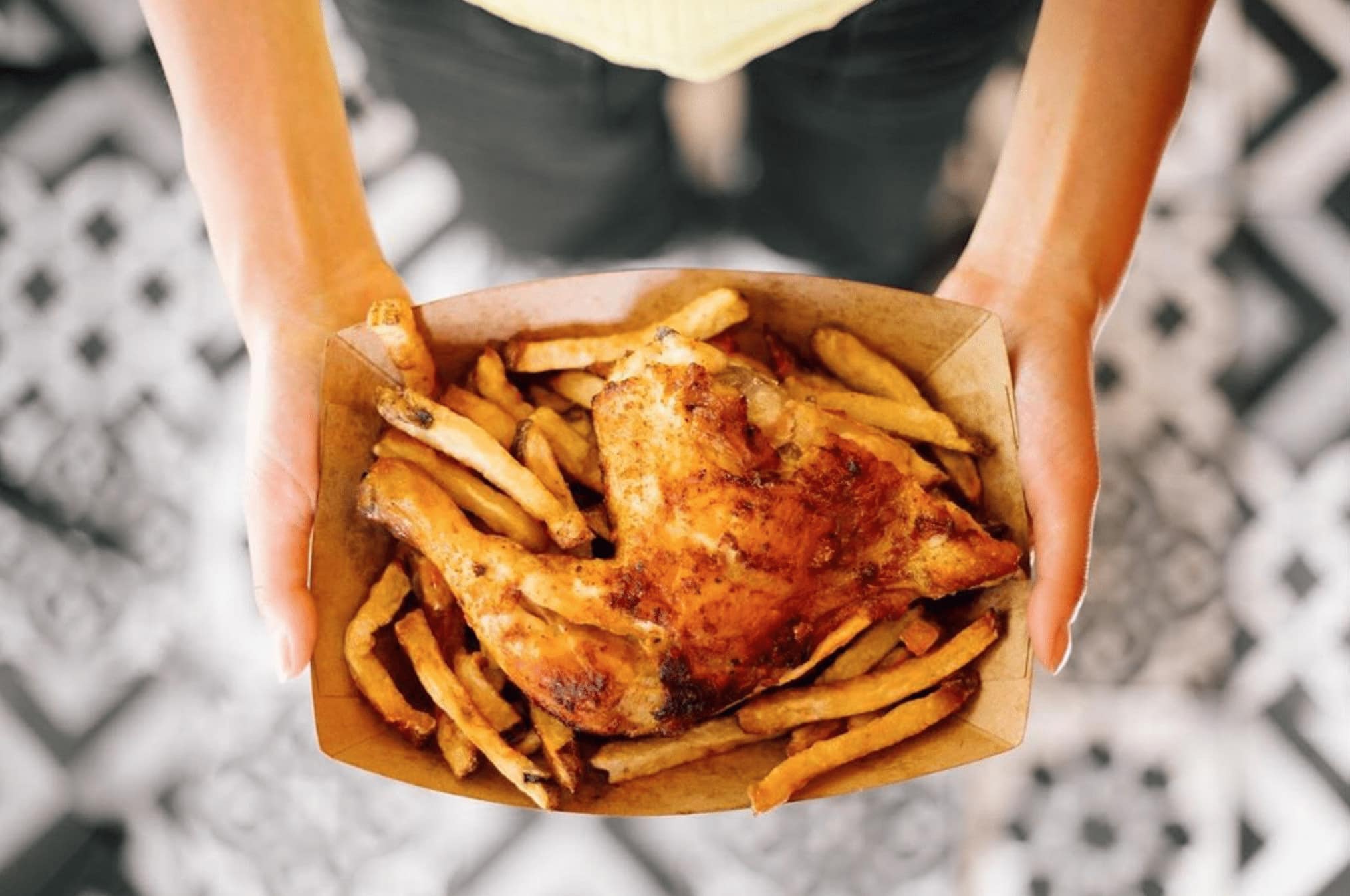 Festive Evening – Campo features excellent Portuguese chicken, 100% natural, grain-fed and hormone-free. The menu offers Portuguese-influenced fast food recipes created by Ferreira Group Executive Chef João Dias. It's tasty and very affordable, especially for downtown. Campo prepares excellent chicken wings. Also on the menu are chicken breasts, chicken legs, as well as whole chickens, sandwiches, poutine, ribs and salads. The atmosphere is very festive and it is a casual place to watch the hockey game and eat well.
1108 Boulevard De Maisonneuve Ouest
Montreal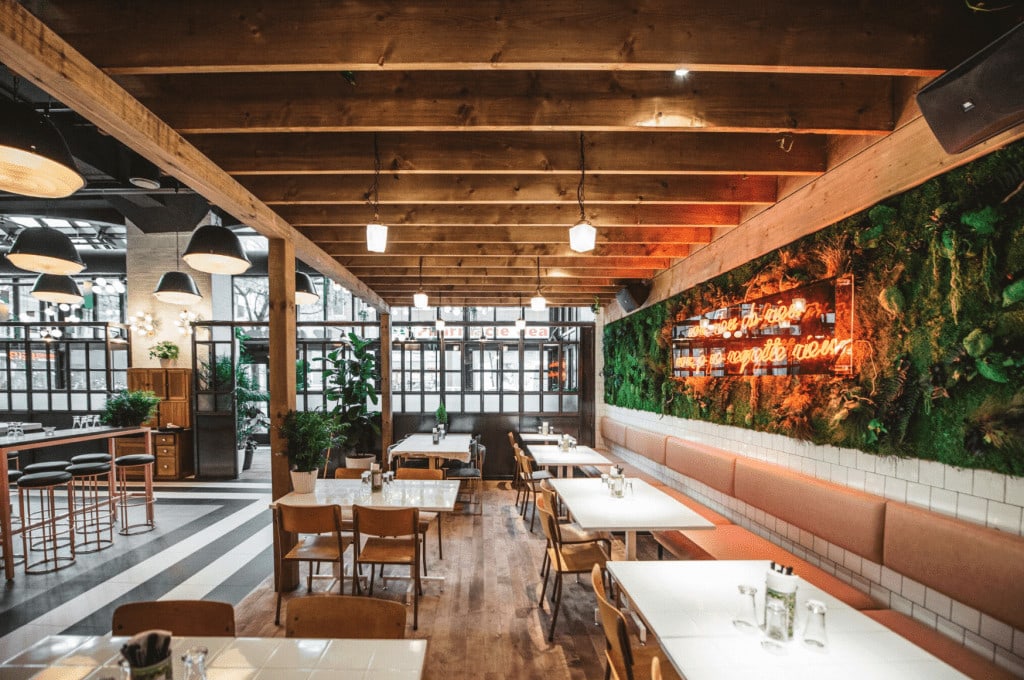 Kampai Garden
Festive Evening – Kampai Garden is a giant 10,000 square foot bar with an enchanted garden feel! Here, it's a happy hour atmosphere that's always fun and perfect for watching hockey. Each of the bars in the restaurant has televisions where you can watch the Canadiens play. Kampai is located in the Faubourg Sainte-Catherine, in the heart of downtown and offers under one roof different spaces and atmospheres to spend an unforgettable evening. Between pool tables, games, different bars, the hockey game, and good food and drink, you won't run out of things to do. The place is full of young and lively people and there is a real good energy.
1225 Rue Saint Mathieu
Montréal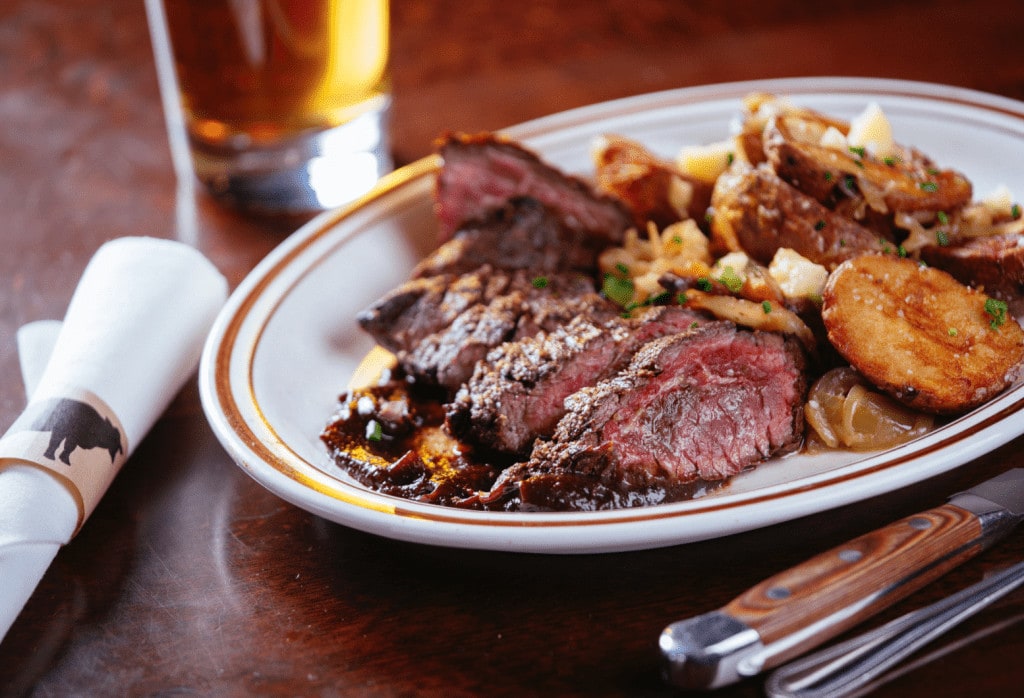 Festive Evening – Bishop and Bagg pub opened in 2014, on the corner of St. Viateur and Clark streets. It welcomes you in a very relaxed pub atmosphere with a menu of delicious classics. The space offers about 50 seats including coffee tables near the televisions that broadcast the hockey games. The pub also offers excellent cocktails and a nice collection of gins. This is one of the best places to watch hockey while eating well in Montreal!
52 Rue Saint-Viateur Ouest
Montréal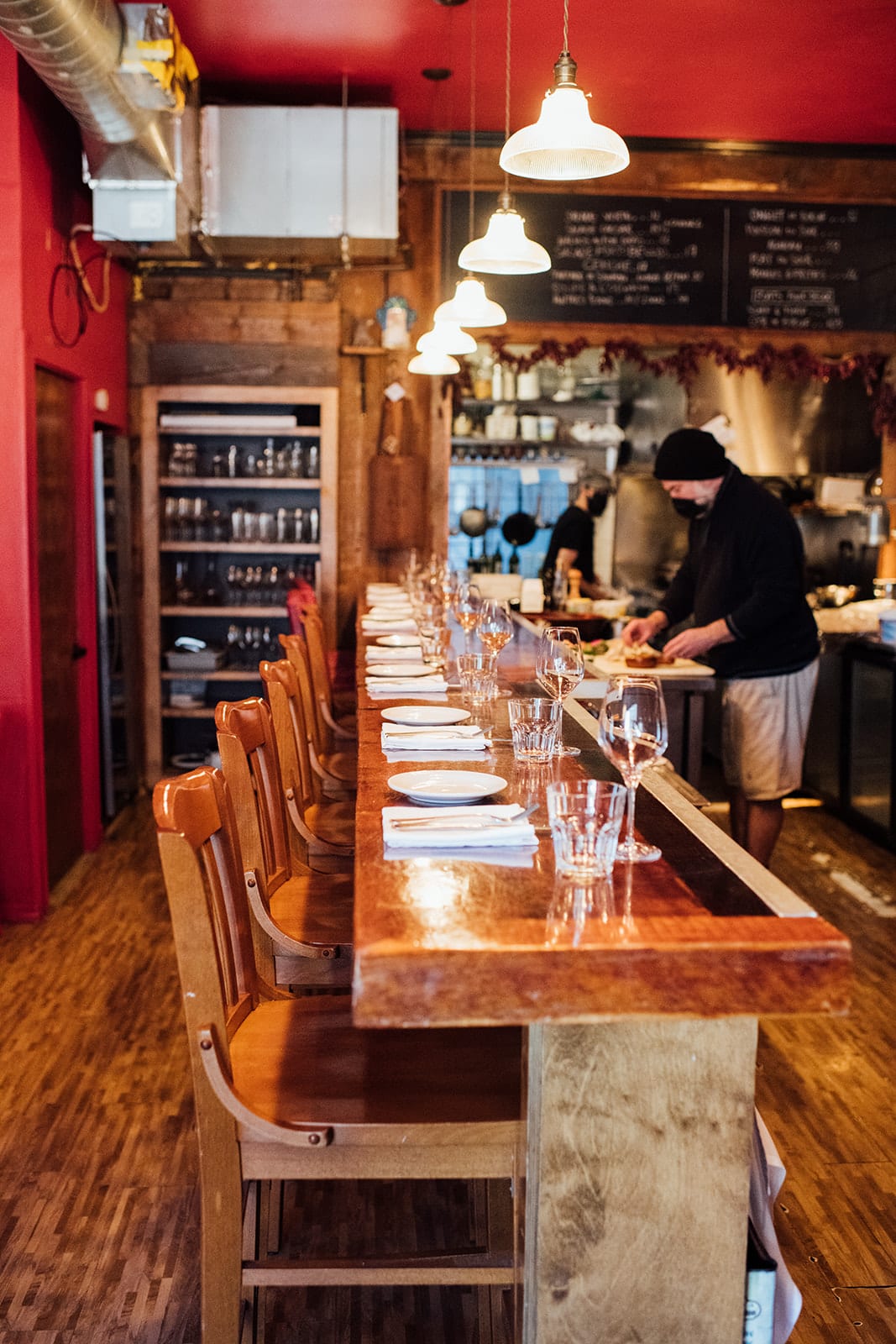 Gastronomic address – Gus is a comforting restaurant where you can savour delicious and generous dishes and meet the owner, a hockey fan. Adopted by a gourmet clientele for almost four years now, this little place is ideal if you want to eat well in a friendly atmosphere. The owner has never been able to go an evening without watching his hockey – so there is always a TV where customers can watch the games (without sound) while having a great meal! People come here to savour delicious comfort food including the famous Caesar salad made fresh, foie gras nachos, onion soup, beef flank steak, lamb or the Surf and Turf. To drink, there is a nice wine list with many options to quench your thirst.
38 Rue Beaubien Est
Montréal
See on map
6966 Rue Saint-Denis Montréal H2S 2S4
3819 Rue Wellington Montréal H4G 1V1
4685 Rue Notre-Dame Ouest Montréal H4C 1S7
95 Rue Jean-Talon Ouest Montréal H2R 2W8
1108 Boulevard De Maisonneuve Ouest Montreal H3A 1M7
1225 Rue Saint Mathieu Montréal H3H 2P7
52 Rue Saint-Viateur Ouest Montréal H2T 2K8
38 Rue Beaubien Est Montréal H2S 1P8