Poulet Portugais: Affordable and delicious BYOB address in Quebec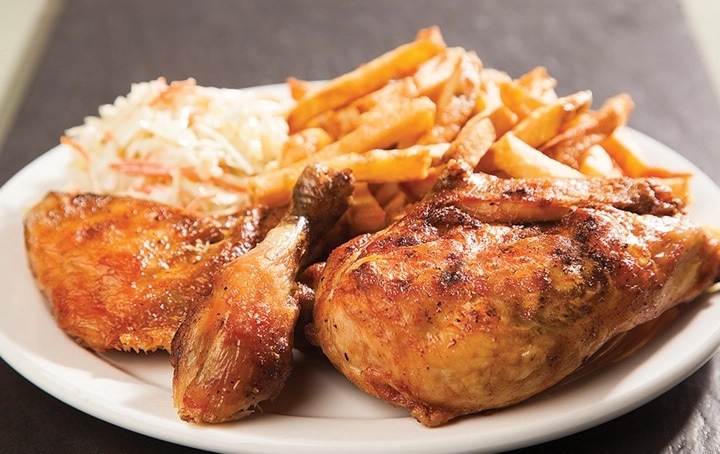 Poulet Portugais

$$
Monday: Closed
Tuesday: 4:00 – 8:00 PM
Wednesday: 4:00 – 8:00 PM
Thursday: 4:00 – 9:00 PM
Friday: 4:00 – 9:00 PM
Saturday: 4:00 – 9:00 PM
Sunday: 4:00 – 8:00 PM

As its name suggests, Poulet Portugais serves delicious chicken with Portuguese flavours. An unpretentious address, you simply bring your wine and enjoy.
Stoyan Napoleonov and Zori Napoleonova are originally from Bulgaria. Before immigrating to Quebec in 2005, the couple spent a few years in Portugal. It was during this stay, while Zori was working in a local restaurant, that they fell in love with the rich flavours of Portuguese cuisine.
In 2013, motivated by the lack of Portuguese addresses in the provincial capital, Stoyan and Zori decided to open a Portuguese rotisserie. Their goal: to recreate the delicious Portuguese experience with the ingredients they have on hand. Seven years later, their restaurant, Poulet Portugais, is drawing nothing but praise, and is well deserved in our opinion.
For Stoyan, his restaurant's recipe for success is simple: it's all in the sauce. "Every Portuguese chicken restaurant has to have its own sauce. That's why each rotisserie offers a unique experience." As a matter of fact, the sauce at Poulet Portugais is, in fact, excellent. So much so, that in response to numerous requests from customers, the house offers its sauce for sale (available in many grocery stores in Quebec City). Cooked on charcoal, their excellent Portuguese chicken is accompanied by crispy home fries. Finger-licking good.
The kitchens also prepare some emblematic dishes from the Iberian Peninsula: paella and octopus. In honour of their Bulgarian origins, Stoyan and Zori have added kyuftés and onion and cumin pork dumplings to the menu.
To drink, we do as if we were at a friends place. We arrive with a nice bottle of wine, or even a refreshing beer that goes well with the conviviality of the address. The house offers the service of uncorking.
At 203 Rue Saint-Jean, Stoyan and Zori welcome you without any pretension. You place your order at the counter and receive a number in exchange. When your dishes are ready, your number is called. The decor is on the verge of being kitsch, but completely in line with the popular rotisseries of the province. However, we confirm that here, the chicken is really worth it.
Poulet Portugais stands out not only because of its delicious Portuguese rotisserie chicken, but also because, on the popular and vibrant Saint-Jean street, the address charms with its low prices.
Written by Samuel Gauvreau Des Aulniers
Photography by Photos Poulet Portugais