Stefano Faita's hazelnut and cocoa thumbprint cookie recipe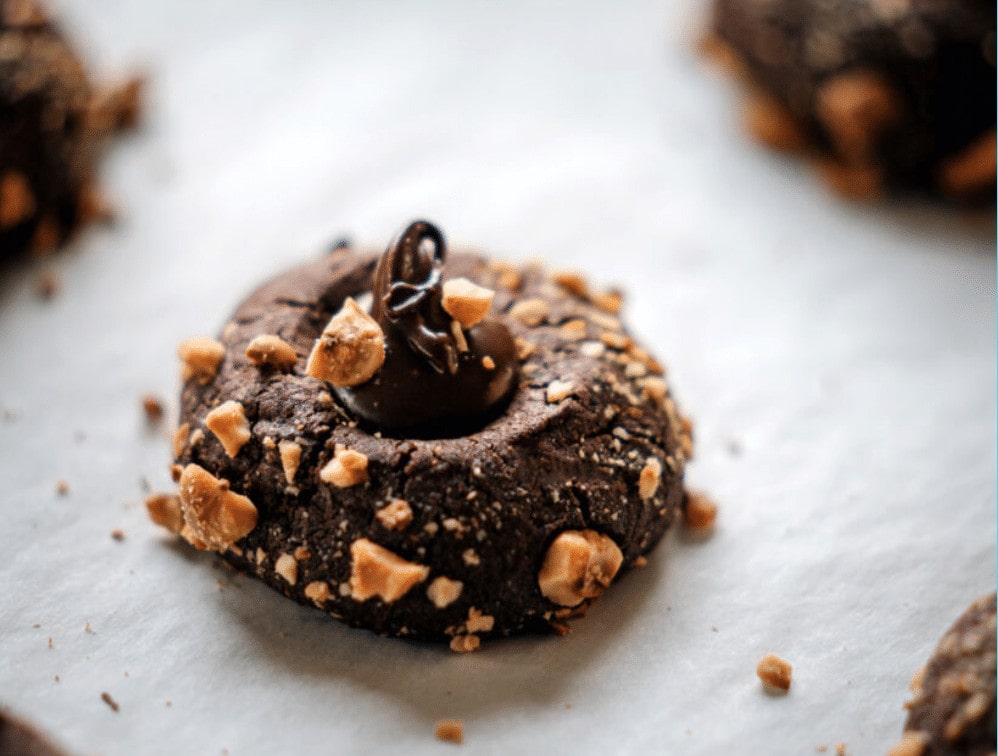 We have the privilege of sharing with you one of Stefano Faita's gourmet recipes that is sure to satisfy your sweet tooth. These small bites, straight from heaven, are the perfect dessert to complete your festive dinners. The recipe is quick and easy, taking less than 30 minutes to prepare. Between roommates or with our children, this recipe is the perfect excuse to gather in the kitchen and enjoy the good things in life.
The recipe is also an opportunity to get your hands on the new Cocoa Hazelnut Spread, the newest product from the Faita-Forgione team! You'll need it to get a perfectly delicious result.
Stefano Faita's hazelnut and cocoa thumbprint cookies
Serves: 24
Preparation: 15 minutes
Cooking: 12 minutes

Ingredients
½ cup unsalted butter, room temperature
1 large egg, room temperature
½ teaspoon vanilla extract
1 cup confectioners' sugar
1 cup all-purpose flour
1/3 cup cocoa powder
¼ tsp. salt
2/3 cup roasted hazelnuts, finely chopped
2/3 cup Stefano's Cocoa Hazelnut Spread
Method
Preheat oven to 350˚F.
Line 2 baking sheets with parchment paper. Set aside.
Place butter in a bowl. With a flat whisk, mix on low speed until butter becomes light, about 2 minutes.
Stir in egg and vanilla extract. If necessary, scrape down edges with a spatula.
With mixer on low speed, add sugar, flour, cocoa powder and salt. Mix well.
Remove cookie dough from bowl and place on parchment paper. Knead lightly until dough is smooth.
Using a small ice cream scoop, scoop the dough onto a parchment-lined baking sheet to form a ball.
Place chopped hazelnuts in a bowl and roll cookie dough balls in it, pressing gently.
Place balls on parchment-lined baking sheet, 1 inch apart.
Press each cookie with your thumb to create a small cavity on top.
Bake for 10 to 12 minutes.
Remove cookies from baking sheets and cool completely on wire racks.
Spoon a small amount of hazelnut-cocoa spread into the centre of each cookie.
If you liked this recipe from Stefano, you might want to check out his recipe for breaded cod burgers. For more cookie recipes, check out Marc-Olivier Frappier and Clément Tilly's recipes.
Photography by Stefano Faita