Baked potatoes with creamy crab sauce recipe from Parasol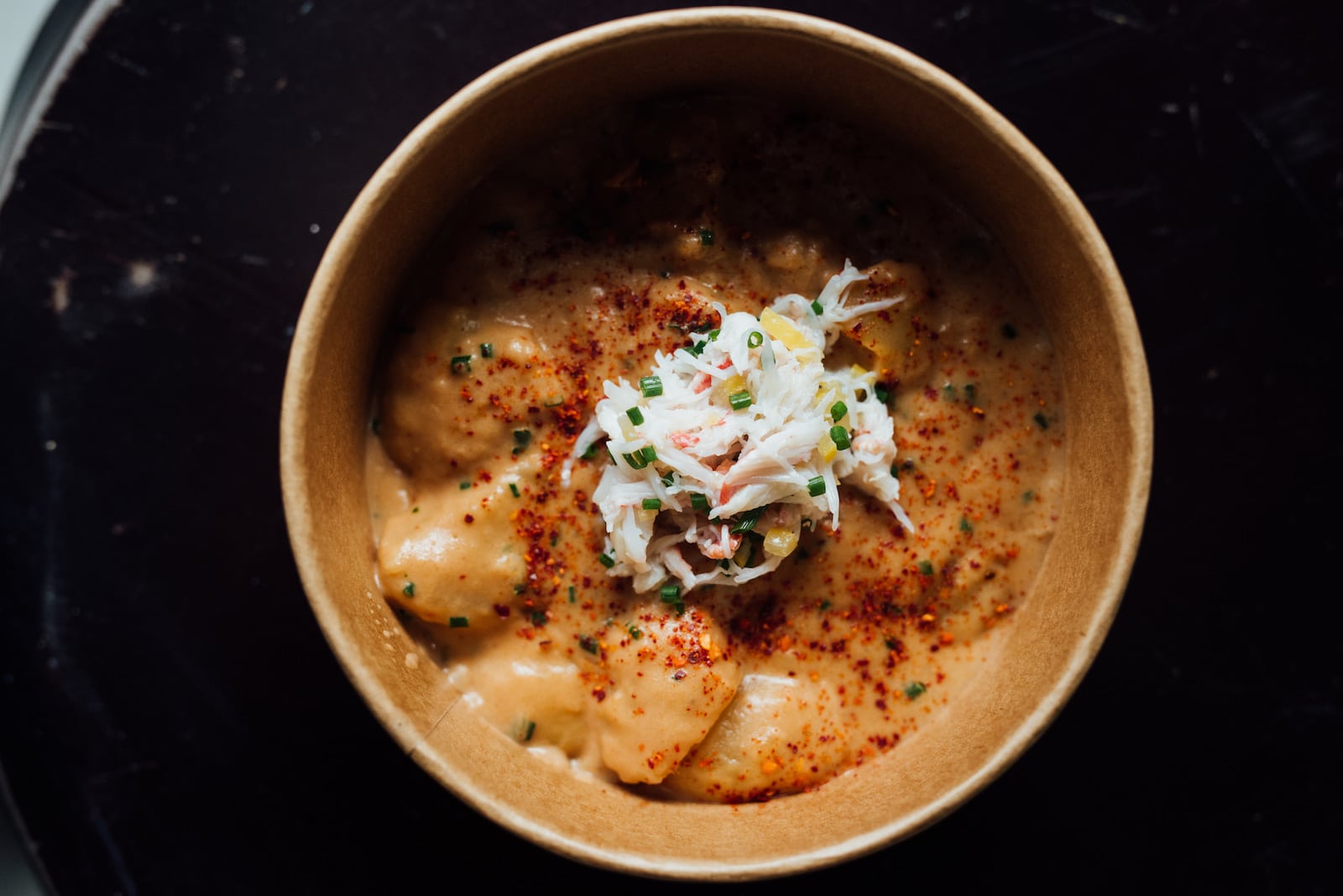 Crab season is in full swing and many people are trying to get their hands on crab before it runs out. Snow crab is a highly appreciated specialty in Quebec and many people love to savour its meat as is. However, you can eat it in an original way to elevate the experience. The Parasol crew shared with us — and therefore with you — their recipe for potatoes with crab cream, ideal for highlighting the crab's sweet flavour and accompanying its delicate meat. For those of you who have never tried a crab recipe before, this is a great way to start.
The recipe is simple and delicious. Pre-cooked crab meat can be easily found in grocery stores and many restaurants and specialty stores around town. To try other delicious crab dishes, visit the Crab Shack at Parasol, where crab is the star of the summer season.
Baked potatoes with creamy crab sauce
Serves: 3
Preparation: 20 minutes
Cooking: 90 minutes

Ingredients
Crab cream
1 liter 35% cream
1 shallot (thinly sliced)
1 clove garlic (thinly sliced)
20g ginger (peeled and cut into thin strips)
Shell of one crab
1 sprig thyme
1 tablespoon butter
A pinch Espelette pepper
Baked potatoes
4 russet potatoes
Butter
Salt
Crab meat
Cooked crab meat (as much as you want to eat!)
Method
Crab cream
Sweat shallots in butter over low heat until tender.
Add garlic and ginger and cook for 2 minutes.
Add crab shell, thyme and bay leaf and cover with cream.
Bring to a boil (watching closely to make sure it doesn't boil over), then reduce heat to low and simmer for 1 hour or until reduced by half.
Strain the crab mixture through a sieve and discard any residue.
Season with salt and Espelette pepper and fresh lemon juice.
Baked potatoes
Pierce a hole in the potatoes with a paring knife, then wrap them in aluminum foil with a small (or large) piece of butter and a pinch of salt.
Roast at 375° for about 1 hour, or until a paring knife penetrates without resistance.
Presentation
Make a slit in the top of the potatoes and squeeze the ends to open and expose the flesh.
Season with salt, then pour the hot crab meat inside.
Garnish with the crab meat and any herbs you have on hand.
Enjoy!
To try other summer recipes, visit the Recipes section of our site. You'll find suggestions to impress your friends and family.