Olive et Gourmando's macaroni and cheese recipe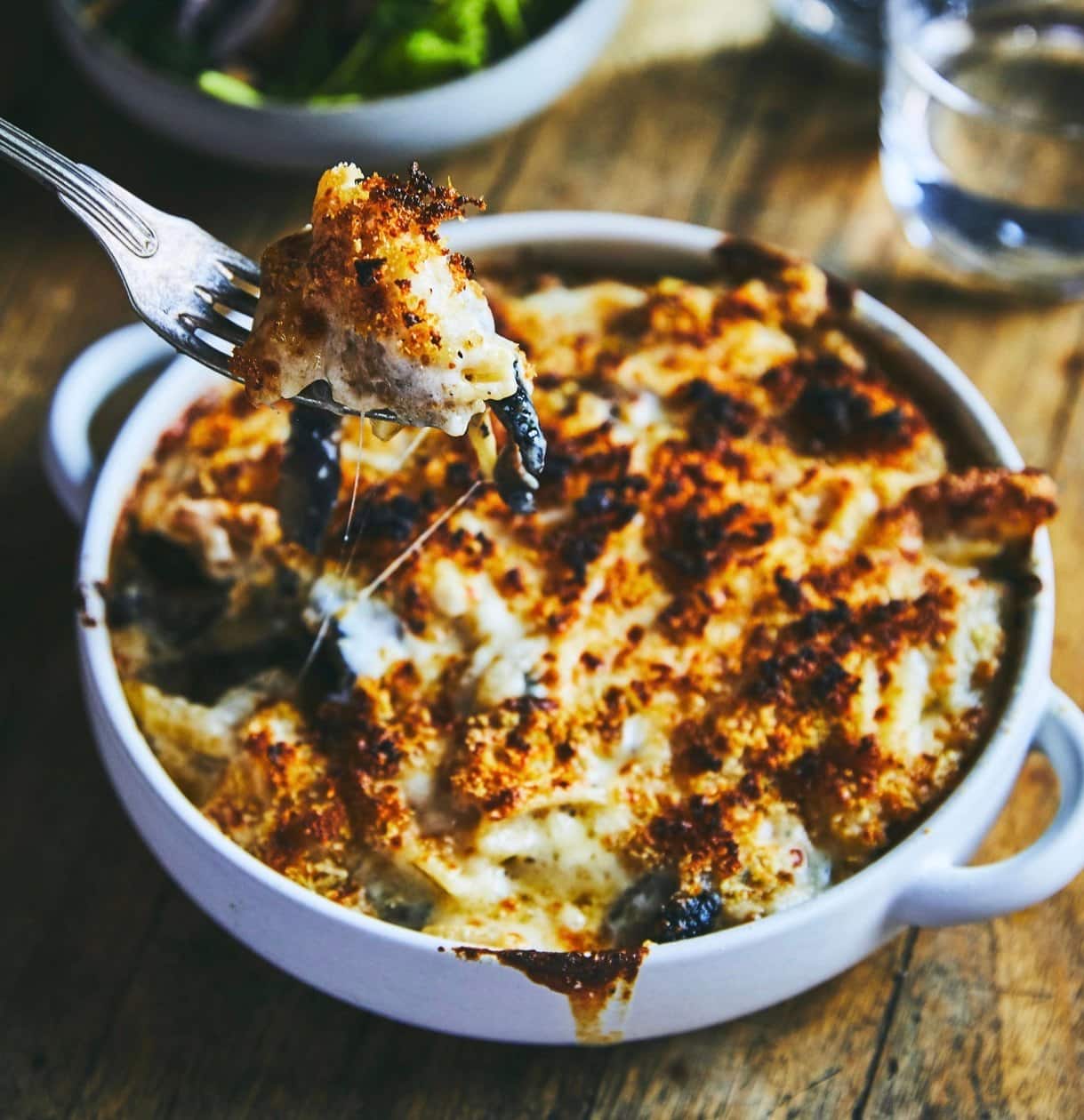 We have our list of the best mac and cheese in Montreal, but sometimes you just want the satisfaction and comfort of making your own at home!
It's hard to beat Olive et Gourmando's macaroni and cheese, and we've been lucky enough to get our hands on it!
Olive et Gourmando is a well-known café located in the heart of Old Montreal. Whether you need a good coffee and some pastries to go, a new place to brunch alone or with your friends, or simply a place to enjoy a sandwich that is out of the ordinary, Olive et Gourmando is the place to go! (And has been since its opening in 1997!)
Chef Dyan Solomon (also owner of Un Po Di Piu and Foxy) and her team make delicious comfort food that will never let you down. With her recipe for Olive and Gourmando's mac and cheese, she's revealing a well-kept secret! You can also find this recipe in their great book on sale here.
The famous mac and cheese
"Our mac and cheese recipe from Olive and Gourmando is phenomenal. It's packed with flavour and texture (and cheese…and calories). Every year it gets perfected a little more, and I can say it's one of my favourite dishes. I strongly recommend spreading its preparation over two days (at the risk of being angry with me). So caramelize the onions and make the cheese sauce the day before — and double the recipes: everything tastes better with a spoonful of caramelized onions, and the sauce freezes very well. You can also use it to give a creamy soup a richer taste. Even better: roast your mushrooms in advance. When it comes to assembling all the components of the dish, there's only one (but crucial) question to ask: what proportion of pasta and crispy topping should I use? At Olive, we prefer a thin layer of pasta. That way, the garlic and parmesan breadcrumbs add crunch to every bite. But maybe you like your mac n cheese smoother and less crunchy… it's up to you!" — Dyan Solomon
Olive et Gourmando's macaroni and cheese
Serves: 5
Preparation: 30 minutes
Cooking: 30 minutes

Ingredients
300 to 400 g (about 4 to 5 cups) of mushrooms (portobellos, shiitakes, coffee, oyster mushrooms, etc.) of your choice, sliced
1 500 g bag of short pasta (gnocchi sardi type)
Olive oil, for the pasta
65 g (2/3 cup) Gruyère cheese, cut into sticks
125 mL (1/2 cup) caramelized onions
60 mL (1/4 cup) truffle tapenade
1L (4 cups) of Dyan Solomon's famous cheese sauce
65 g (1/2 cup) coarse garlic crumbs
35 g (1/2 cup) grated Parmesan cheese
Fleur de sel and freshly ground pepper
Method
Preheat oven to 200 degrees C (400 degrees F). Line a baking sheet with parchment paper or a silicone mat.
Spread the mushrooms on the baking sheet. Bake for about 20 minutes, or more depending on the variety, or until the mushrooms have dried out but still have some moisture. Do not overcook.
Reduce oven temperature to 190 degrees C (375 F).
In a large saucepan, cook pasta according to manufacturer's directions or until barely al dente. They will finish cooking in the sauce. Drain and transfer to a baking sheet. Lightly oil pasta and refrigerate to stop cooking.
In a large bowl, combine cooked mushrooms, cooled pasta, Gruyère and Cheddar cheeses, caramelized onions, truffle tapenade and 750 mL (3 cups) of the cheese sauce. Season generously with salt and pepper.
Transfer mixture to a 22 x 28 cm (9 x 11 inch) baking pan.
Pour in remaining cheese sauce. Sprinkle with breadcrumbs and Parmesan cheese.
Bake in the oven for about 20 minutes, or until the pasta is hot and au gratin.