Beba's Spinach and Cheese Empanadas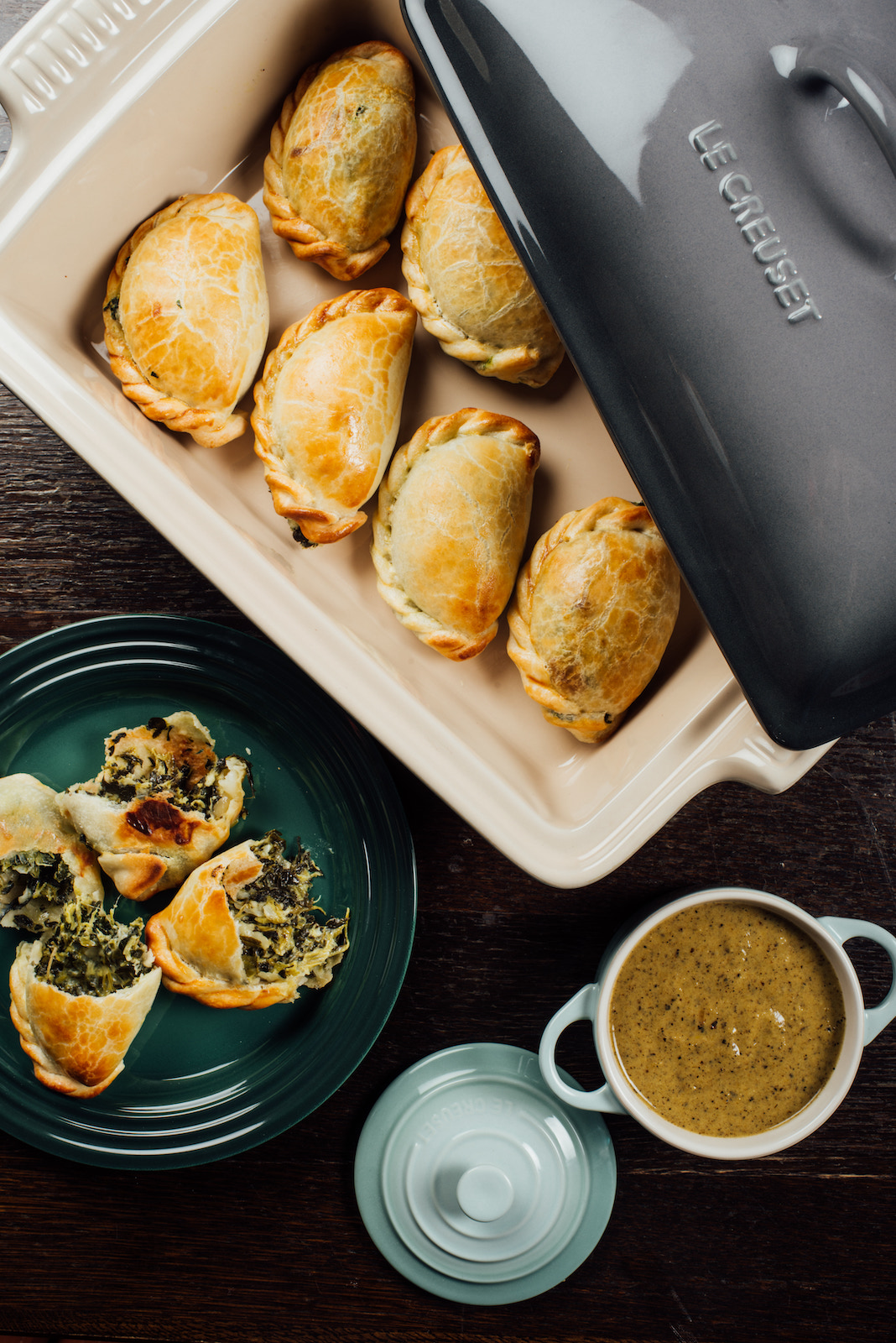 Beba's spinach and cheese empanadas are to die for! The empanadas are legendary at Beba restaurant. These delicious little turnovers can be stuffed with meat, fish, egg, potatoes, or other ingredients. Empanadas can be found in traditional Spanish cuisine and in many Latin American countries. Beba's are made following the traditional Argentinean recipe.
Beba is a delicious Argentinian-inspired restaurant owned and operated by the Schor brothers; whom we first met at Liverpool House and whose presence explains the almost instantaneous popularity of the little address in Verdun. Ari Schor and his team prepare succulent dishes that follow Quebec's seasons, all while paying tribute to Ari's roots and drawing inspiration from his gastronomic experiences.
Beba's spinach and cheese empanadas are amongst our favourites of the house, and we know they'll charm you too. If you're looking for a step-by-step version of Beba's meat empanadas recipe, they posted it on Instagram, here. For the vegetarian version, we hope you enjoy making this recipe as much as we did!
Beba's Spinach and Cheese Empanadas
Serves: 12
Preparation: 180 minutes
Cooking: 40 minutes

Ingredients
Dough
1 kg all-purpose flour
200 g cold butter
30 g kosher salt
360 g water
1 egg
Filling
600 g frozen spinach
2.5 tablespoons butter
2.5 tablespoons flour
250 g cheese curds
1 small onion
1 garlic clove
150ml milk
1/8 teaspoon nutmeg
1/8 teaspoon black pepper
1.5 teaspoons kosher salt
Method
Dough
Make sure the butter is cold (fridge temperature).
Mix the flour and salt together.
Cut the butter into 1 cm cubes and mix into the flour by hand or in a food processor until the butter is in lentil-sized pieces.
Add the water and work the dough quickly until it is well integrated and smooth.
Wrap the dough in plastic wrap and chill for 3 hours.
On a floured surface, roll out the dough with a rolling pin to 1/4 centimeter thickness.
Cut out 5-inch wide circles from the dough. You can re-roll the leftover dough once by pressing it together and rolling it again on a floured surface.
Place about 1/2 cup of filling in each shell. Fold over and crimp with a fork, or check out our Instagram for a "repulgue" tutorial (the classic crimping of Argentinian empanadas).
Place the empanadas on an ovenproof baking sheet lined with foil or parchment paper. Brush them with the beaten egg.
Freeze overnight. Once frozen, they can be stored in a freezer bag for up to 2 months.
When you are ready to bake, preheat the oven to 400°F. Place the tray with the frozen empanadas in the oven and bake for about 30 minutes.
Filling
Defrost the spinach and squeeze out the excess water.
Prepare a béchamel sauce: Melt the butter in a saucepan over medium heat. Add onion and cook until soft. Add the garlic and flour and cook for 2 to 3 minutes. Add milk and bring to a boil. Let cool to room temperature.
Combine all ingredients and refrigerate overnight.
Note/Variation
Serves approximately 4 people
The Heritage Rectangular Casserole is ideal for both cooking your homemade empanadas, or simply keeping them warm while serving at the table.
Bon appétit!