Nonna Moccione's Pascal lamb shoulder recipe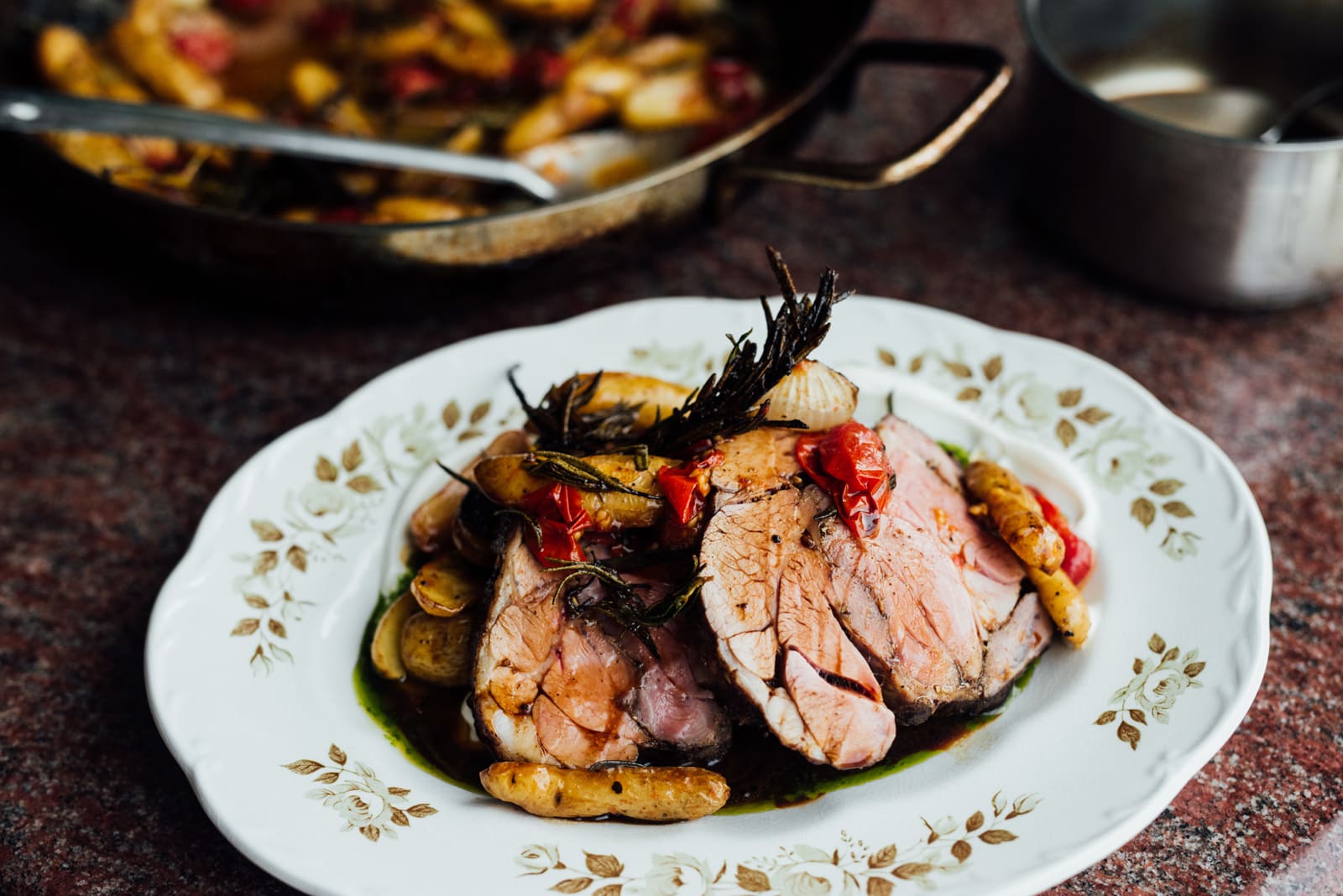 For Italian comfort in the neighbourhood of Villeray, we head — without hesitation — to Moccione. This address is one of the best Italian restaurants in Montreal. In order to celebrate this cuisine that we love at home, Luca Cianciulli has shared with us nonna Moccione's recipe for Pascal lamb. An easy and ideal recipe to prepare for Easter, but also for any other time of the year. What we love about this establishment is the authenticity of the dishes offered. This recipe is no exception!
In order to prepare nonna Moccione's Pascal lamb shoulder recipe at home, we recommend using lamb shoulder from La Bêlerie, which is a Quebec sheep farm in Cowansville founded in 2016. This homegrown family business practices responsible lamb farming and values the diversification of the use of its meat. La Bêlerie, which butchers its own lamb, supplies gourmet restaurants, butcher shops, and its products can also be found in grocery stores.
Pascal lamb shoulder
Serves: 6
Preparation: 60 minutes
Cooking: 120 minutes

Ingredients
Lamb
1 La Bêlerie boneless lamb shoulder
500 ml of red wine
2 sprigs of rosemary
12 sage leaves
4 cloves of garlic, crushed
Salt to taste (about 12 grams per kilo of meat)
2 tablespoons ground fennel seeds
2 tablespoons coarsely ground pepper
90 ml olive oil
45 ml unsalted butter
Potatoes
2 lbs of ratatouille potatoes
3 cups of cherry tomatoes
2 sprigs of rosemary
4 cloves of garlic
120 ml olive oil
250 ml white wine
Salt
Pepper
Salsa verde 
250 ml of parsley
250 ml of coriander
1 green onion
250 ml of olive oil
Salt
Method
Lamb
Ask the butcher to debone the lamb shoulder, or have fun doing it. Specify that you want the shoulder.  Season the piece on all sides with salt, pepper and fennel. Using butcher's twine, tie the lamb and place in an airtight bag with the wine, sage, rosemary and garlic. Marinate in the refrigerator overnight.
The next day, remove the lamb from the bag, reserving the juices. In a large skillet, sear the lamb in butter and olive oil over medium high heat. Once colourful on all sides, remove lamb and deglaze pan with remaining juices. Boil for 30 seconds.
Transfer lamb and juices to a Pyrex dish lined with parchment paper and place in the oven at 325º F. After 30 minutes of cooking, add 250 ml of water to the bottom of the Pyrex dish. After 60 minutes, check the interior temperature with a meat thermometer.  It should read 60°C (may take up to 90 minutes, but checking with a thermometer is essential). Make sure the thermometer is in the centre of the meat to get an accurate internal temperature. Let stand for at least 30 minutes before serving.
Potatoes
While the lamb is resting, prepare the potatoes. Put them in a pot filled with cold water. Bring to a boil for 1 minute. Turn off and drain.
Cut the potatoes in half lengthwise and transfer to a large bowl. Add cherry tomatoes, rosemary, garlic cloves, olive oil, salt, pepper and white wine. Mix well.
Place on a baking sheet and bake at 375º F for 30 minutes or until colourful.
Salsa verde 
Using a food processor or blender, chop the herbs and olive oil. Add salt to taste. Can be refrigerated for four days and frozen for up to two months.
Dressing
Spread a spoonful of plain 10% yogourt on the bottom of the plate. Add a spoonful of salsa verde, the potatoes and two half-inch slices of lamb. Drizzle a spoonful or two of the lamb juices on top of everything. Serve and devour.
Nonna Moccione will be so proud!
It's time to get in the kitchen and recreate nonna Moccione's lamb shoulder recipe! Order your lamb shoulder here.
*La Bêlerie offers a home delivery service for the Laval, Montreal and Montérégie regions.