Avril Sour recipe: A holiday cocktail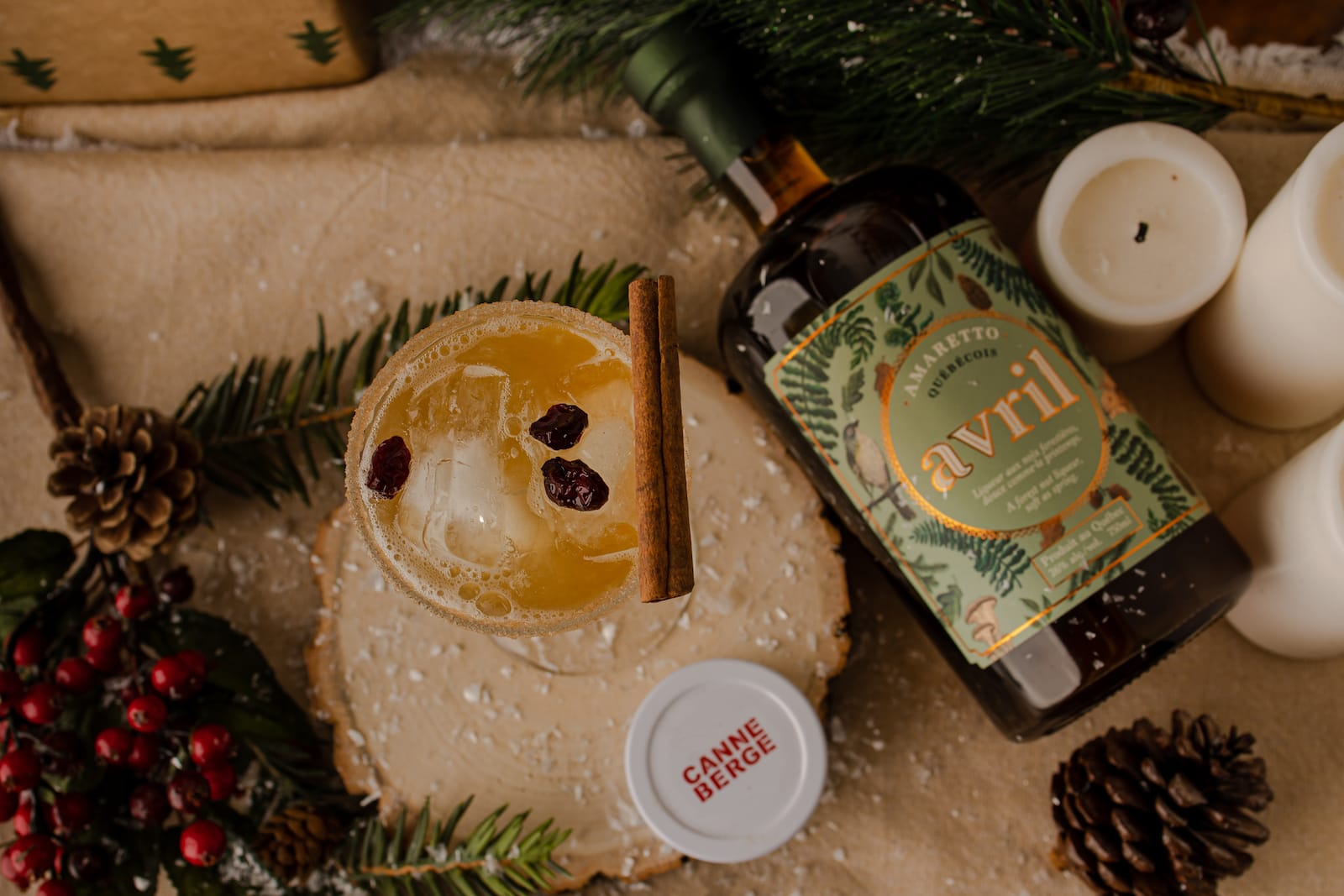 The streets of Montreal are aglow with festive lights and dustings of snow. People are beginning to bundle up and cocoon as the winter solstice is just around the corner. Whether you are ready or not, the holiday season is coming!
Whether you're in awe of the magic of the holidays or just want to take a break from the turmoil of the past year, there are many ways to celebrate.
For us, we're taking the opportunity to try new cocktails with festive flavours and enjoy little winter pleasures. And so, today we're sharing a recipe with you made with Avril amaretto, an almond liqueur: the Avril Sour. It's the perfect spirit to create your own favourite amaretto sour cocktail. Avril Amaretto really is a great combination of comfort and pleasure.
A local liqueur
If this product is synonymous with pleasure, it is also synonymous with local. In fact, Avril is part of the Mariana Distillery family located in Louiseville, the largest independent distillery in the province.
If you're a fan of the traditional Italian amaretto recipe, this Quebec liqueur will surely charm you. With its nose of caramel and warm accents of coconut and roasted coffee, it is perfectly balanced and has a smooth finish. A liqueur in all its splendour, this product pays tribute to its terroir by incorporating maple syrup and balsam fir.
As delicious in a cocktail as it is as a digestif, Avril amaretto has the versatility one looks for in a liqueur to make sure one doesn't buy a bottle for just one use. The general public seems to agree with us, as Avril is the #1 amaretto in the liqueur category at the SAQ.
Inspired by the holiday season, check out our chefs' recipes right here.
Avril Sour
Ingredients
1 oz Avril Amaretto
2 oz lemon juice
1/4 oz maraschino cranberry juice
Ice
Sugar
Cinnamon
Maraschino cranberries
Cinnamon stick
Method
Frost glass with sugar-cinnamon mixture and add ice.
Combine ice, Avril Amaretto, lemon juice, and maraschino cranberry juice in a cocktail shaker.
Shake ingredients vigorously until outside is frosted and serve in a glass.
Garnish with Avril maraschino cranberries and a cinnamon stick.
Photography by Lea Souligny