Five questions for… Patrice Demers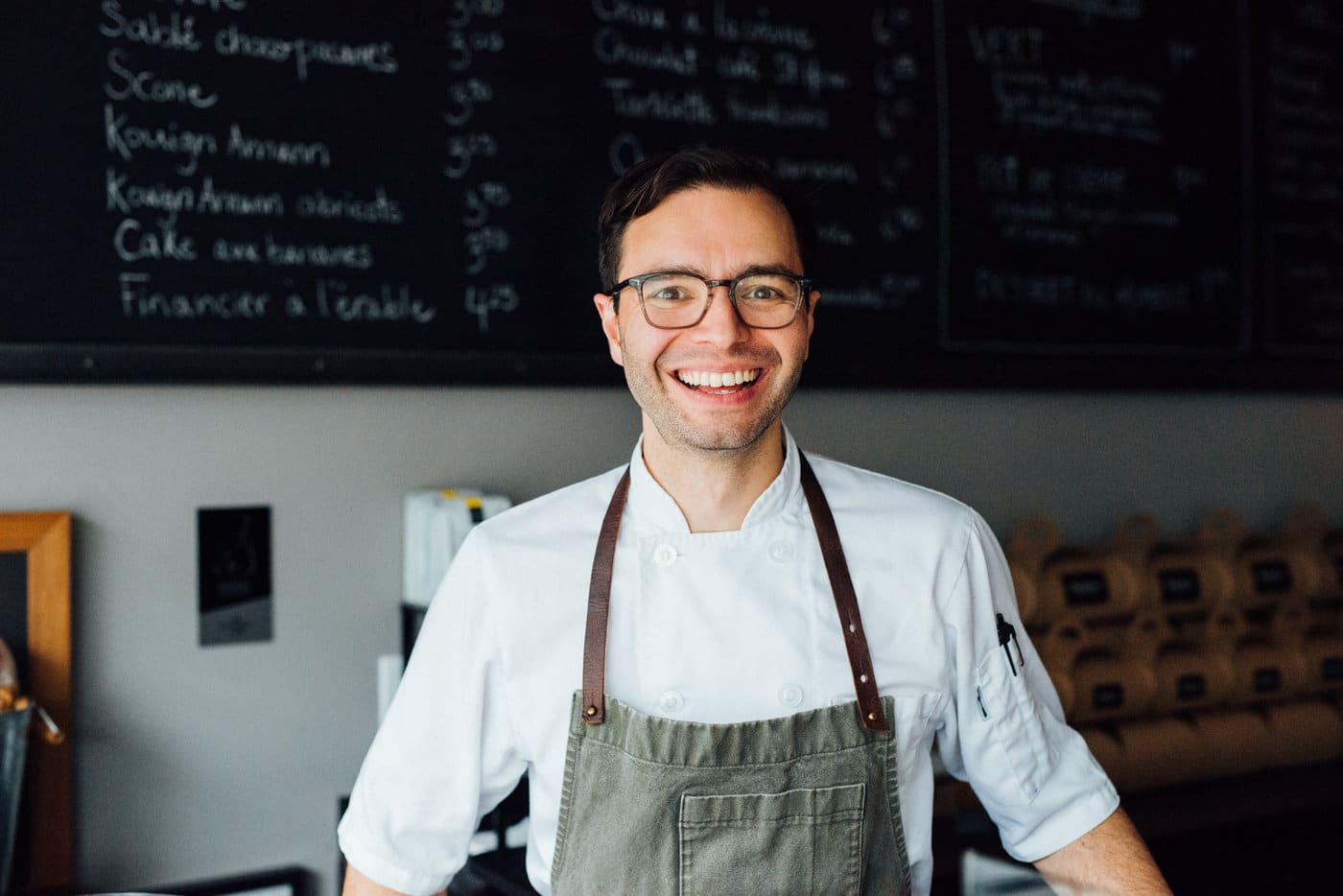 As you probably already know, Tastet is interested in everything related to the restaurant industry. We love to discover the best places to eat and drink well. Everyone appreciates good food served in a beautiful space. However, what gives us the most pleasure in pursuing our mission is meeting the people who make these experiences possible. Whether they are restaurateurs, chefs, famous personalities, or heroes who work behind the scenes, these beautiful encounters spark enthusiasm in us that we will always want to share with you. We invite you to discover one of Tastet's favourite personalities with our playful Q&A.
Today, we've met up with Patrice Demers. His excellent reputation precedes him everywhere he goes; in Quebec, across Canada, and abroad. He has hosted a TV show for several years, facilitated countless workshops, and he has written four books. He also received the award for Pastry Chef of the Year in 2018 at the first Lauriers gala. After working for several of Montreal's top restaurants, Patrice opened his patisserie, Patrice Pâtissier, with Marie-Josée Beaudoin, his spouse and lifelong accomplice, in February 2014. He took a little break in his day to chat with us in his shop.
Now let's get to the questions!
What are the 3 staple ingredients in your pantry (at home)?
Lemon. I use zest, juice, as much for savoury as sweet. Cheese. I'm a cheese maniac, so parmesan cheese as well as good old cheddar cheese, I always have that in the fridge, for sure. A third one, if we're going for sweet, I would say maple syrup. I like maple syrup, in cooking as much as in patisserie, just for a vinaigrette or something like that.
What is one thing you would never eat?
There's one food I just don't like! And that's olives. Otherwise I eat everything: offal, anything. But olives, I can't!
What is your favourite take-out?
There are many! Every week, we try to encourage someone. So, there is Sumac that I love, but I would say that our little discovery near our house is La Canting — Asian food in Pointe-Saint-Charles, and it's really great. Two young, super courageous people who opened on Saint-Patrick in the Nordelec, they do take-out and it's delicious.
Who would you most like to cook for (alive or dead)?
Pierre Hermé is one of my biggest inspirations. I had the chance to meet him last year and judge a competition with him, but he never came to the store. I would love to see him come in here for sure. It would be an incredible source of pride to have him taste my work.
What's the restaurant/dish you're looking forward to when everything is open again?
Sweetbreads, because that's something I never make at home. Often when we go to Hoogan et Beaufort, if it's on the menu, we'll definitely go for the sweetbreads.
What would people be surprised to learn about you?
As a child, I didn't like desserts, which is quite surprising for a pastry chef.
Your guilty pleasure?
Cheese, I could only eat cheese!
This or that
Sweet or Savoury? "Now, sweet."
Butter or Margarine? "Butter."
Fruit or Vegetables? "Oh that's a tough one, that's a tough choice, vegetables."
Bread or Pasta? "Two of my favourite things! Pasta."
Fried Chicken or Rotisserie Chicken? "Rotisserie chicken."
Cheese or Dessert? "Cheese." (We could've guessed that one)
Follow a recipe or freestyle? "Freestyle."
Meat or Fish? "Fish."
Beer or Wine? "Wine."
Thank you to Patrice Demers for answering our questions!
To try Patrice's recipes at home, click here and here!
Written by Inès Duguen
Photography by Alison Slattery