Five questions for Gabriella "Kinté" Garbeau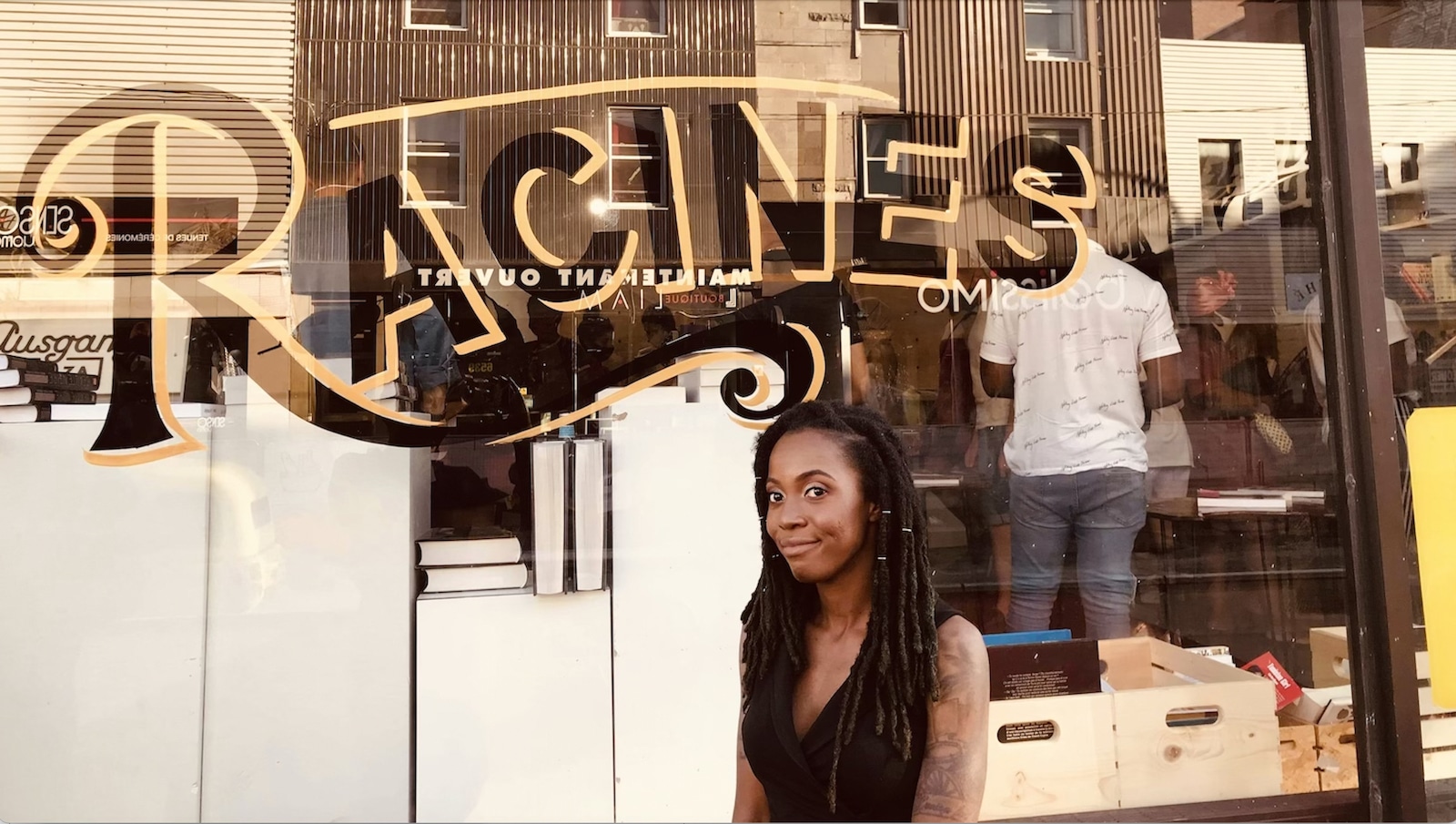 As you probably already know, Tastet is interested in everything related to the restaurant industry. We love to discover the best places to eat and drink well. Everyone appreciates good food served in a beautiful space. However, what gives us the most pleasure in pursuing our mission is meeting the people who make these experiences possible. Whether they are restaurateurs, chefs, famous personalities, or heroes who work behind the scenes, these beautiful encounters spark enthusiasm in us that we will always want to share with you. We invite you to discover one of Tastet's favourite personalities with our playful Q&A.
This week, we spoke with Gabriella "Kinté" Garbeau — founder of the Racines bookstore. Very involved in the community, Gabriella founded a bookstore that gives racialized authors their rightful place. After three years in Montreal North, Racines moved to the Rosemont neighbourhood in 2020. Despite this change of scenery, the mission of Racines remains the same and we invite you to go and discover works that have often received much less attention than they deserve.
Gabriella is well known for her commitment to the fight against racism and for her mission to promote and revalorize artists from culturally diverse communities. We wanted to learn more about her from a very Tastet perspective: her habits around food and cooking! Here's what we learned by asking her a few questions.
Do you have a sweet tooth?
Gabriella: "I eat licorice all the time. I had to stop. I haven't had any for two days. At my pharmacy, the girl at the register always knows I'm going to buy a pack of licorice."
What would you never eat?
Gabriella: "Pickles. People used to tell me, 'You're going to want to eat pickles when you get pregnant,' but that's not true. Pickles are for other people!"
If you were a chef, what kind of restaurant would you open?
Gabriella: "I love Southern food, but I know it's not very healthy, so I would open a restaurant to do that kind of food, but in a healthy version. The kind of southern food, with the wings and the fried food, but in a healthy version. It would be like a black vegan restaurant."
Which chef would you like to cook with?
Gabriella: "With chef Paul Toussaint. I've eaten in his restaurants and it's so good. Especially his shrimp, I would really like to know how he does it."
What are your favourite restaurants for take-out?
Gabriella: "I still do a lot of take-out. I often order from Sissi and Paul's, and also Steve-Anna's, which are both Haitian restaurants. The wings at Steve-Anna are addictive." (Both of these restaurants are on our list of the best Haitian restaurants in Montreal).
Rapid fire questions
Sweet or savoury? "Sweet."
Butter or margarine? "Margarine because I'm brooooke."
Bread or pasta? "Bread WITH pasta!"
Fruits or vegetables? "Fruits."
Beer or wine? "I don't drink, but if I have to, it'd be more wine than beer."
Fried chicken or rotisserie chicken? "Fried my friend!"
Thanks to Gabriella "Kinté" Garbeau for chatting with us!
Stop by the Racines bookstore for some great reading suggestions. The bookstore is located at 6524 Saint-Hubert Street.
Written by Marc-Antoine Ranger
Photography by Alison Slattery