Catherine Bélanger and her new restaurant Moleskine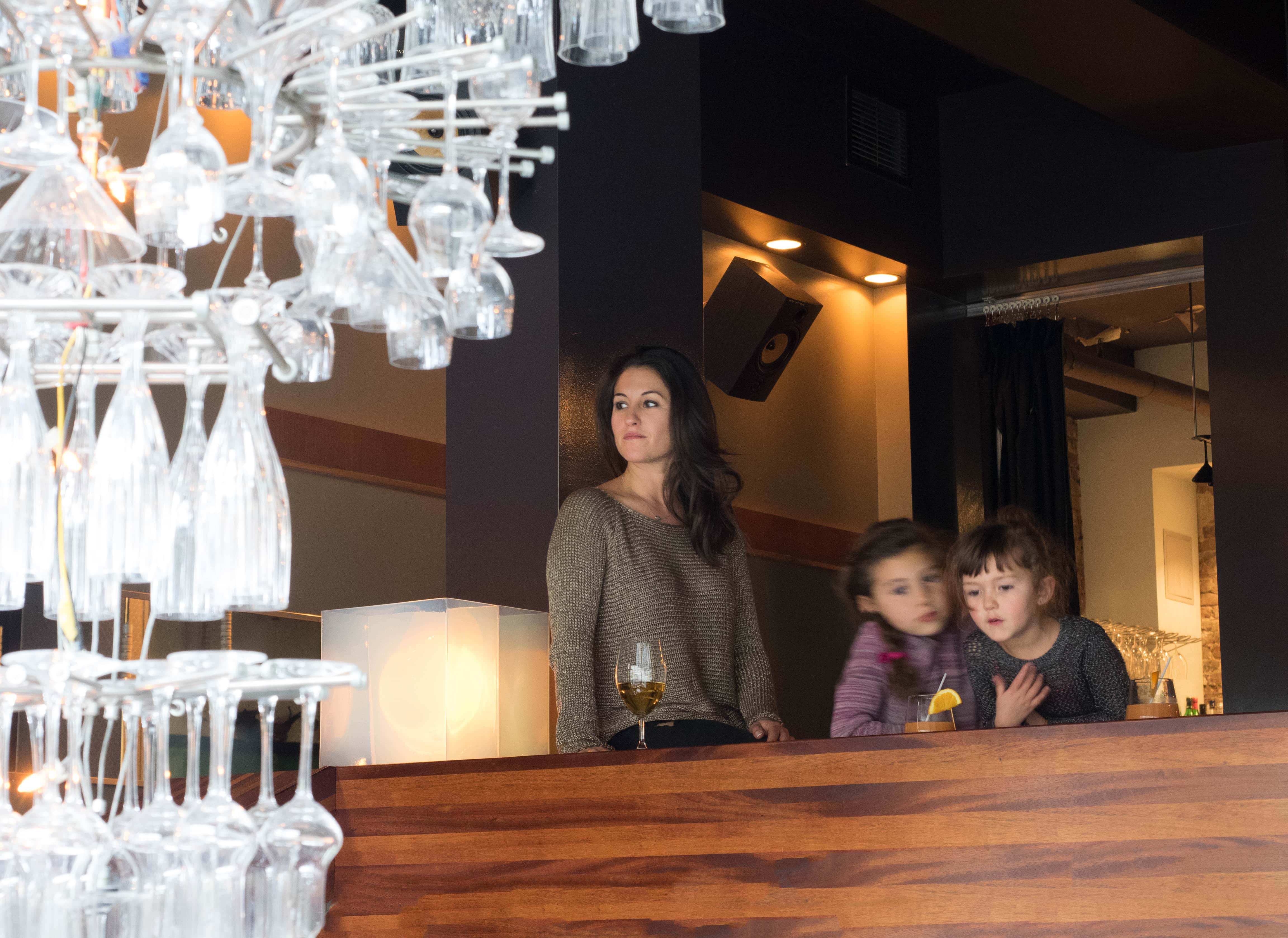 Catherine Bélanger is quite a restaurateur. With interpersonal skills that are the envy of many entrepreneurs, this outstanding businesswoman is a hard-worker with a clear vision. After opening Pullman more than 10 years ago, she is opening her new restaurant Moleskine in May; we can't wait to tell you more about it!
The clever one
At a very young age, through her friends' older sisters, Catherine quickly realized that the restaurant business paid better than working in a boutique as a summer job. "I started working in restaurants while traveling. I went to Banff, I had made a fake resume, I was ready to be a dishwasher, working at McDonald's. Then I traveled from England to Syria with a friend; we'd travel, visit, and when we ran out of money, we'd settle down and work in a restaurant." This led to her interest in the restaurant business.
The passionate one
An avid traveller, she received a phone call when she was in Africa to open Le Petit Italien. "I changed my plan and came back to Montreal."  In order to help with the decor, the team behind Le Petit Italien called on designer Bruno Braën, who was also their friend. Then in 1999, Le Petit Italien opened its doors and quickly became the canteen for the people of Outremont. Catherine worked there for 5 years.
In the evenings, when she finished work, she ate at Conti or L'Express, the only two tables that were open at the time to have a bite to eat and a drink late at night. It was at Le Petit Italien that Catherine learned about the wine business and developed a special interest in it. It was there that the idea of opening a wine bar in Montreal came to her.
The visionary
She sold her shares in Le Petit Italien, and in less than a year she opened Pullman Wine Bar. "I didn't even take a vacation! I felt a little bad about it afterwards, but hey, that's life." She was joined by Bruno Braën as co-owner and designer; he helped her think of "this kind of bibite" they were creating together. At the time, the sommelier profession was not very well understood or seen; sommellerie was perceived as very elitist and complex, in short, not for everyone. Pullman, as you have often heard, is an exceptional wine bar in Montreal. This is due in part to the hard work of Catherine and the entire team. Catherine and Bruno invented a space, a place that would accompany their concept. Looking back, Pullman was innovative for Montreal; the face of wine was not at all the same and the challenge was great – Pullman was a forerunner and a trendsetter, and it is now a classic.
The family woman
Passionate about her work, you can imagine how much she also invests in her family. Catherine started a family and opened a winery in Magog with her husband; "the vineyard is called Pinard et Filles, I planted vitis vinifera vines, European grape varieties." As in all the projects she invests in, everything is managed with a lot of energy and organization.
Today, Catherine Bélanger is once again an entrepreneur. After more than 12 years, Catherine and Bruno Braën are finally opening a new restaurant, just a few doors down from Pullman: Moleskine.
Why now?
"Because of the space we found, which is beautiful and close to here! I like to think things through. We looked elsewhere, but I'm attached to the neighbourhood, I want to be able to walk without a coat to go to my other restaurant. I didn't want to go anywhere else, I wanted to keep improving this little section of Parc Avenue that people find so strange. I love this little section; anglo, franco, everything is about 15 minutes away."
The chef
And then, because of the chef. And what a chef! For some time now, the kitchen at Pullman has been run by Frédéric St-Aubin – ex-chef of 357 for 10 years – and since his arrival, Catherine and Bruno have wanted to open something with him. Frédéric a great chef, one of the best in town, and he will be the chef at Moleskine.
And we were there with Véro; Véronique Dalle, the person in charge of the dining room and many other things at Pullman. She is the eyes, ears, mouth and right hand of Catherine in the wine bar. At Moleskine, she will be in charge of the room management as well as the wine list and pairings. Véronique and Frédéric will also be co-owners at Moleskine. A very promising team! Catherine will take care of the organization, management, concept, and its execution.
Moleskine
Moleskines are small notebooks — a nod to the lovely stationery shop next to Pullman – and it is also, at its core, a worker's fabric, a waxed cotton canvas. The decor at Moleskine will again be done by the talented Bruno Braën. Expect something original, since this is what best describes the designer's work – such as at Pullman, Auberge St-Gabriel, and Big in Japan bar, among others. The restaurant will be on two floors like Pullman, but here we'll be on several speeds. The bottom floor will be focused on take out, offering nice, simple, delicious, and inexpensive lunches. Upstairs, there will be a more upscale restaurant, with reservations. The menu will revolve around the use of the wood-fired oven and local products. The two floors will offer two different experiences. There will be both beer and wine on tap, with wine from good winemakers, as we know at Pullman. Upstairs, it will be in the same spirit, but more elaborate, more gastronomic.
The restaurant will be a bit more family-oriented, reflecting Catherine today. "There will always be a lot of chaos, a lot of warmth." Ah. We're very, very excited.
Moleskine will open sometime in May and will be open from 11 a.m. to 11 p.m. Tuesday through Saturday. Pullman is open from Wednesday to Saturday, as of 4:30 pm.
Written by Élise Tastet