Emmanuel Pilon: Assistant Chef of the Plaza Athénée visits Manitoba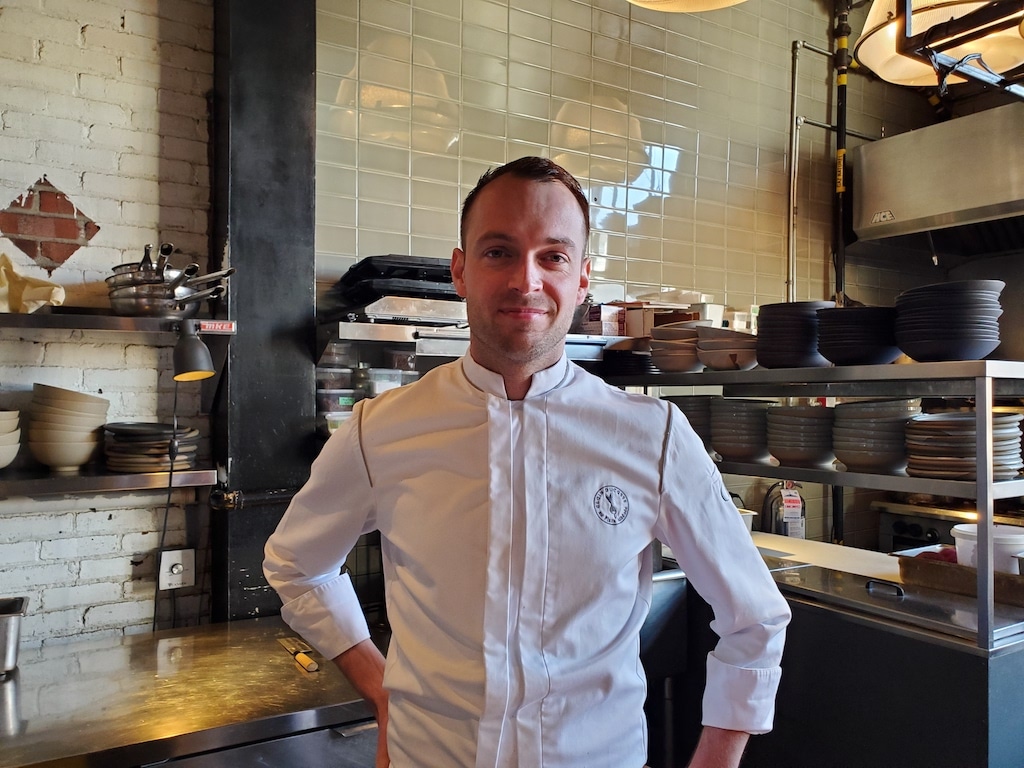 As part of the Montréal en Lumière Festival, Air France is once again presenting its Finest Tables; Emmanuel Pilon will be visiting the restaurant Manitoba for two delicious evenings on February 25 and 26: From Paris to Montréal. For the 21st edition of the festival, thanks to Air France, 50 participating restaurateurs will be working around the theme Journey into a World of Flavours to offer exclusive and colourful menus to festival-goers.
Emmanuel Pilon is one of those French chefs for whom cooking has always been an obvious choice. Having been immersed in this world from a very young age, the chef assures us that there was never any question of him doing anything else in his life, "except maybe being a soccer player… but they never wanted me," he says with a laugh.
Now assistant chef at the prestigious Plaza Athénée Hotel in Paris, Emmanuel's first memory of cooking goes back to his early childhood alongside his father, who was a chef himself.
Born and raised in the suburbs of Lyon, young Emmanuel moved with his family to the provinces so that his father could open his own restaurant marked by a generous family cuisine. He spent a large part of his childhood helping his father and being trained in good French cuisine.
Listed as a UNESCO World Heritage Site, Lyon's cuisine also left its mark on Emmanuel who, throughout his career, always returned to his origins.
He says that he followed a classic path to learn his techniques and develop his passion for cooking. Without asking himself too many questions, as a teenager, he went to boarding school at the Lycée Hôtelier de Saint Chamond to do a course in cooking. Far from the family cocoon, he would have years of intensive training which would only give him more desire to prove himself in the restaurant industry.
In 2003, he returned to Lyon to the Lycée professionnel Hélène Boucher to obtain his diploma in 2005.
After a few seasons in Lyon to put his techniques to good use, he started working as a commis de cuisine at restaurant Christian Tetedoie, in Lyon, in June 2005. There, he found the kind of family cooking that had been part of his childhood.
In order to broaden his horizons, he joined the Villa Florentine brigade in September 2006 as chef de partie. This first starred position in the chef's roster marked the beginning of his career in the world of starred restaurants.
In order to deepen his techniques and improve his skills, Emmanuel Pilon decided to work at the multi-starred restaurant Louis XV in Monaco as a chef de partie. He talks about this new step in his life as "an entry into another universe", as much in terms of the decor as the type of cuisine offered on the menu. It was there that he met Alain Ducasse for the first time, the great figure who would inspire his career as a chef. This experience in this three-star Michelin restaurant pushed him to constantly improve and to make it a point to always respect the product. Alongside Dominique Lory, he worked for five years in the best the Riviera had to offer.
In May 2014, he decided to leave the Mediterranean coast for the French capital. "I wanted to go to Paris since it is the gastronomic center in France and to be among the best. Paris represents for France what (I understand) Montreal symbolizes for Canada, culinarily speaking." Emmanuel Pilon walked through the doors of the grandiose Parisian hotel for the first time in May 2014, and he hasn't left since.
Among many happy memories in the kitchen with his colleagues, however, he remembers one specific moment that made him very proud in his career as a chef: his father's visit to the Plaza Athénée. Emmanuel dedicates this passion to his father, which is reflected in his grandiose dishes.
When asked about his inspirational figures in the restaurant business, he doesn't just talk about the great chefs he has met in his career. He obviously cites Alain Ducasse and Romain Meder as mentors for whom he has a great deal of respect, but also all his colleagues, chefs de partie, and others who guided him to his position as assistant chef at the Plaza Athénée. Mentor after mentor, Emmanuel was particularly marked by a cuisine that keeps the respect of the product and the artisanal knowledge at heart.
It is an ideology that he continues to put into practice at the Plaza Athénée under the direction of Romain Meder with their cuisine "de naturalité".
Written by Inès Duguen