Omma: Korean classics now in the Quartier des Spectacles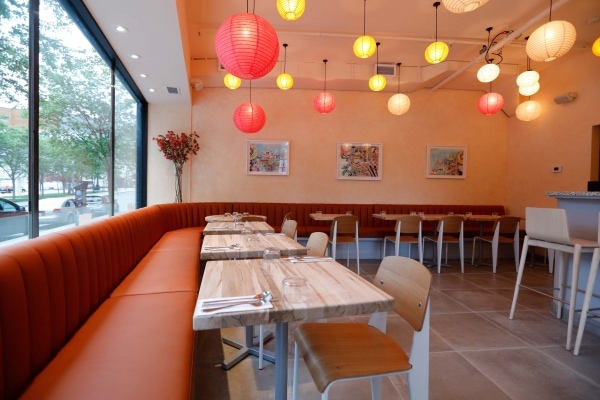 Omma

$$
Monday: 5:00 – 10:00 PM
Tuesday: 5:00 – 10:00 PM
Wednesday: 5:00 – 10:00 PM
Thursday: 5:00 – 10:00 PM
Friday: 5:00 – 10:30 PM
Saturday: 5:00 – 10:30 PM
Sunday: Closed

Omma has opened in Montreal's Quartier des Spectacles, and it is a charming place to enjoy tasty Korean cooking.
Jessica Wee, her brother Justin and mother My-kium Kim have opened Omma. Open since May 2017, this new restaurant uses the same winning formula and serves the same delectable dishes as the original location on Bernard Ouest (which has unfortunately closed) : it is a welcoming and lively family restaurant for good comfort food.
The decor here is stylish and feels spacious. The hanging korean paper-lantern lights are one reminder that this is still Omma. Designed by Jessica, it is bright and cheery, and offers a breath of fresh air on a street corner where there are few restaurants. The room fits about 30 people and the corner angle entrance with the large windows on either side, allows for a view of the Parterre park in the Quartier des Spectacles.
As for the food, Chef My-kium Kim is still behind these tasty Korean dishes. The menu has sensibly been kept the same. There are still house specialties such as sesame rice and bibimbap. As a starter, try pajun, a fried pancake with onions, carrots and kimchi – we highly recommend adding the option of seafood; mandoo (beef or veggie ravioli) with kale, or Omma's own rolls. Afterwards, there are curries of shrimp or chicken with coconut, salmon tartare, seafood salad or Yachae Bokum (vermicelli sautéed with sweet potato and vegetables, together with a sesame paste sauce). We enjoyed the bibimbap and sesame rice.
Omma also has a bar licence! There are a few cocktails and beers, and the wine selection is mostly made up of private imports, thanks to Christophe Jasmin (Thazard).
We like this restaurant – the decor is attractive, the food is consistent, and the staff are most kind. It is also a very nice addition to the neighbourhood. It is part of our list of  "Great Korean Restaurants in Montreal".
Written by Kashanti Sandy
Photography by Omma