Zébulon Vézina's "Grand" yogurt-pistachio cake recipe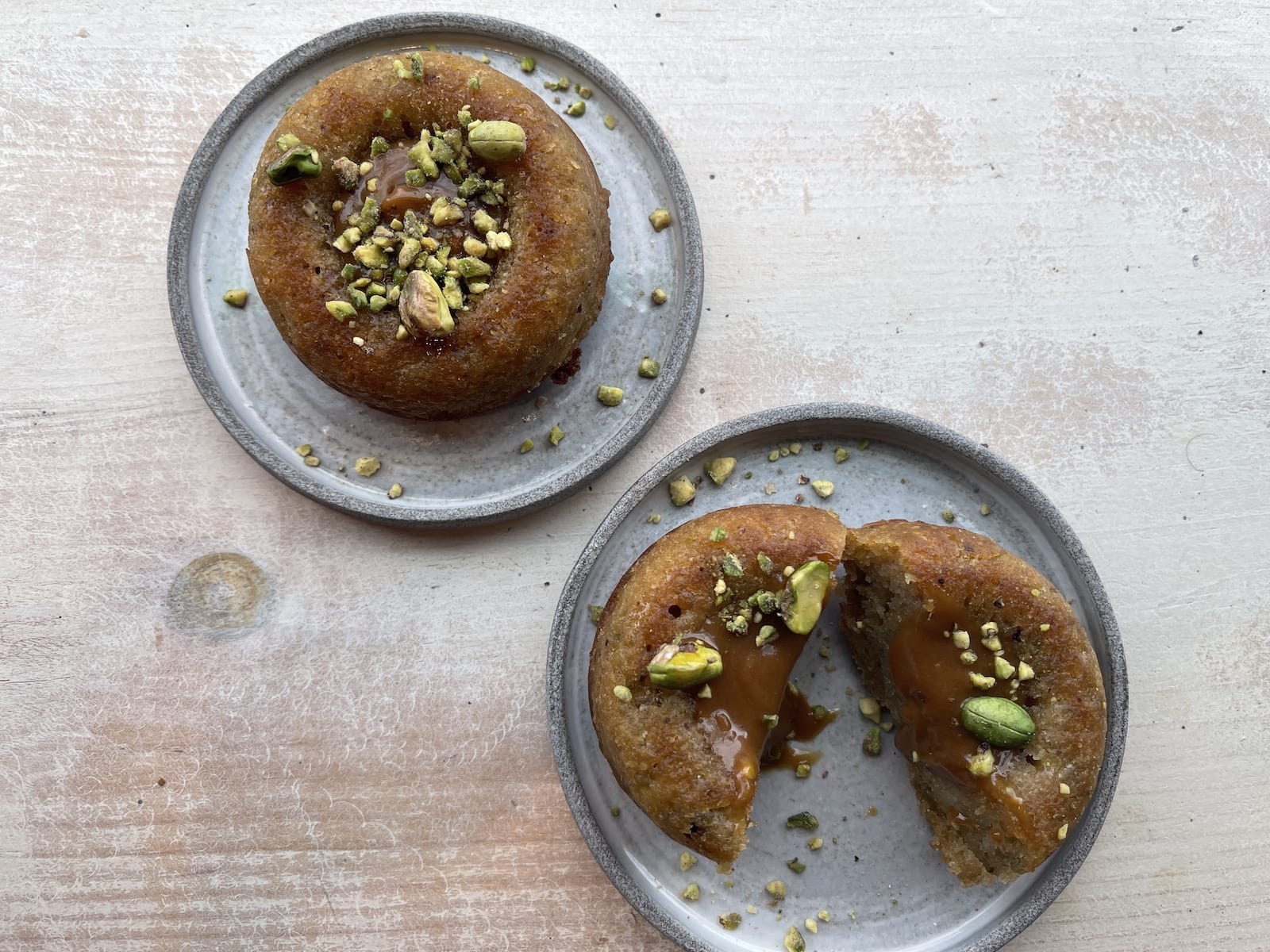 The Quebecois company LeGrand—with its fresh plant-based products—is completely revitalizing the world of vegan food.
And so, the idea of asking the chef of the vegan pastry shop—Pâtisserie Zébulon—to create recipes with LeGrand products seemed appropriate!
Vegan, organic, delicious, and made in Quebec!
LeGrand's mouth-watering products will surprise you. In fact, they are so tasty that even a non-vegan will be confused! The philosophy of this company is also the same as that of Pâtisserie Zébulon: a healthy diet and respect for ingredients, in order to create delicious, quality foods. They are made from organic ingredients, without GMOs, gluten, dairy products, preservatives, fillers, colouring, or artificial flavours. Only products made from plants!
Pistachio in the spotlight
Using LeGrand products, pastry chef Zébulon Vézina has created a beautiful pistachio-based recipe. The preparation is very simple for this recipe, and involves two parts. For the first part, simply mix all the ingredients until you get a sandy texture and set aside in the refrigerator.
Yogurt-pistachio Cake
Serves: 8

Ingredients
Pistachio crumble
20 g LeGrand unsalted vegan butter
20 g finely ground pistachios
20 g all-purpose flour
25 g brown sugar
2 g salt
Yogurt-pistachio cake
200 g LeGrand plain/vanilla vegan yogurt
160 g brown sugar
150 g plant-based milk
15 g cider vinegar
120 g oil (peanut, canola, grape seed, camelina, pistachio)
200 g all-purpose flour
50 g finely ground pistachios
6 g baking powder
4 g salt
Method
Pistachio crumble
Mix all ingredients EXCEPT the vegan butter.
Add the dry ingredients to the vegan butter and mix until well-incorporated and crumbly.
Yogurt-pistachio cake
Mix yogurt and brown sugar.
Add plant-based milk, cider vinegar, and oil. Mix again.
Add flour, ground pistachios, baking powder, and salt. Mix gently.
Pour the mixture into a greased pan (cake pan, financier pan or donut pan).
Add the pistachio crumble directly on top of the cake mixture.
Bake at 350°F for about 15 minutes. To ensure perfect cooking, insert a toothpick into the cake; if it comes out clean, the cake is done.
Once the cake has fully cooled, remove from pan.
Decorate with ground pistachios, whole pistachios, vegan caramel spread, or fruit jam.
About his recipe, Zébulon Vézina shares that since the cakes are not very sweet, they're "great for breakfast on the go, or to accompany a black tea at the end of a good meal".
The holiday season is the perfect time to try this recipe; who knows, it may just become a household classic!