Lobster, green asparagus & basil tartine by Olivier Perret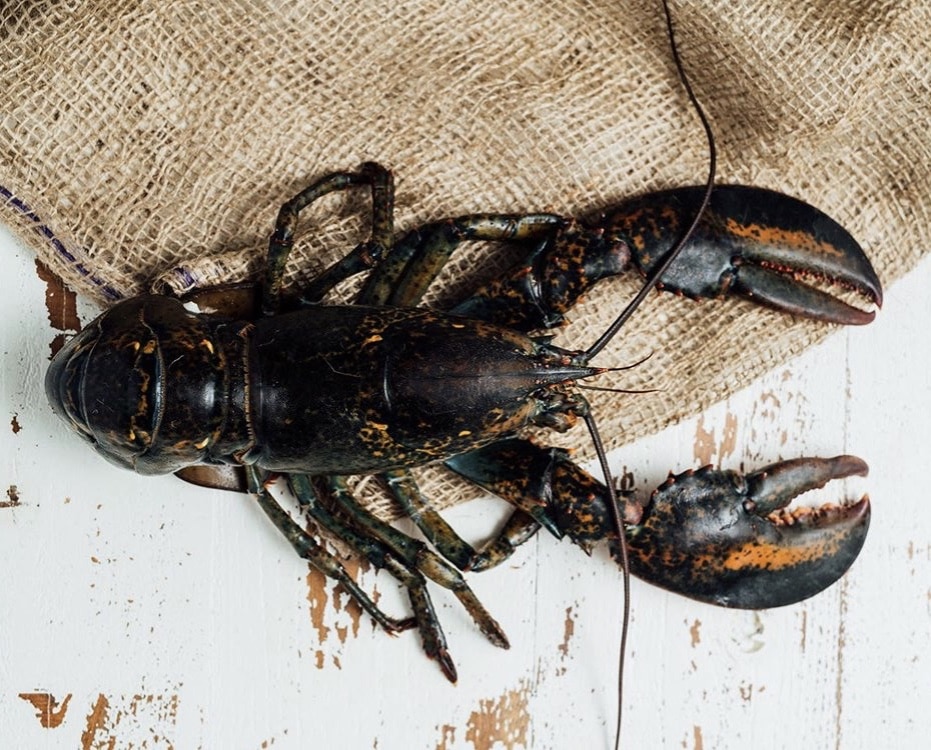 Olivier Perret, executive chef at Renoir, the chic restaurant of the equally elegant Sofitel Hotel, cooks with great delicacy. He attaches great importance to his local suppliers and encourages their production by highlighting vegetables, poultry, meats, and fruits from Quebec. Here he offers a seasonal composition that is irresistible and truly delicious. It's your turn to enjoy.
Canadian lobster, green asparagus, citrus and basil tartine recipe
Serves: 4

Ingredients
2 Quebec lobsters (1.25 lb/1.5 lb)
8 beautiful green asparagus
150 ml of vegetable oil
1 tbsp. Dijon mustard
1 egg yolk
1 lemon
2 oranges
50 ml of olive oil
4 nice slices of a loaf of farmhouse bread
1 tbsp. chives
1 tbsp. basil
1 clove of garlic
1 French shallot or 1 half onion
1/2 carrot
1 stick of green celery
1 green leek (about 10 cm)
1 sprig of thyme
A pinch of Espelette pepper
Salt and pepper to taste
Method
Lobster
Cook the two lobsters in the boiling salted water with the carrot, shallot, celery, garlic, thyme, and leek. Once the lobsters are immersed, as soon as boiling resumes, count four minutes. Detach the claws and cook them two minutes more.
Put the cooked lobsters to cool in the refrigerator or under cold water.
Once cooled, clean lobsters and remove claws, elbows, and body.
Cut the body in medallions and the claws in pieces.
Baste with a little olive oil and season with ground pepper. Set aside.
Asparagus
Peel the asparagus.
Boil a good quantity of water and submerge the asparagus for 1 to 2 minutes depending on their size. Prick them with a knife to check for doneness.
Once cooked, plunge them into an ice water bath for two or three minutes. Take them out, drain them, and cut them in three.
Sprinkle with a little olive oil and season with salt and freshly ground pepper. Set aside.
Mayonnaise
In a bowl, whisk the egg yolk and mustard, adding the vegetable oil in a steady stream.
Whisk until emulsified and creamy, then add the juice of half a lemon and season with salt and Espelette pepper.
Bread
Slice four nice slices of country bread.
Toast lightly coloured. Let cool.
Oranges
Supreme the oranges and remove the segments.
Set orange segments aside with excess orange juice.
Chives and basil
Chop chives and basil with a knife (keep the smallest basil leaves for decoration).
Finishing and presentation
Spread mayonnaise on each slice of bread, (all over but not too thick).
Arrange 4 to 6 pieces of asparagus and 4 to 6 pieces of lobster on each slice (depending on the space you have on the slice).
Add the orange segments, chives, and chopped basil as well as a few small basil leaves for decoration.
To finish, add a pinch of Espelette pepper and lemon zest.
Bon appétit!