Braised lamb recipe from chef Erin Mahoney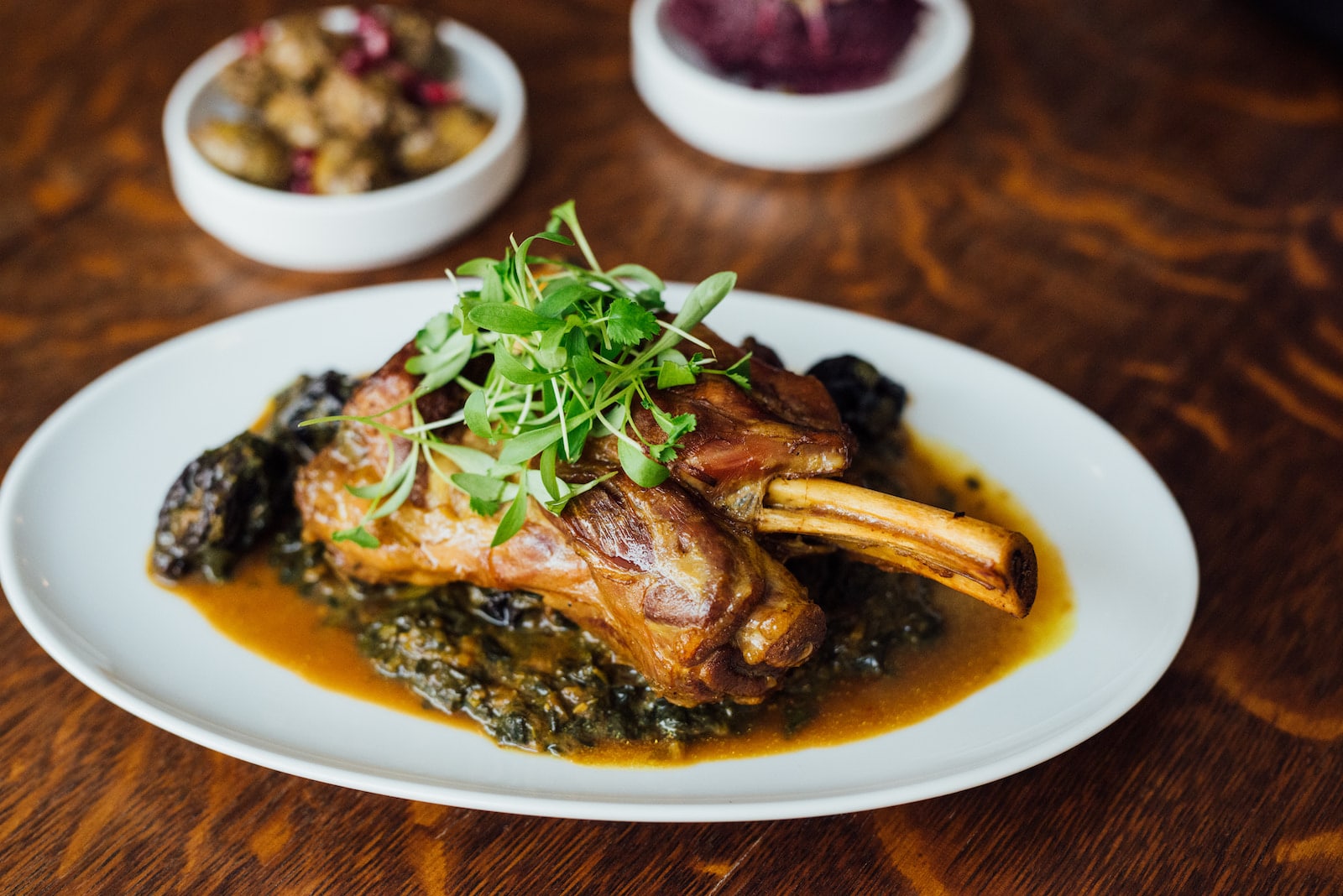 While lamb is a very popular dish in restaurants, few people cook it at home. You can, however, make excellent recipes with it without much difficulty. The chef of Joon restaurant, Erin Mahoney, agreed to share her recipe for braised lamb in a spinach and plum sauce (Khoresht Esfenaj) with Tastet, and therefore with you! Joon specializes in Iranian and Armenian cuisine, and is an excellent address to try if you haven't already! The Sudjouk sandwich, available on Sundays, is also on the list of the best sandwiches in Montreal. And lastly, it isn't by chance that the name of the restaurant means "beloved" in Farsi.
In order to prepare Joon's braised lamb recipe at home, we recommend using lamb shanks from La Bêlerie, a Quebec sheep farm in Cowansville founded in 2016. This local family business raises lamb responsibly and is keen to add value and diversify the use of their meat. La Bêlerie, which butchers its own lamb pieces, supplies gourmet restaurants, butcher shops, and its products can also be found in grocery stores.
Braised lamb in a spinach and plum sauce (Khoresht Esfenaj)
Serves: 2
Preparation: 60 minutes
Cooking: 170 minutes

Ingredients
2 small or 1 large La Bêlerie lamb shanks (about 500 g)
70 g leek (white part)
300 g sweet onion, julienned
50 g chopped green onions
200 g spinach, coarsely chopped
8 whole dried plums (with pit)
1 litre of chicken, veal or lamb stock
¼ teaspoon of cinnamon
½ teaspoon black pepper
1 ½ teaspoons turmeric
½ tablespoon salt
1 tablespoon lime juice or more to taste
2 cloves garlic, minced
¼ cup sunflower oil and a little to sear the shanks
1 pinch of saffron crushed in a mortar and rehydrated in 2 tablespoons of water (optional)
Method
Combine cinnamon, black pepper and turmeric.
Sprinkle some of the spice mixture over the lamb with a small spoon to lightly coat the meat.
Sear the shank(s) until brown on all sides with a little sunflower oil. Set aside.
In the same pan, caramelize the onion over medium heat in ¼ cup of sunflower oil.
Add the leeks and garlic to the onion when it is well caramelized and sauté over low heat.
Add the remaining spices, ½ tablespoon of salt, the chicken, veal or lamb stock and the shank(s).
The liquid should cover the lamb by ¾; if not, add a little more water. Bring everything to a boil.
Lower the heat, cover the pan with aluminum foil and place the lid on top.
Let simmer gently on the stove for 2 hours or place in a preheated oven at 300ºF for 2 hours.
Meanwhile, reduce the spinach and green onions in a pan.
After 2 hours, add the spinach and green onions to your pan and let it continue to cook at the same power for 45 minutes to 1 hour.
Check the cooking of your lamb. When it is tender you can remove it from the pan and set it aside. (Cover with the aluminum foil used earlier).
Add the plums to the sauce and adjust the salt to taste. If the sauce is very liquid, cook it a little longer over medium heat to thicken it.
When the sauce has a nice thickness and the plums are rehydrated, turn off the heat and add your lime juice. * This is also the time to add your saffron (optional step).
Return the shank(s) to the sauce to warm them up gently.
Serve the shanks with their sauce and steamed rice or your favourite side dishes.
It's time to get cooking by ordering your shanks here.
*La Bêlerie offers a home delivery service for the regions of Laval, Montreal and Montérégie.