Beet Mutabbal from Damas restaurant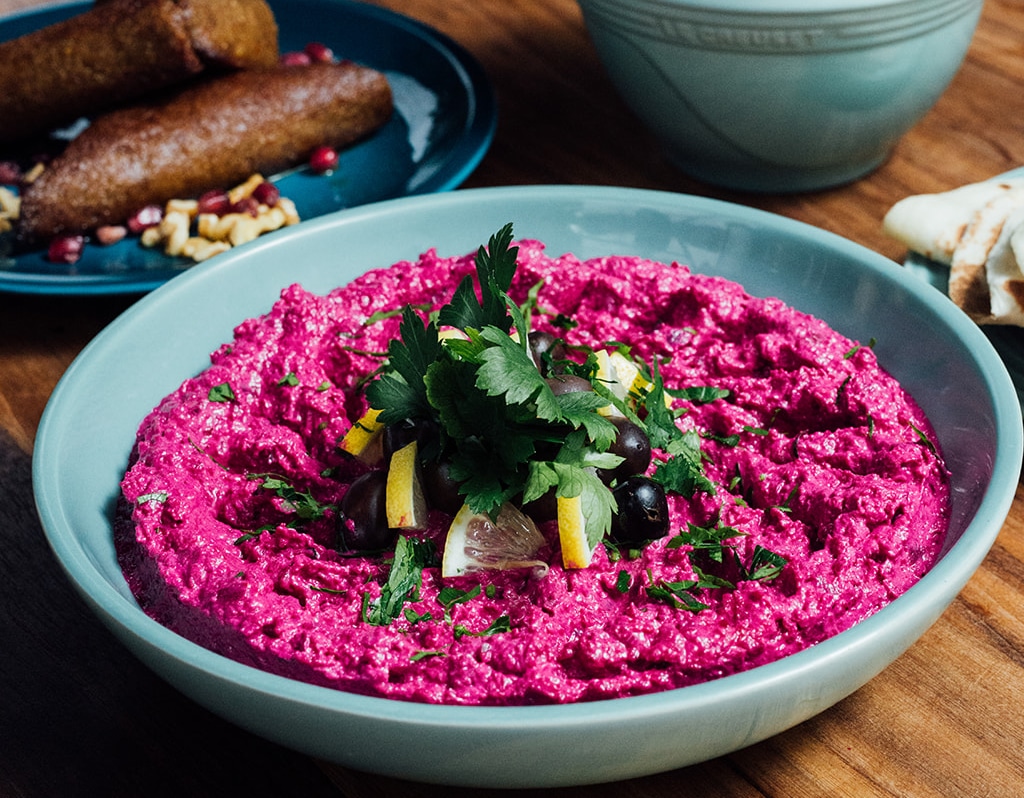 "Beet mutabbal is one of our most popular dishes and an easy starter to prepare."
Le Creuset Product used in this photo: Minimalist Coupe Pasta
Beet Mutabbal from Damas
Serves: 4
Preparation: 25 minutes
Cooking: 10 minutes

Ingredients
500g roasted beets (coarsely pureed)
150g Tahini paste
150g yogurt (full fat Greek yogurt or sheep's milk yogurt is preferable)
2g pureed garlic (medium clove)
1 tbsp freshly squeezed lemon juice
1 tsp salt
2 tsp cane sugar (or 2 tsp honey)
1 tsp Aleppo pepper
2 tbsp olive oil
Method
Wrap 2-3 large red beets in foil and roast at 375˚F /190˚C for one hour or until soft in the centre.
Peel and dice into small pieces (1/2 cm) or mix into a purée in a food processor. Add the tahini and yogurt.
Add the puréed garlic, lemon juice and cane sugar (or honey).
Season with salt and pepper. Drizzle with the olive oil. Garnish with parsley, black olives.
Perfect to eat with pita bread to accompany stuffed vegetables like eggplant, zucchini, grape vine leaves as well as kibbeh, fried or baked.
This recipe comes from our Chef recipes for home cooking. This cookbook features 12 exceptional recipes chosen from among your favourite restaurants. It was created in collaboration with Le Creuset and the restaurants Au Pied de Cochon, Arthurs Nosh Bar, Bar Otto, Club Chasse et Pêche, Damas, Elena, Joe Beef, Mon Lapin, Montréal Plaza, Pigor, Satay Brothers and Tuck Shop to give you access to the best recipes in town.
Also note that all sales from the book will be donated to the restaurants that participated in the project.