Qantu, cacao et chocolat: Love and cacao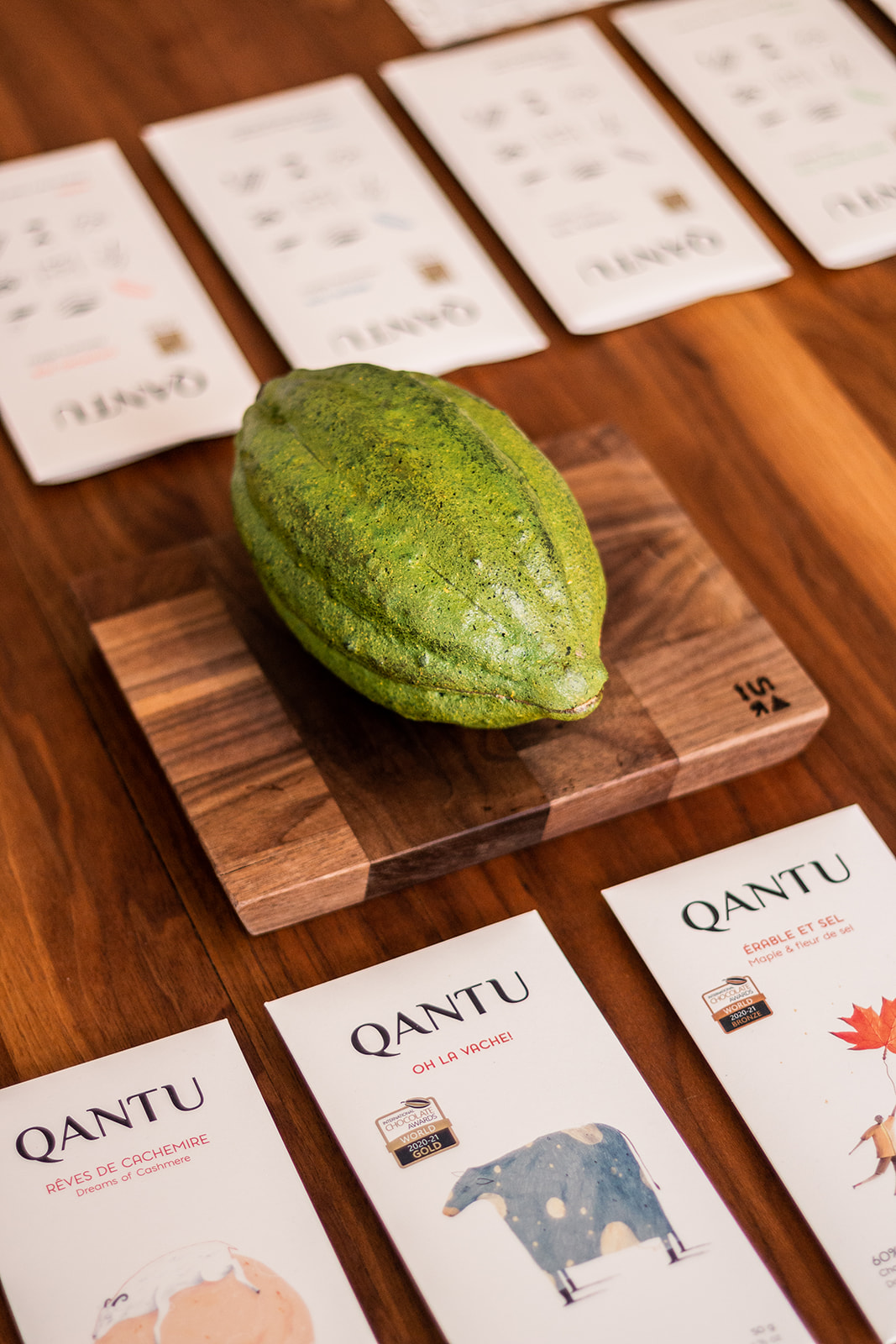 As part of the gastronomic component of the Montréal en Lumière festival, the Office montréalais de la gastronomie has launched the 100% Montréal gourmet box. The goal of this box is to invite the hotel, organizational and business communities to promote the work of Montreal artisans, producers and processors as a corporate gift. Through this series of portraits, we invite you to discover them. We start off with Qantu, Cacao et Chocolat!
We met Elfi Maldonado and Maxime Simard in their Hochelaga-Maisonneuve office, where they combined love and cocoa to create a high-end chocolate company: Qantu, Cacao et Chocolat.
"It was in Cusco in 2007 that we met while I was on a trekking trip," says Maxime Simard. "Elfi invited me to dance, and this dance continues today."
"Then Maxime told me he would be back home for Christmas," Elfi continues. "At Christmas, he told me he would come in April for a year, and then finally it lasted almost a year and a half. I felt like I had known him for a long time."
The couple later moved to Montreal and looked for a project to keep them connected to Peru. They first leaned towards coffee and then finally decided to work with cacao, "which has more direct and powerful flavours" according to Maxime Simard.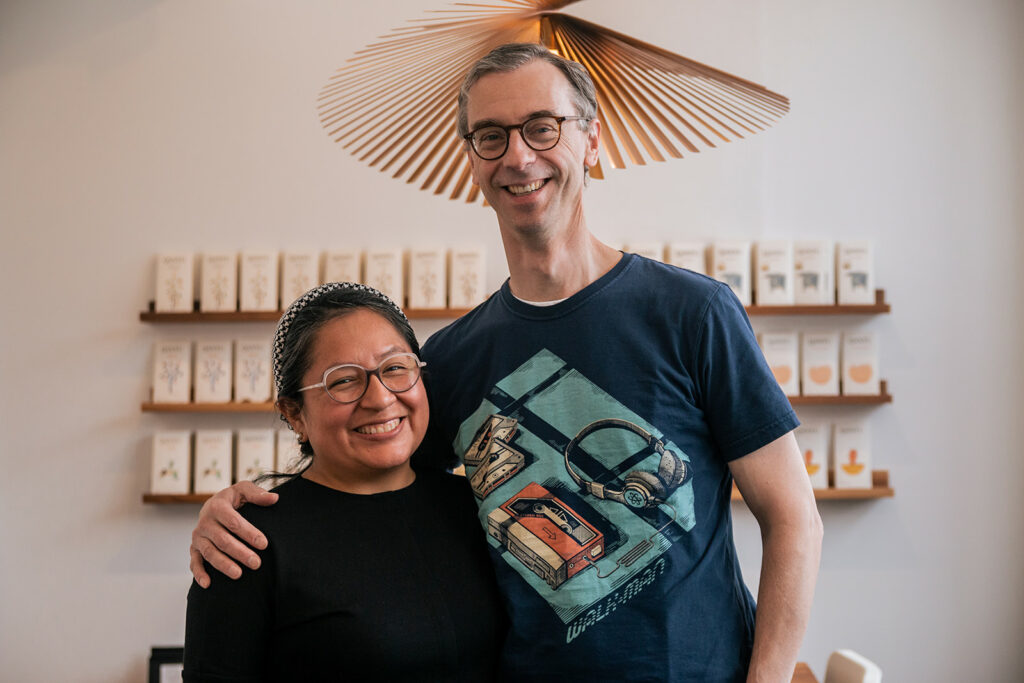 In search of the precious indigenous bean
"It was a local producer who put us on the trail of the nobler and rarer varieties of cacao found in Peru," admits Elfi Maldonado. "That's when I realized that this product could make our approach unique and more singular. We started our work with white cacao, the Chuncho, which is a wild cacao and is the most recognized variety in Peru."
Qantu, which is the name of Peru's national flower in the Quechua language, was formed in 2016 and finds its roots and identity in the strong relationships the couple has established with Peruvian cooperatives scattered throughout the country. These cooperatives work with indigenous beans that have never been modified for the food industry. In addition to the Chuncho, these beans are called Morropon, Gran Blanco, Bagua and Chaska. These varieties of cacao are flavourful and each have their own unique taste.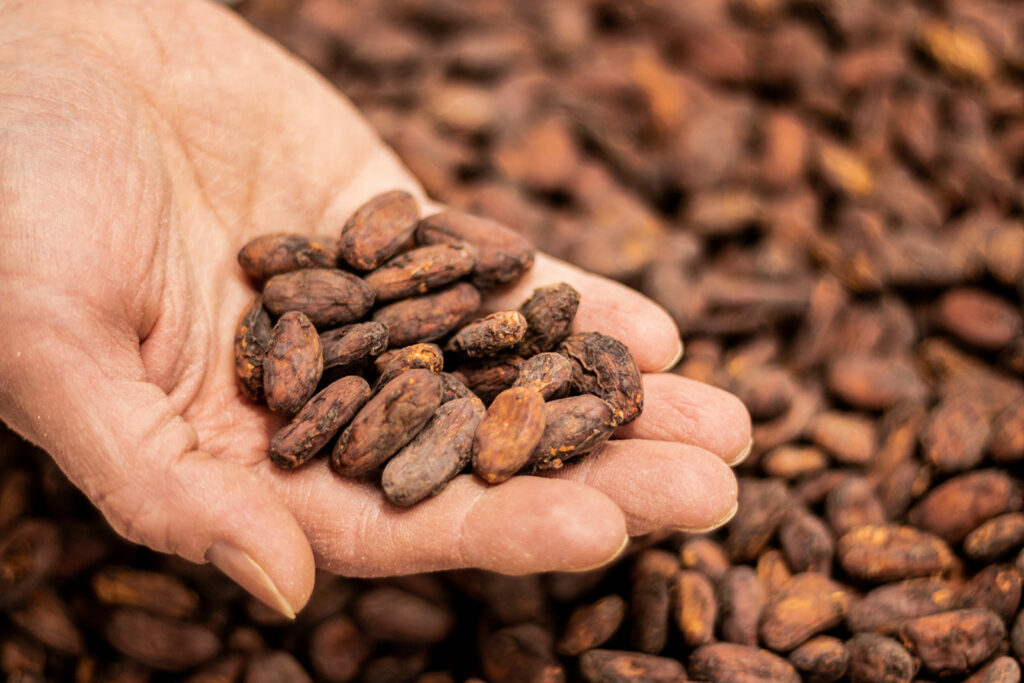 The history of the mother tree
One of the bars is emblematic of the famous bean to bar approach, which involves buying ethical cacao beans and then turning them into high quality chocolate. This bar is called La Première Fois – Démetrio Huaccre – the name of the cocoa producer behind the chocolate bar.
"This story is unique," says Simard. "It's a single tree that is now over 100 years old. It can produce two hundred and fifty kilos of fruit per year. So we made a series of chocolate bars from a single tree," says the artisan chocolatier.
The couple works with four cooperatives in Peru. Maxime and Elfi travel there twice a year to select the beans themselves from the cocoa producers, which are then shipped to their office in Montreal, where they are transformed into this fine product that delights sweet palates around the world.
"Peru is probably the country with the largest variety of cacao in the world," explains Maxime Simard. "We work with eight varieties of cacao, and they are totally different in terms of flavour. If we wanted, we could work with twelve to fifteen varieties…"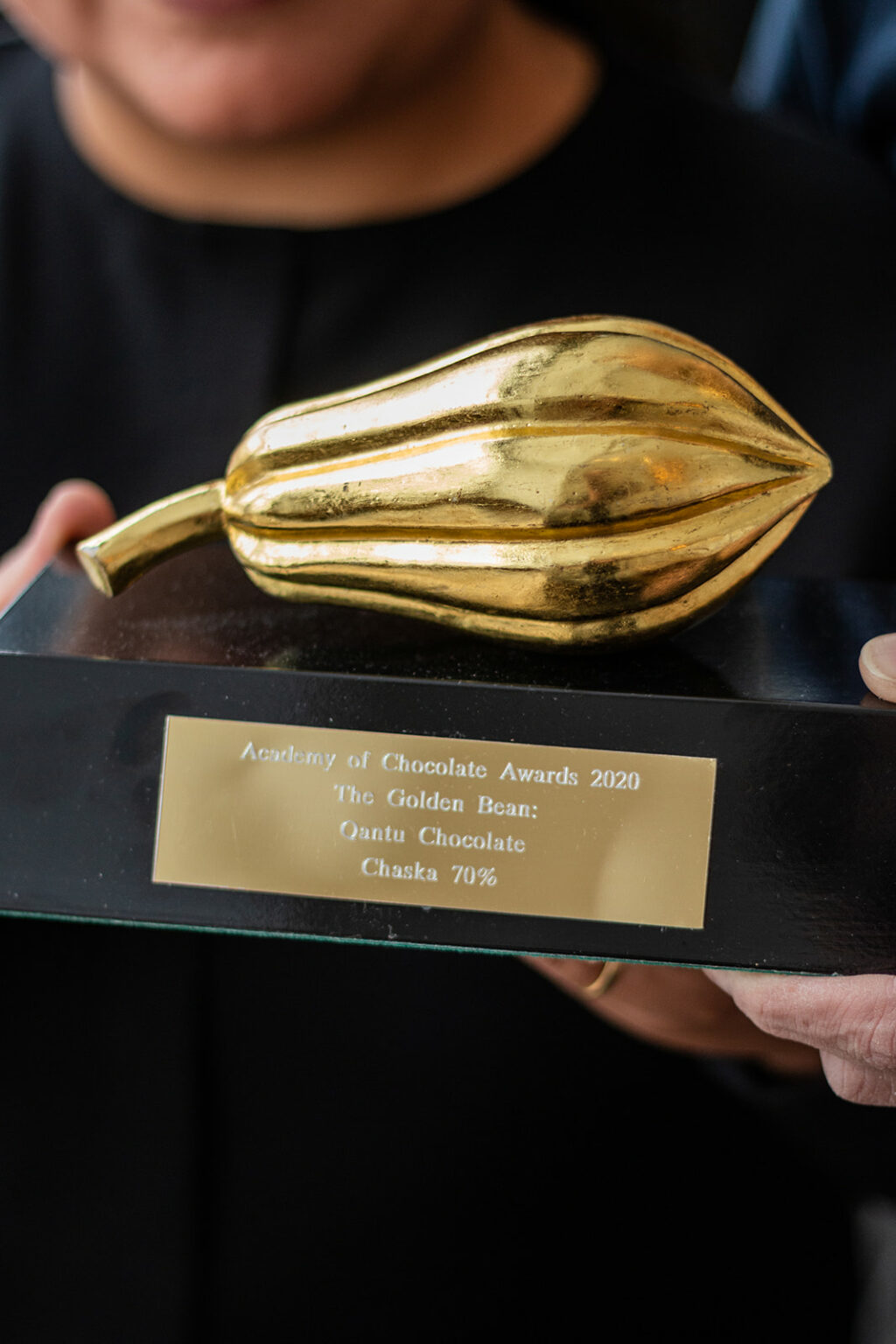 Internationally recognized work
The couple's work has been recognized on several occasions. In 2018, the Academy of chocolate in London awarded two gold medals ex aequo in a blind tasting to two Qantu bars for the first time in its history. A unique moment in the couples' lives. They returned to Montreal with a greater desire than ever to continue their gastronomic chocolate adventure.
An accessible classic for the Office montréalais de la gastronomie
The 70% Morropon was chosen to represent Qantu in the 100% Montreal Gourmet Box.
"It's our big star, it's very different and very fruity as a type of chocolate," adds Maxime Simard. "It's a chocolate that has won gold medals for four years in a row and at the same time it's very accessible with notes of red fruits.
A chocolate that will put another face on our understanding of the chocolate industry. It will also add another name to Montreal's pantheon of exceptional gastronomic artisans.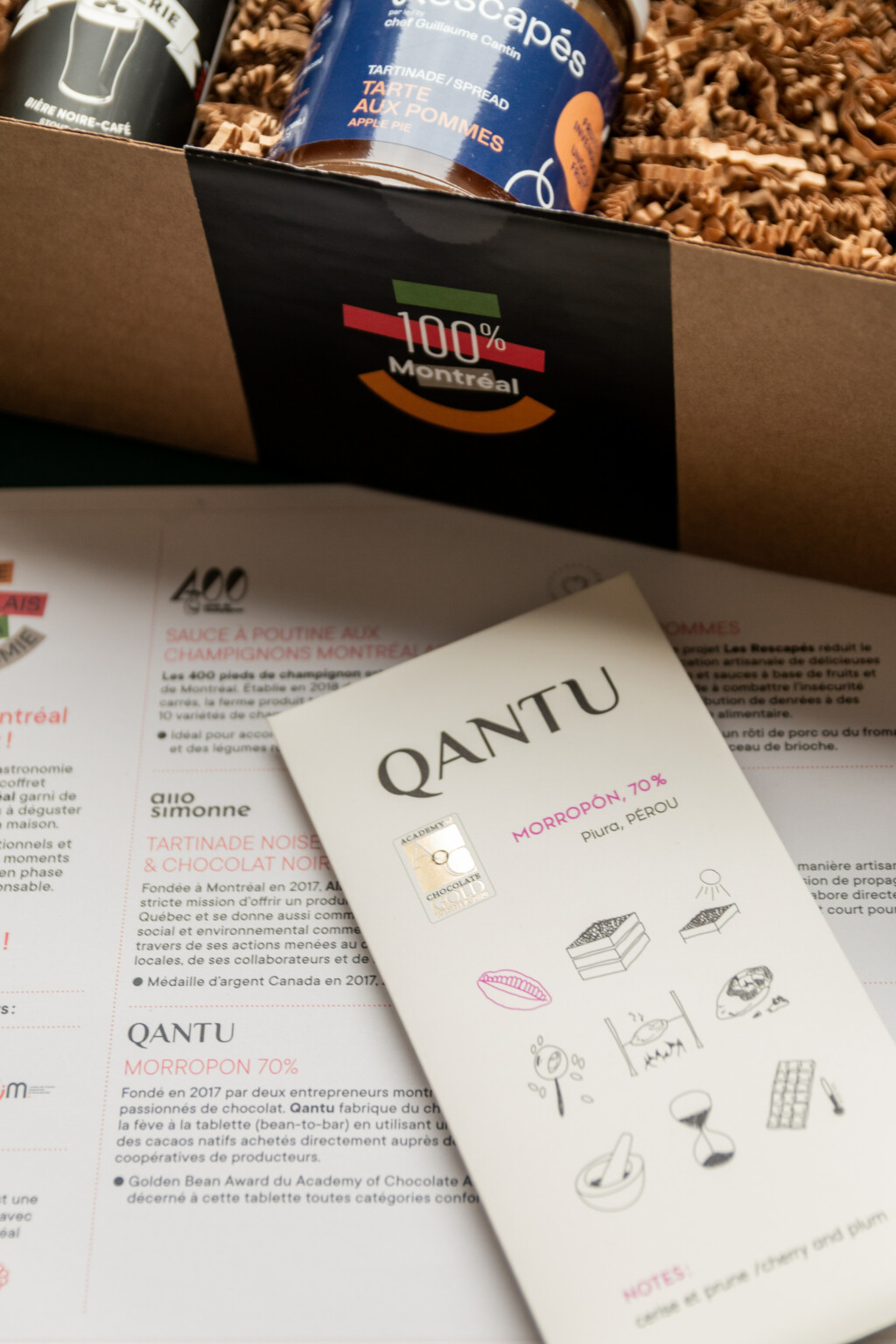 About the Office montréalais de la gastronomie
The Office montréalais de la gastronomie is an initiative of Tourisme Montréal and is made possible with the financial support of the City of Montréal. The OMG's mission is to mobilize stakeholders in order to strengthen Montréal's position as one of North America's top gastronomic destinations. Its objectives are to position gastronomy as a driver of economic, social, environmental and cultural development and as a place of creation and innovation; to help the communities involved increase the scope of value-added initiatives for the destination and facilitate business opportunities; to stimulate and recognize initiatives to promote the artisanal products of Montreal and our regions; to highlight the key elements of Montreal's and Quebec's cultural heritage and culinary identity; and to increase the visibility of Montreal's products, chefs and artisans within and outside the province and the country.
For more information, visit their website here.
Written by Jean-Baptiste Hervé
Photography by Mikael Lebleu