The Furfaro's & Olimpico: Putting Montreal on the map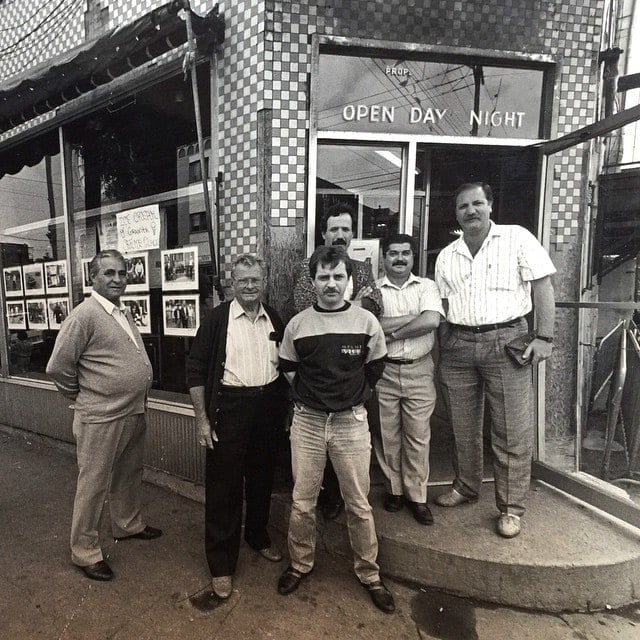 The Furfaro's are the family behind Café Olimpico, a landmark in Montreal since 1970! Appointed as one of the 50 best cafés in the world and having opened its third branch this week, the small family business is becoming an internationally renowned company. Today we're shining a light on this Italian immigrant family who have been hardworking and passionate for over 50 years.
The Olimpico story begins with Rocco Furfaro and his wife Pina. "My father was a good, generous and optimistic man. He was always careful to take care of people and not to criticize them, and now everyone speaks well of him," says his daughter, Victoria Furfaro.
Both Italian immigrants, Rocco Furfaro and his wife established themselves in the Mile End when they arrived in Canada and had two daughters, Victoria and Rossana. "Mile End was the place for Italians, Greeks and Portuguese. It was a very poor neighbourhood at the time. Many women worked in the factory buildings around it. For me, this neighbourhood is very important, but it's especially St-Viateur Street that is important. There are a lot of people working here… I grew up and evolved here myself. I bless my parents for being happy, kind, full of life, full of music."
Victoria's parents first opened Mello's Pizzeria on St. Viateur Street. In 1970, the couple decided to open Café Olimpico. Victoria was 7 years old at the time. "My father always had a vision for the business and put a lot of importance on our family. My father would bring customers home to eat spaghetti with us. There were always people in my house."
Rocco Furfaro was also an avid sports fan. He was looking for a place to watch his soccer games, and opened Café Olimpico in large part to fill that pressing need in the neighbourhood. Very quickly, Café Olimpico became a place to discuss sports, particularly soccer. At the time, the café was for men only — "it was a different time…" — but Victoria's mother still worked at the café. Women only started coming to the café in 1990, 20 years after opening.
Victoria's father has always emphasized community, and from the moment the café opened, it was a meeting place. "Coming from Italy, my father wanted to bring something from Italy. And at the time, not many people knew what a cappuccino was here. "
Olimpico relies on human connections with both customers and employees, and quickly proved that this is the most important thing in a business. Rocco and his family took every opportunity to give back to the community and his loyal customers and bring Montreal Italians together. He paid special attention to his employees — some have been with the company for over 20 years (!) — hi Ford, hi Alex! Teamwork, employees, it's a package deal. Treating employees fairly, making sure they have fun, making sure they're happy, it's a lot of work, but over the long haul, that's what makes the difference.
After Olimpico, Rocco Furfaro opened La Potagerie on Robert Bourrassa in 1980 — a restaurant that served soups, Tavocalda style lunches, with lasagna, chicken cacciatore, eggplant dishes, and more. It was an Italian rotisserie, with espressos and cappucinos, and the address offered lunches for $3.50! The restaurant was cafeteria style, but the food was prepared by an outstanding Italian cook — signora Maria.
Victoria pursued her studies while working in the airline industry. During her studies, she had to come and work at the Potagerie. After her studies, Victoria worked for the airline Wardair. "It was a different time for Italian women; I had to learn to cook and clean. I raised my daughter differently, I pushed her here! She is an engineer today."
At age 55, Rocco sold the Potagerie because he was diagnosed with cancer. He also received several offers to buy Olimpico, but Victoria convinced him to keep the café; "bad people always take advantage of those who are in a weak position, you can't let them." Mr. Furfaro survived his first bout of cancer, but at age 69 he was diagnosed again.
Victoria had a son and a daughter. When Rocco passed away, Jonathan Vanelli, Rocco's grandson, was 13 years old. "I'm a very emotional woman, so when he died, it was very hard for me. But I am also strong, and I have an exceptional husband who has always supported me. I pulled myself together and took over." Rocco left the café to his two daughters, but Rossana lives in New York. So it was Victoria who took over the family business — with flying colours. While she remains extremely humble in her involvement in the success of Olimpico, she honours her father's values and continues to treat customers and employees with the utmost respect and hard work and love.
Jonathan started working at the café when he was 15 years old. He cleaned the bathrooms, mopped the floors, and then helped the baristas. He was a barista for many years. "You have to know how to work. I wasn't going to give him the keys right away. He had to earn them. My friends and my parents' friends would come up to me and say, 'I can't believe you're making Jonathan do this,' but that's how you learn to work. Cooking, mopping the floors — he'll respect the employees more after he does their job. Values in life are very important. We all do our best." Her son Jonathan studied marketing and business at Concordia, but never thought he would be interested in the café.
Like Victoria, Jonathan has lived and worked in the café since he was small. Now he's taking over and helping to take the business to another level. "He pushed our branding, our marketing — he put our Olimpico logo on cups, t-shirts, bags. I have to admit, I thought it was crazy at first, but now I'm really proud when you see them on the street!"
It was also Jonathan who pushed his mother to open new locations for Olimpico. In 2016, the Antonopoulos Group (owner of 6 hotels in Old Montreal, 10 restaurants and 6 terraces) approached Jonathan and proposed to open a second Olimpico in the William Gray Hotel.
Soon after, the owner of MKT approached Jonathan to open a second location downtown. "It was easier for me: I saw how well the Old Montreal location worked and when I saw that it was on University, next to the former restaurant La Potagerie, I immediately had an emotional moment… I had worked there! My father was a businessman, but it's important to me, and to my sister even though she lives in New York, she is part of my family. He left the business to both of us. She understands that Jonathan is taking the next step — he brought Olimpico to three key locations in the city of Montreal. Let's not argue about the business."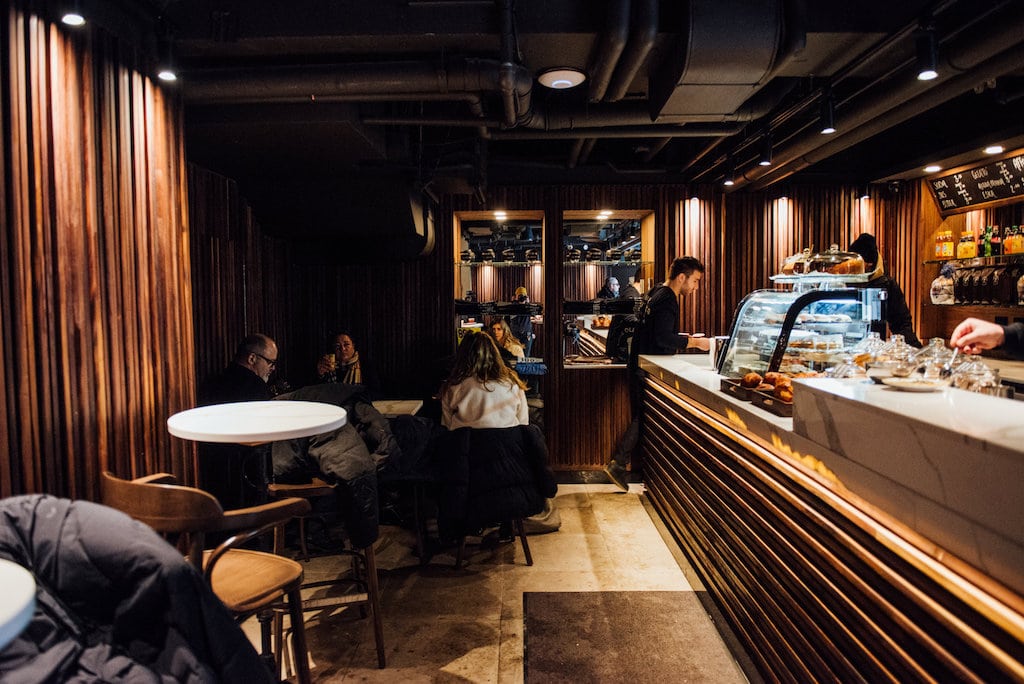 Victoria believes her parents are responsible for the success of the business and her son is responsible for the expansion and notoriety, but we can assure you that she has kept the essence of Olimpico and made the family business flawless. "I have learned to say never say never! There will always be competition. We have to take care of our business, offer a good product, and not be afraid. If we're good with our employees, we're good with our customers, everything will be fine."
Olimpico is a celebration of community and the good life — a celebration of the mix of cultures that are unique to Montreal through a passionate and hardworking family.
Written by Élise Tastet