Ssense café: Memorable eating in beautiful surroundings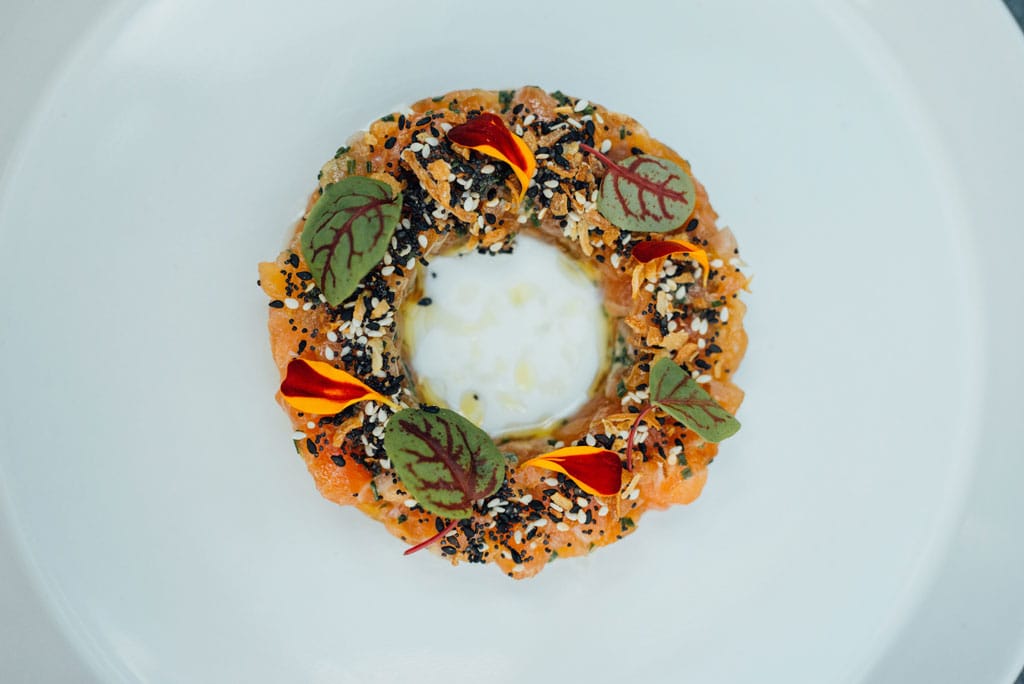 Ssense café opened in early May, occupying an area on the fifth floor in the new location of the Montreal fashion retailer Ssense, right in the heart of Old Montreal. The café is serving up food that is both creative and delightfully pleasing in a space that can certainly be described as minimalist, but with a throwback to the brutalist style which left its mark on Canadian architecture and design from the mid 1950s to 70s, the main component being béton brut or raw cement. It's not everyone's taste but in this case, the result is very striking.
Ssense café was born out of the collaboration between business partners Kabir Kapoor and Jason Morris (Le Fantôme and Pastel), and the renowned Montreal fashion house Ssense, whose creative style is quite high-end. This location on rue Saint-Sulpice is Ssense's first "Flagship" store, bringing together a mixture of original and unique spaces including Ssense's own boutique, a library, exhibition and performance areas, and the café.
Architect David Chipperfield is behind the design for the entire store, which is spread out over 5 floors, and to be honest, it is impressive. The café space is a unique mixture of raw materials, lending it both an industrial and fashionable look. The centerpiece though, has to be the enormous long harvest table, made of grey cement. The glass panes on the high ceilings allow for huge amounts of natural light to filter down and this helps to enhance the somewhat monochrome decor.
Even if you are attracted to the café's magnificent look, it is also well-worth stopping by to check out what's on the menu which has been inspired, according to Kabir and Jason, by the diversity of Montreal's communities. "This is about keeping in mind the importance of encouraging and supporting progress in Montreal's restaurant scene. Ssense wishes to work together with rising local talent, and our food is representative of these creative and diverse processes, processes that are also happening in this building we all share," explains Kabir. Some of the menu choices are certainly a nod to Montreal classics, such as the famous Montreal bagel topped with Arctic Char. Each dish that is served is the result of the creativity and finesse of the chef, in this case Justin Champagne, whose has thought through every detail in order to showcase freshness, original plating and finesse. Among the selections are a salad of Nordic shrimp, brioche toast with honey butter, a croque-monsieur with wild mushrooms, and a tartare made with Quebec Wagyu beef. Everything served at Ssense café is delicious. Our favorite is undoubtedly the tartare of Arctic Char, served with crème fraîche and a cucumber coulis which is now included in our list of best tartares in Montreal. Saying that, the salad with Nordic shrimp and the croque-monsieur are also high on our list!
The beverage list proposes a number of fresh-squeezed juices, a homemade Kombucha, coffee, and classic cocktails. These complement the menu well, and certainly provide a 'splash' of color to the surroundings. It is worth noting that both natural and biodynamic wines are to be offered soon.
This café is a one-of-a-kind where, regardless of the time of day, you can drop in to enjoy excellent food that is high gastronomy yet casual, and if anything, this should be your reminder of the connection to Le Fantôme. If you are looking to eat well in impressive surroundings, especially for good value, then we happily recommend Ssense café, right in the heart of Vieux-Montréal.
Written by Élise Tastet
Photography by Alison Slattery