Restaurant Manitoba: Local, inventive, & sustainable cuisine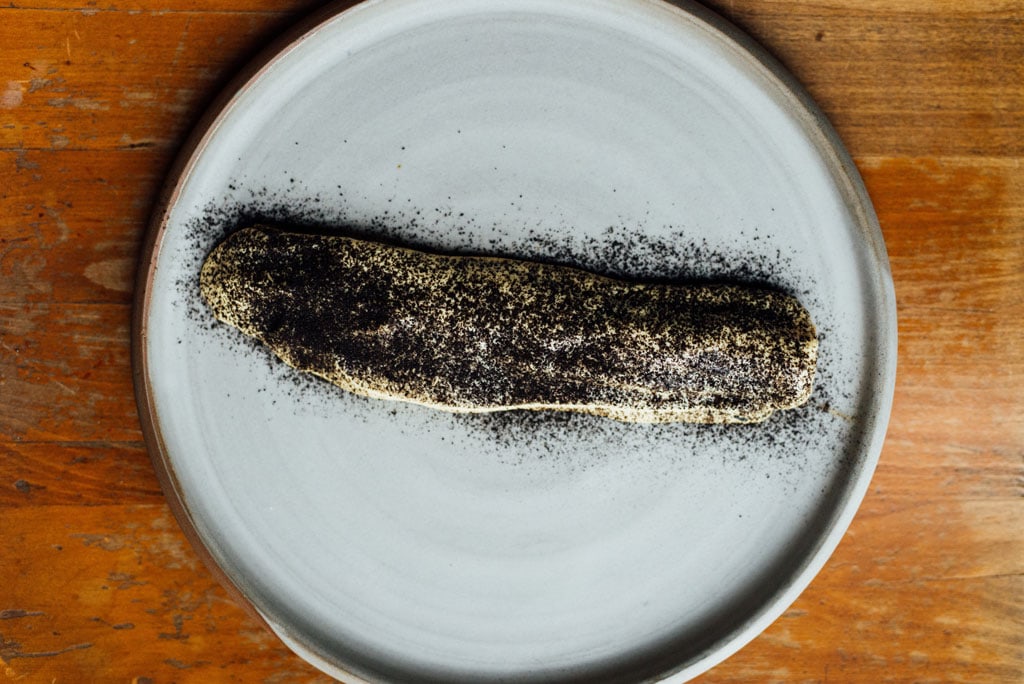 Manitoba – Canada's province known for its polar bears but this is the Manitoba Restaurant, one of Montreal's finest, serving what can be described as cuisine foraged from forest, fields, lakes, streams and oceans. This is a very original restaurant, from the food to the decor where both eating and drinking is well worth the visit.
Manitoba restaurant opened in 2014, thanks to Elisabeth Cardin (Dépanneur café & trained horticulturalist!) and Simon Cantin (Helm), and they recently welcomed a new partner to their adventure, chef Simon Mathys (Laurie Raphaël Québec, Racine, La Famille, Accords Bistro). "Above all, our goal is to have wild plants play a big role in what we do. Think of it like camping with all the smoky flavours, being surrounded by nature, using a whole fish you've just pulled out of the lake and game, which in our case is farm bred not hunted," explains Simon.
"Since Simon joined us, there is a huge emphasis on Canadian cuisine and how it has evolved since the beginnings of our continent and how the people fed themselves. We are really interested in going back to the roots of Canadian cuisine, regardless of the differences of opinion on its impact." This trio from Manitoba restaurant is even learning from an historian about this past in order not to misrepresent how the restaurant approaches the cuisine, which is to be commended.
So why call the restaurant "Manitoba"? We are using many edible forest plants which in sorts, opens a small window on the Native American culture without bringing in the politics behind it. For so many people, Manitoba represents wide open spaces, forests and nature. It also represents the Métis, the ethnic diversity and we get a lot of inspiration from these."
The entire space is attractive and to a degree, elegant. Once you walk through the unremarkable front door, the space opens up into a mixture of warehouse, industrial and log cabin materials. There's a long bar with a dark shellacked wood countertop that offers 18 seats on comfy backed stools and another 47 places placed around tables with those kind of chairs that many of us still remember from church halls! The open kitchen and open dining space complement each other well and it's an interesting blend. During the summer months, the big garage door at the back opens up to an outdoor terrace with room for another 25 people. They chose to open up in this neighbourhood because Simon Cantin was already running his design and construction firm in the area, and it goes without saying that his design ideas are behind the look of Manitoba's interior. "We also like being in a neighbourhood that is transitioning and redefining itself. Having an industrial warehouse look allows us to change things around if we want." And this space does just offer that.
Chef Simon Mathys works the kitchen, shaping the menu around what's available from seasonal harvesting which means that the menu changes continually throughout the year, and during the summer, includes daily modifications. These are original dishes, based on historical references with an emphasis on flavours and textures. With the exception of the starter of leeks, whelk, smoked egg yolk & ash, all the other menu items have been introduced since chef Simon joined the team at Manitoba. "We want to make sure that deer and seal are always on the menu and the rest will depend on the time of year, such as duck after the hunting season, sea urchins between January and March." There is a tasting menu on Thursday, Friday and Saturday with four courses and includes wine, for $100 per person. There is no set menu for this and you only know what will be served when it is in front of you!
Manitoba has built up a reputation for its wine selection and the wine list is a delight to read! Maxime Lavallée (Toqué!, Trois petits bouchons, Laurie Raphaël Québec) is responsible for maintaining this and explains that "at the beginning there was a strong emphasis on nature, and now we are placing more importance on how the wine has been produced, the agricultural side such as no chemical additives and as little mechanization as possible". The cocktail choices are interesting and are attributed to Alex Taillon, who has created recipes that only use local products, include no citrus but Manitoba's own 'shrubs' (a vinegar-based syrup infused with fruit juice, herbs and spices) and syrups. The best is that everything is done with Quebec and Ontario spirits.
"The best of what we do comes down to the relationships we have forged with the harvesters, the permaculture farms like Cadet Roussel and la Ferme de Quatre Temps, or the people from Chasse-Marées. We also love our customers who arrive full of curiosity and open to try the food Manitoba is offering. They are definitely the best kind of customers to have!"
To us, Manitoba represents a restaurant serving original, thoughtful food where each dining experience is different and never boring. We appreciate the owners' efforts to be knowledgeable about what they prepare, and to constantly try and improve or renew this. Coming to Manitoba means discovering, learning, eating and drinking well.
Manitoba Restaurant: an example of how to be conscious of the food that is served, using local and sustainable products that are both full of flavours and very tasty.
Written by Élise Tastet
Photography by Alison Slattery