Louise Taverne & Bar à Vin: Magnificent restaurant in Old Quebec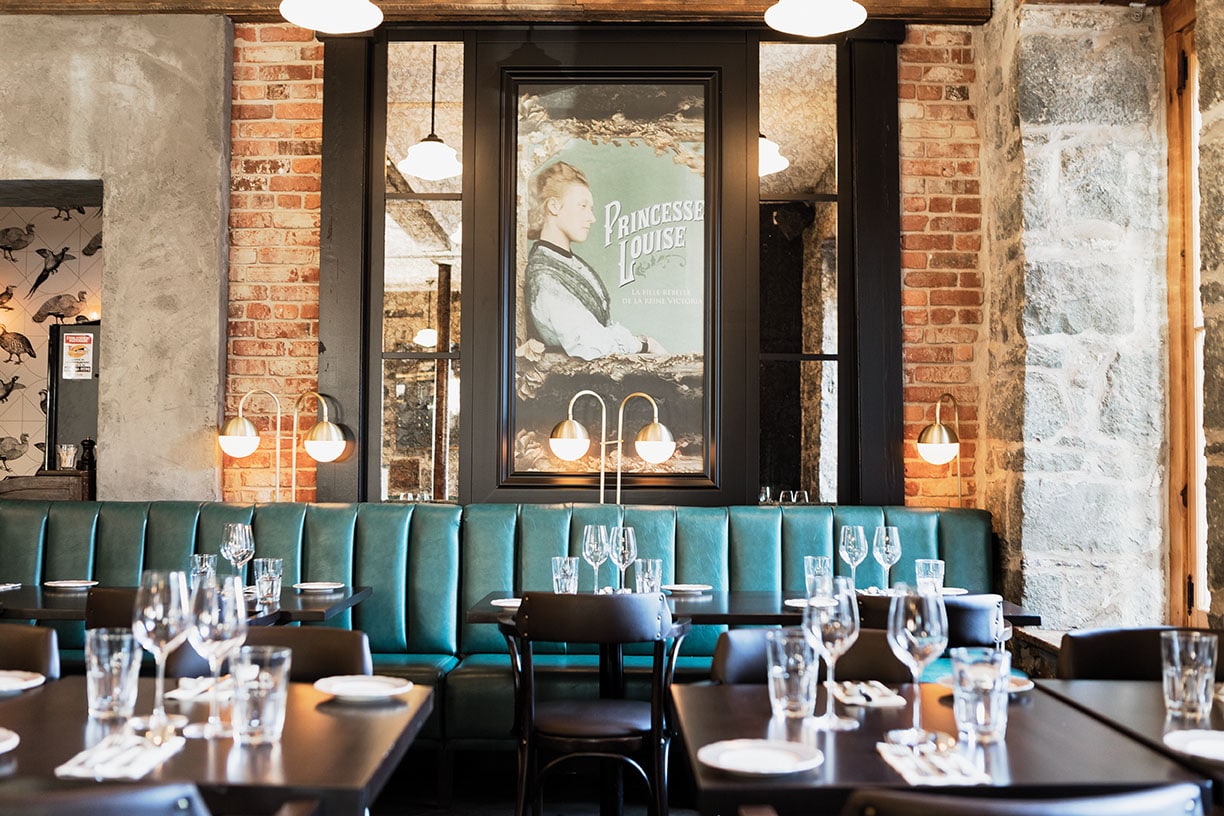 Lōuise Taverne & Bar à Vin

$$
Monday: 7:00 – 10:00 AM, 11:30 AM – 2:00 PM, 5:00 – 10:00 PM
Tuesday: 7:00 – 10:00 AM, 11:30 AM – 2:00 PM, 5:00 – 10:00 PM
Wednesday: 7:00 – 10:00 AM, 11:30 AM – 2:00 PM, 5:00 – 10:00 PM
Thursday: 7:00 – 10:00 AM, 11:30 AM – 2:00 PM, 5:00 – 10:00 PM
Friday: 7:00 – 10:00 AM, 11:30 AM – 2:00 PM, 5:00 – 10:00 PM
Saturday: 7:00 AM – 2:00 PM, 5:00 – 10:00 PM
Sunday: 7:00 AM – 2:00 PM, 5:00 – 10:00 PM


Accepts mastercard, visa, amex, cash, debit
80 Seats
Accepts groups
Is accessible
Louise Taverne & Bar à Vin: Magnificent restaurant combining comfort food and delicacy
This delicious restaurant is a member of the program Aliments du Québec au Menu! This means that they have chosen to highlight the wonderful products of Quebec and its producers in their menu—something we find admirable! Aliments du Québec au Menu is a recognition program for restaurants that value Quebec products in their cuisine. To learn more, click here!
Louise Taverne & Bar à Vin is a gourmet address in Old Quebec that opened its doors in July 2017. This project is the culmination of the creativity of four partners Blaise Fortier, Simon Jobin, Nikolas Couture and Jean Deschênes. Together, they've built a restaurant where you can eat and drink very well, all in a dynamic atmosphere.
Coincidences
The restaurant is named after one of Queen Victoria's daughters, Louise. Coincidentally, the actual building where the restaurant is located was built in 1848. This was the same year Princess Louise was born, and the restaurant's address is 48 rue Saint-Paul.
The sumptuous decor is the work of the design firm LemayMichaud. In fact, the firm won the 2017 Design Award for its work at Louise Taverne & Bar à Vin. The chic and modern establishment has 80 seats in the dining room, including a dozen at the bar, as well as 60 seats on the beautiful terrace. You can also reserve the chef's table in the kitchen, for up to 10 people. Here, the chef prepares a special meal according to the client's wishes.
Food & drink
Nikolas Couture—formerly chef at Le Cercle, with experience working at La Salle à Manger, Le Saint-Amour, and Les Trois Petits Bouchons—seeks to "put his years of gastronomy to good use by simplifying it," he explains. He works a lot with local farms to make the most of local meats and vegetables. Unsurprisingly, his cuisine is fresh and delicious; currently on the menu is a fried soft-shell crab dish with a succulent Tom Yum sour cream and chard salad, as well as a sublime elk tartare served with peaches, almonds, prosciutto chips, and sprouts. Dishes such as fish and chips, homemade sausage & blood sausage, and beef tartare with a candied egg yolk, have become staple dishes over the years. In addition, the daily offering is written on the chalkboard, with dishes including a ceviche of the moment, a fish of the day, a dish to share, and other delicacies.
Taverne Louise has a splendid wine list created by Simon Jobin. Approximately 75% of the bottles are organic, natural, and sustainable, and most of them are privately imported. The menu offers two options by the glass, either four ounces or seven ounces. Taverne Louise also offers a nice selection of bubbles and magnums (1.5 liters) of wine for festive tables. In addition to a large selection of wines, the menu offers 11 beers on tap, and a wide variety of digestifs.
Louise Taverne & Bar à Vin is a restaurant where you can spend a wonderful evening and enjoy fine cuisine.
Written by Paule-Rachel Lalonde
Photography by Photos Cendrillon