Well-being is easy with Bon Matin® La Mie BIO™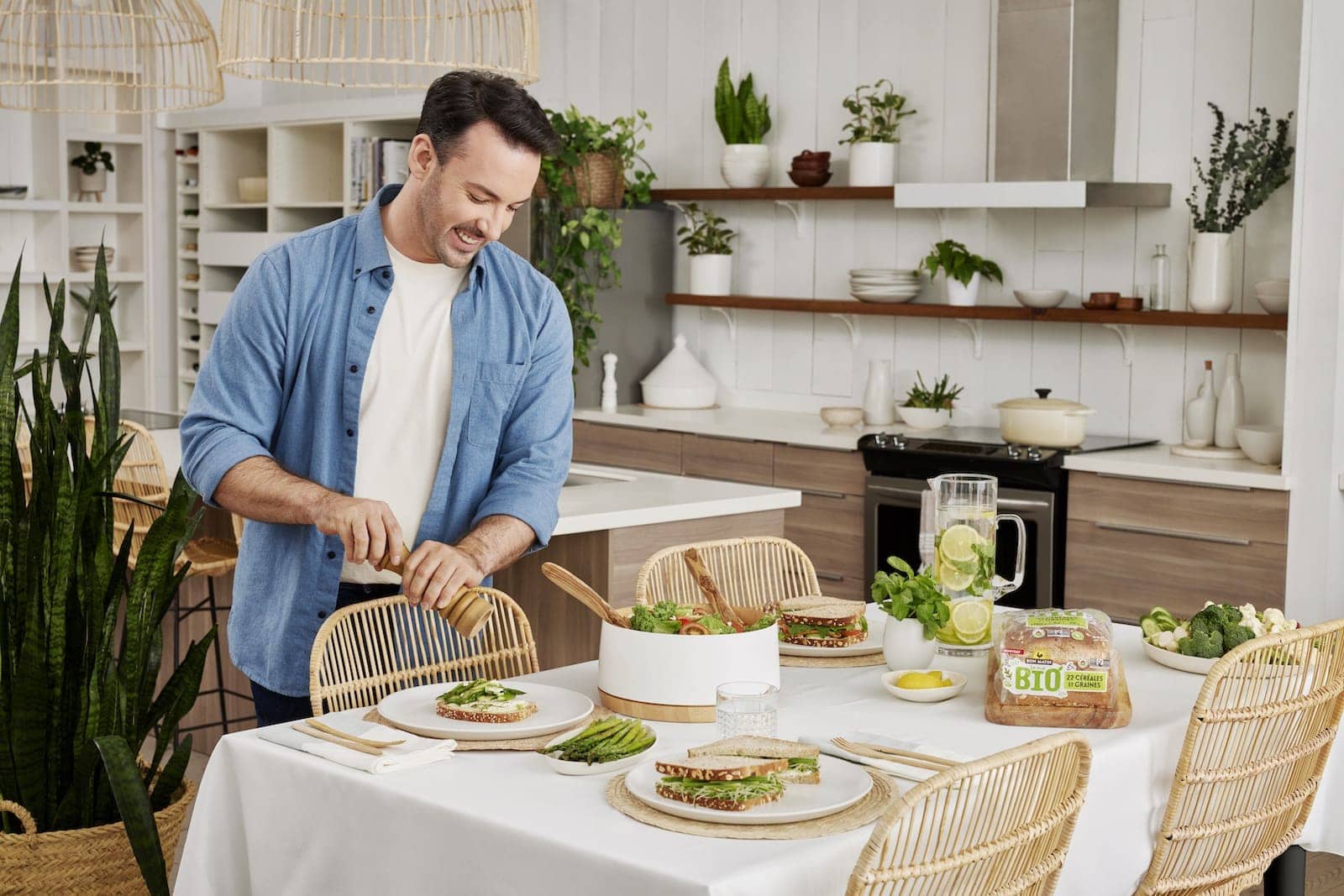 Nature's best
Bon Matin® breads are a great way to start the day. In fact, with their new Bon Matin® La Mie BIO™ line of organic breads that don't compromise on taste, they're just plain good!
Incorporating bread into your daily diet is a great source of nutrition for the body; which needs its daily intake of fibre, vitamins and minerals.
As Hubert Cormier—a doctor of nutrition and Bon Matin® ambassador—says, "Bon Matin® La mie BIO™ breads are organic, contain whole grains and are free of artificial colours, flavours and preservatives". This gives them definite and significant health benefits. In addition, this new variety of breads has the Canada Organic certification, which guarantees to the consumer that the product has been produced in compliance with strict organic production standards that prohibit the use of pesticides and synthetic fertilizers. It is a way to contribute to the goal of promoting biodiversity and potentially improving the health of our planet.
Tastes good and is good for you
Dietary fiber is very important for health, and most adults don't get enough of it. But with the new Bon Matin® La Mie Organic breads, it's a delicious option to get these essential nutrients that will give you energy any time of day.
Hubert Cormier notes that by integrating Bon Matin® La Mie BIO™ 22 grains and seeds bread into his daily diet, he has "the peace of mind […] of having a quality product that is delicious and naturally good!" Plus, "opting for a whole grain bread in the morning or at lunch allows you to get your dietary fiber," adds the physician.
Moreover, you can eat bread at any time of the day. Here's a great example, with this recipe for a grilled chicken, pickled kale and carrot ribbon sandwich. Here's what you'll need and how to make it.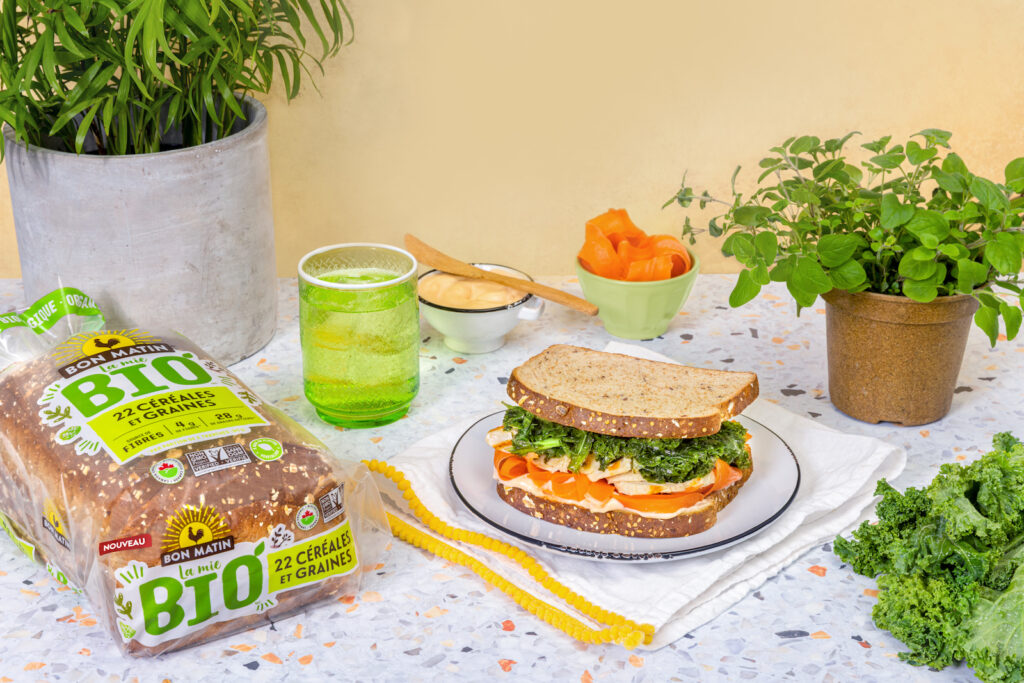 Grilled chicken, pickled kale and carrot ribbon sandwich
Ingredients
To assemble the sandwich
8 slices Bon Matin® 22 Grains & Seeds bread
2 grilled chicken breasts
Large carrots, peeled and cut lengthwise into ribbons using a mandolin
1 tomato, sliced
Salt and pepper to taste
For the pickled kale
2 bunches kale, centre stems removed, cut into large pieces
45 mL (3 tbsp.) vegetable oil
250 mL (1 cup) boiling water
60 mL (¼ cup) white vinegar
60 mL (¼ cup) honey
15 mL (1 tbsp.) salt
For the spicy mayo
60 mL (¼ cup) plain Greek yogourt
60 mL (¼ cup) mayonnaise
15 mL (1 tablespoon) chipotle pepper in adobo sauce, finely chopped
Method
For the pickled kale
Place the kale leaves in a bowl and mix in the vegetable oil. Gently massage until the leaves are well coated with oil.
Transfer kale to a glass Mason jar.
In a small bowl, combine boiling water, vinegar, honey and salt until salt is completely dissolved. Pour over kale and refrigerate for 2 hours.
For the spicy mayo
In another bowl, combine the Greek yogurt, mayonnaise, and chipotle pepper. Set aside.
Assembling
Spread each slice of bread with 15 mL (1 tbsp.) of spicy mayo.
Top one slice with pickled kale, carrot ribbons, tomato slices, and the grilled chicken.
Top off with other slice.
Hubert's tip: Want to make your sandwich even more nutritious? Simply replace the mayonnaise with the same amount of plain Greek yogourt to make the spicy sauce. Not only will this sauce provide twice the protein of mayonnaise, but it contains six times less fat!
Bon appétit to all and don't forget that the new Bon Matin® La Mie BIO™ breads are organic and nutritious, which will help you feel great all day long!