Jessica Rosval: The local chef who conquered Italy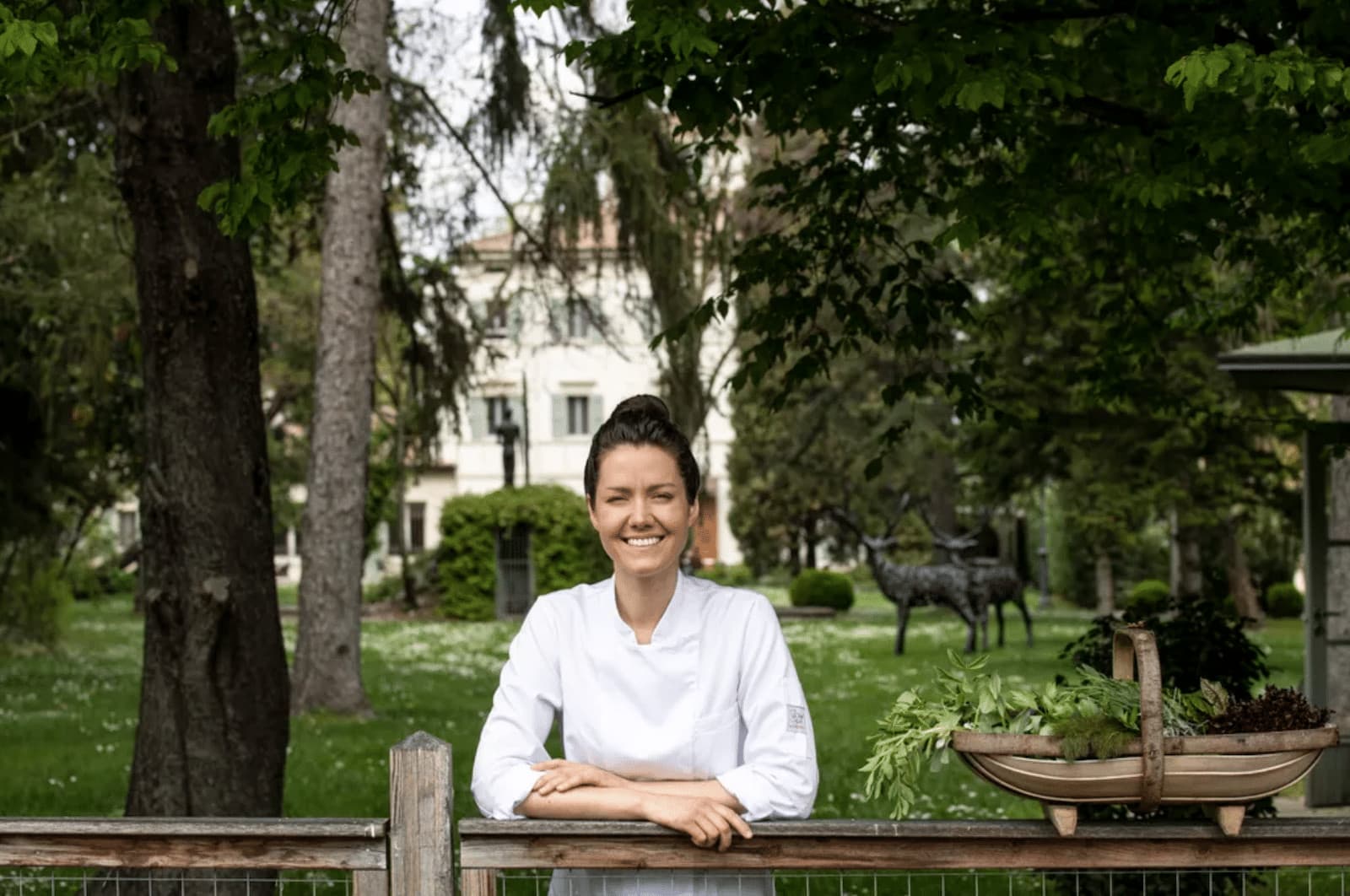 The news has made headlines in recent weeks: the Quebecois chef Jessica Rosval has been crowned the best chef in Italy by the Guida dell'Espresso 2021. Since 2019, she has been at the helm of the kitchens at Casa Maria Luigia, an inn in the Modena area owned by celebrity chef Massimo Bottura. Being a chef in one of Massimo Bottura's restaurants is in and of itself a major achievement in the world of gastronomy. How did this former ITHQ student manage such a feat at the age of 33? Here's the path she's followed since graduating, as she told us.
Seventeen years ago, Jessica Rosval was finishing her studies in cooking at the ITHQ. Two chefs marked her path in her native country: Laurent Godbout, in Montreal, and Melissa Craig, in Whistler. She spent two and a half years working for each of them, where she consolidated the basics of the trade: "At Bearfoot Bistro, we worked with ingredients from the Pacific Northwest. We were doing farm-to-table cooking, with a lot of seafood. We were creating dishes with a base in French cuisine."
After working at several great restaurants across the country, Jessica decided that it was time for a change of scenery. In 2013 she moved abroad in search of new experiences; "I decided to have an experience overseas. I moved to Milan to live la bella vita, as they say here. I wasn't planning to take a job in a starred restaurant. Since there are none in Canada and I had never worked in a starred restaurant before, I didn't think it would be possible, but I dreamed of it anyway." Little did she know what was in store for her!
Some time after arriving in Milan, Jessica Rosval went to Modena to Osteria Francescana, Massimo Bottura's restaurant, which is among the best in the world. This institution — with its three Michelin stars — is a jewel of Italian gastronomy. After a meal that left her speechless, Jessica had the chance to meet Massimo: "We started talking about food, Italy, history, traditions… I told him I was looking for a job in Milan, and he offered to help me. I saw the door open. I said: no, no, forget Milan, can I come and work here with you?", and that's how the young chef found herself as chef de partie at the garde-manger in one of the most prominent restaurants on the planet. She worked there from 2013 to 2019 and also held the role of international event's manager. The experience at Osteria Francescana allowed Jessica Rosval to dive into a world that was unfamiliar to her: "I had to forget everything I knew about French cuisine and learn the Italian approach to cooking. There are techniques, but also traditions. There is a poetry and something special about Osteria. The restaurant has twice been named the best restaurant in the world and has managed to keep its three Michelin stars during her time there. This is what makes her proud of the work done with this great team.
In 2019, Massimo Bottura and his wife set out to create an inn in Modena, Casa Maria Luigia. The concept: develop a place to revolutionize hospitality, where people feel at home. The inn is a true oasis of peace. The great Italian chef trusted Jessica to take on the role of chef in this new establishment. It's a challenge that the Quebecer took up with brio, so much so that she and her team, to whom she gives a lot of credit, were awarded the prize for best chef in the country! "It's an award that I share 100% with the whole team, because we built a beautiful universe together. We opened champagne to celebrate, but the next day, we rekindled the wood fire and started our work day, because that's what we do and that's what we love to do. We work with passion and commitment, that's what Massimo taught us."
Working with Massimo Bottura has certainly had a great influence on Jessica Rosval, who is grateful to him: "It's great. He's a completely different person than anyone else. He sees the world differently. He sees poetry through what we see every day. He's interested in art and he can take a book, an opera, and interpret it differently than other people. He teaches us to keep that poetic spirit."
It will surely be interesting to follow Jessica's journey over the next few years. At only 35 years old, she has already accomplished so much, and we suspect that this is just the beginning!
Written by Marc-Antoine Ranger
Photography by Stefano Scatà