Hugo Duchesne, winner of the Best Sommelier of Quebec 2020: Leadership at its best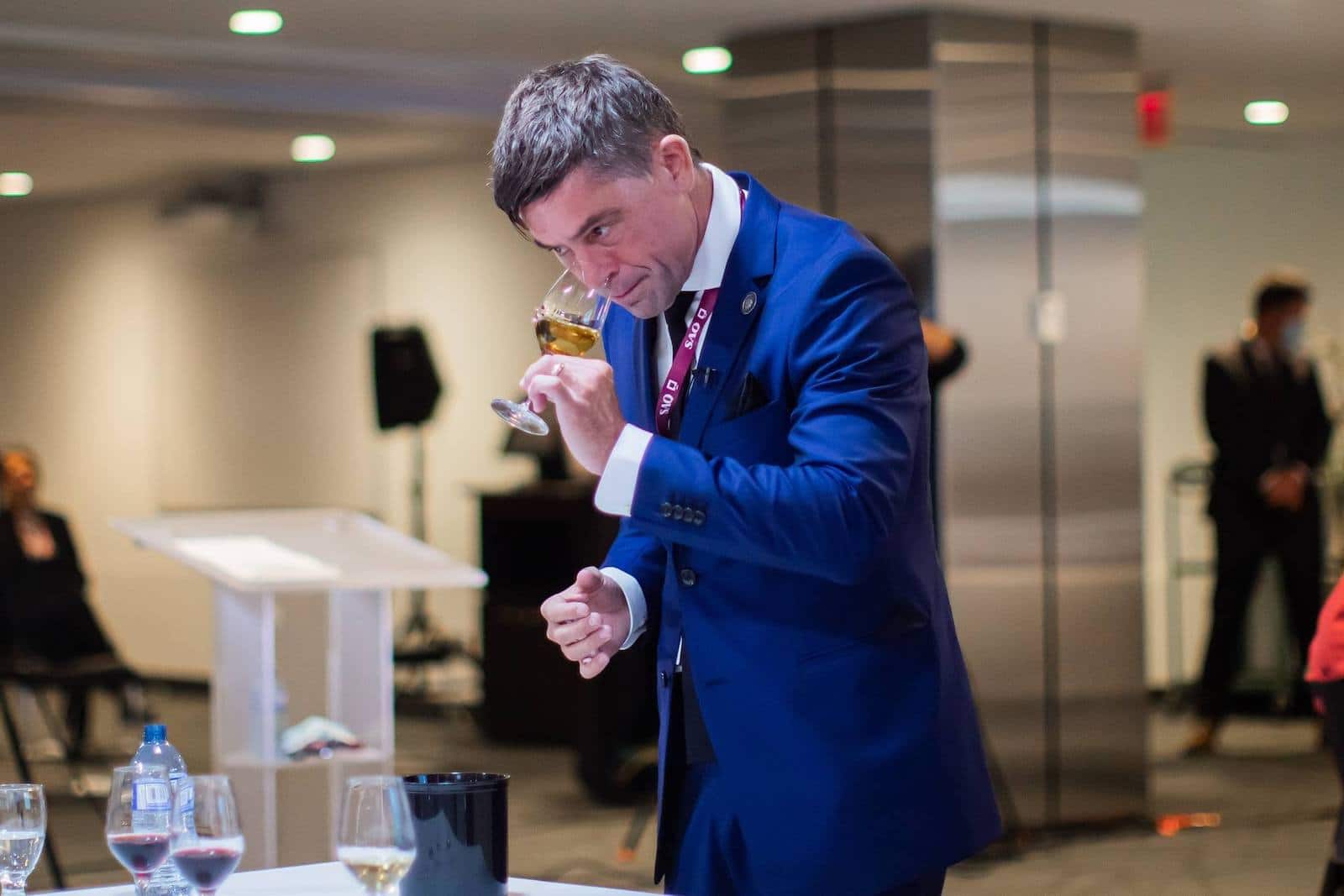 Holder of a master's degree in literature from McGill University, professor of sommellerie at the Institut d'Hôtellerie et Tourisme du Québec, sommelier in charge of the wine program at the winning restaurant of the Wine Spectator Grand Award from 2018 to 2020, and Quebec's best sommelier in 2020, Hugo Duchesne is one of the few people to have accomplished so many feats in their lifetime. The man with the breathtaking career path never ceases to impress with his professional prowess and achievements.
Hugo Duchesne's journey began at the Fromagerie Hamel in the Jean-Talon Market. "I worked about 30 hours at the cheese factory to pay for my university studies in literature. As I rode my bicycle at 7:00 a.m., I could feel the gourmet life to which I was gravitating. The smell of freshly baked bread, the producers setting up their kiosks with their wonderful products, the boatloads of fish and seafood that arrived at the fish market, everything fascinated me. The owner of the cheese shop was an avid wine collector. As a token of appreciation for a good week's work, he would reward his employees by savouring a good bottle of wine from his personal collection with them. "Chassagne-Montrachet, Givry 1erCru, Gevrey-Chambertin, we tasted exceptional wines. One of the phrases I will always remember him repeating to us: it is not to impress you that we drink this bottle, it is because you are capable of tasting it". This is how Hugo's immersion into the world of wine started.
With his master's degree in hand, Hugo Duchesne decided to apply for a doctorate degree in Paris. "I was determined to do my doctorate in France, but instead I decided to take a break. During this break, I enrolled at the École hôtelière de Laval to take a course in sommellerie. I never thought that this decision would lead me to stop my studies in literature to dedicate myself entirely to the world of wine."
After his studies in sommellerie, Hugo Duchesne was ready to start his career in the restaurant industry. "I have a rather particular background. I often say that I started my career at the end, by opening a restaurant, the Montée de Lait in 2004." After moving from the Plateau Mont-Royal to downtown on Bishop Street, to finally settle in on Saint-Laurent Boulevard, the end of this institution was beginning to be felt. "We had seven great years out of eight, we lost our chef-owner. Whether you like it or not, when you lose your chef-owner, nothing is the same. We were surviving instead of thriving. We told our employees that we might close the restaurant and that if they were approached for offers elsewhere, to take them". At the same time, Hugo received an offer from the team at Laurie Raphaël, who were regular customers of the Montée de Lait at the time. "The closing of the restaurant came to Daniel Vézina's ears. We met and I accepted their offer in 2011 as head sommelier of the two Raphaël restaurants. This allowed me to continue my passion that had started at Montée de Lait, without the burden of being an owner. My new reality allowed me to really do applied sommellerie; I loved learning about management, managing two wine lists 200 kilometers apart with an ambitious wine program, one reality in Montreal, another in Quebec City, working with two different teams, whether on the floor or in the kitchen, and a cuisine that, without calling itself gastronomic, had real precision on the plate. It really was a great management school for me."
In 2014, in the middle of his apprenticeship at Laurie Raphaël, Hugo Duchesne received an email from the Institut d'Hôtellerie et de Tourisme du Québec. "The Institute was looking for a teacher in Wine Discovery 2 for the last portion of the course, the service suggestion component. It's six courses, 24 hours, we learn how to build a wine list, how to buy wine, how to sell wine, the catalysts of food and wine pairing, a course on current sommellerie in the state it is deployed in marketing. I accepted the offer and it went very well." The following fall, Hugo was offered a full-time position at the ITHQ. "I think it's funny because my initial goal was to do my doctorate in literature so I could teach it, so I found myself following my old loves but with my new passion, sommellerie." Hugo managed to juggle his new position as a full-time professor at the ITHQ with his position as head sommelier at both Laurie Raphaël.
He worked between these two jobs until 2015. The following year, a new opportunity arose for him, "I had students who were supposed to be doing internships, so I had to go to their internship location so I could have proof that the students had actually worked there. That's when I met Ian Purtell, the restaurant manager at Coureur des Bois. On his way to the cellar, he realized the potential of the place. "In the past, I've always bought wines based on my beliefs. I had a style of wines that were the cleanest from the most natural yeasts possible and intrinsic to the place where the wine was made; I saw that dimension continuing, but there was a whole relationship to a menu where there is a vertical rollout of vintages of iconic wines. I realized that this wine cellar could have been in Paris, in New York, or in London. And that, in terms of sommelier leadership, I liked." He left Laurie Raphaël for Coureur des Bois in 2016 to work as head sommelier, joining several former students, now young sommeliers.
When he was hired, the owners of Le Coureur des Bois had a specific goal in mind and made it Hugo's mission: to acquire Wine Spectator's Grand Award of Excellence title. "The Grand Award is not just about having Petrus and Mouton-Rothschild 1961, it's much more complex than that. It includes the number of wines by the glass, how they are curated, how the wine list is built, what the buying premise is. It's an extremely difficult thing to get, there's a reason why there are only 100 restaurants in the world that have it. My mission was to bring all of my private import contacts, my wine allocations, and my restaurant industry experience, whether it be purchasing or my expertise on the floor." Since 2018, Coureur des Bois has been on this exclusive list of 100 restaurants in the world to receive this Wine Spectator Grand Award.
It should be noted that in 2011, Hugo Duchesne had already participated in the Best Sommelier of Quebec competition. It was Ghislain Caron, former Best Sommelier of Quebec and the Americas in 2004, who contacted Hugo to ask him to participate. "In those days, as I like to say, I was working 102 hours a week, I had no time to prepare. I was working full time, I didn't master the advanced theory. My rules and regulations, appellations, and varietals were not fresh in my mind. It's a good thing I didn't make the final three, because I would have looked crazy in public. It was my first time in a competition, so I wouldn't have known what to do in the final. Still, I loved my experience. It was the perfect mix of rigour, stress, and camaraderie. For a first competition, it went well."
In the following years, Hugo decided not to try his luck again at the Best Sommelier of Quebec. However, in 2018, his experience and expertise led him to coach Carl Villeneuve for the Best Sommelier of the World. "In May 2018, Carl finished third at the Best Sommelier of the Americas. We had loved our experience, it had gone super well. October, November, December 2018, January and February 2019, I was coaching Carl since in March 2019, Carl was competing at the Best Sommelier of the World in Belgium, and the ITHQ allowed me to accompany him there. During my week with Carl, I had the chance to be at the heart of the competition, without participating directly. I could see Carl's stress, and we talked after the events; I was happy to live this experience with him. And at that moment, something clicked. While I was coaching Carl, I didn't feel like a coach, but more like a candidate. I realized that this chapter was not closed, that I could still compete because this feeling was reawakened with Carl. I decided to discuss it with Carl and Minh Doan, former ITHQ student and sommelier at Le Coureur des Bois, and they agreed to train me for the Best Sommelier of Quebec 2020."
Hugo had one year to prepare for the competition, during which he perfected his theory, his tasting, his service, his approach to customer service, his stress management, and his communication with a jury. "I left no stone unturned; I really prepared for the competition. I was inspired by the training theory of the Court of Master Sommeliers because since 2015, I have been on my way to the title of Master Sommelier. The Master Sommelier course is divided into four levels. In 2015, I had enrolled in levels 1 and 2 at Auberge Saint-Gabriel. I was a little reluctant at first, but to my surprise, I loved it. I loved the leadership of the Master Sommeliers, their complete and total mastery of the theory, their explanation of tasting and their sense of hospitality, the human side that takes precedence over the mechanical side of service. For me, a Master Sommelier is someone who goes extremely fast on a bicycle, without having to put his hands on his handlebars. So he has two hands left to help the people around him. I found that this was what I was missing, since French-speaking sommellerie has its limits, even the most specialized one that can be found in Quebec. I see the Court of Master Sommelier as a doctorate, a way for me to deepen my knowledge. For me, the Court is not just a destination, it is also a journey. I have always wanted to make this journey, and at the same time, it allowed me to prepare for the Best Sommelier of Quebec. A sommelier competition is about being able to sync all the moments of a real dining room service."
Last May, the 12 selected candidates presented themselves at the ITHQ for the Best Sommelier of Quebec competition. "We received the agenda, we had to be there at 8:30 a.m., we would start with a theory exam, then a written tasting, 40 minutes for four wines, then an oral presentation in front of a jury, and then a dinner break. After the dinner break, three candidates would move on to the finals, the winner would be announced around 5:00-5:30 and the day would end around 6:00. For me, my day ended at 6pm. I was immediately in a position where I was going to make it to the end. That day I was in great shape, in full command of my abilities. The tests were difficult, but overall, I performed well. Of course, there will always be small things to improve, but I was proud of myself. The Best Sommelier of Quebec competition, in my opinion, was to be able to combine my experience in the dining room, the pleasure of tasting and the pleasure of the theory to explain in connection with my experience as a sommelier and teacher. I did it".
Hugo Duchesne is now training for the Best Sommelier of Canada competition that will be held from May 15-17 in Kelowna, British Columbia.
In addition, he will be in Dallas on the third Monday of July for the first stage of the final level of the Court of Master Sommelier.
To add to all this, Hugo Duchesne is also the Director of Sommelier at the new H3 restaurant and oversees a wine cellar that contains over 3,000 labels highlighting the best from here and abroad.
Written by Antoine Gariépy
Photography by Hugo Duchesne