Ariel Schor, chef of Beba: Never stop learning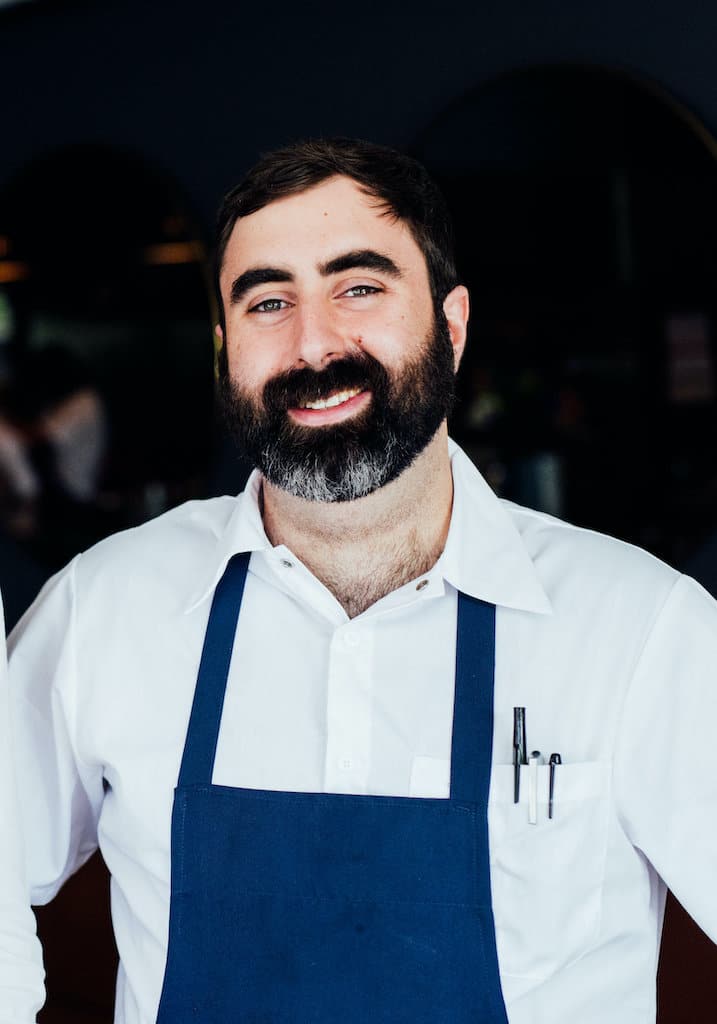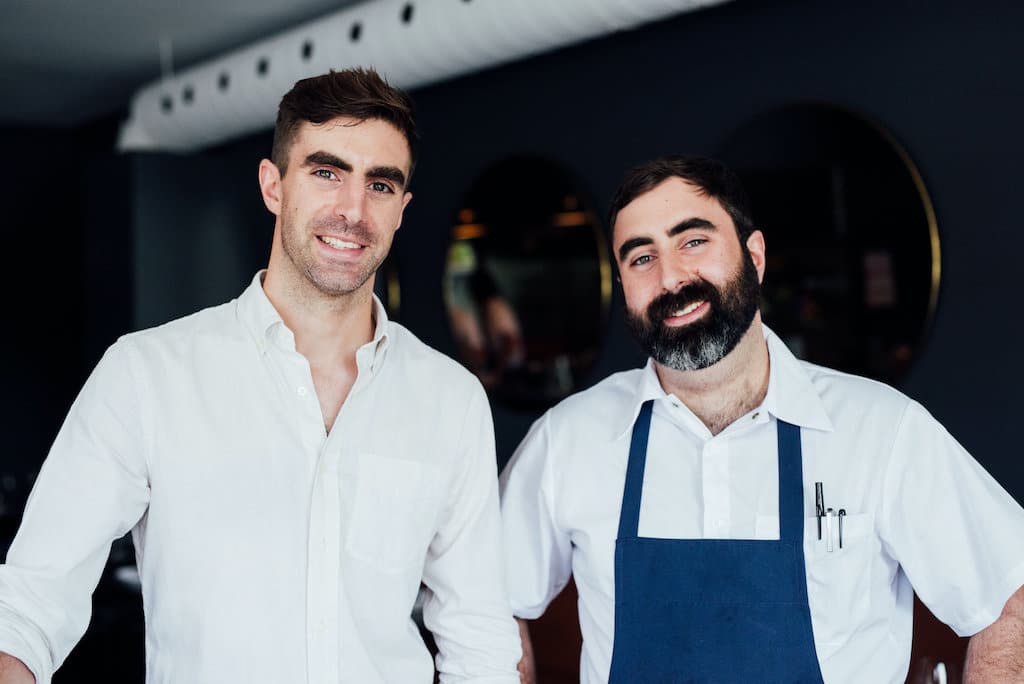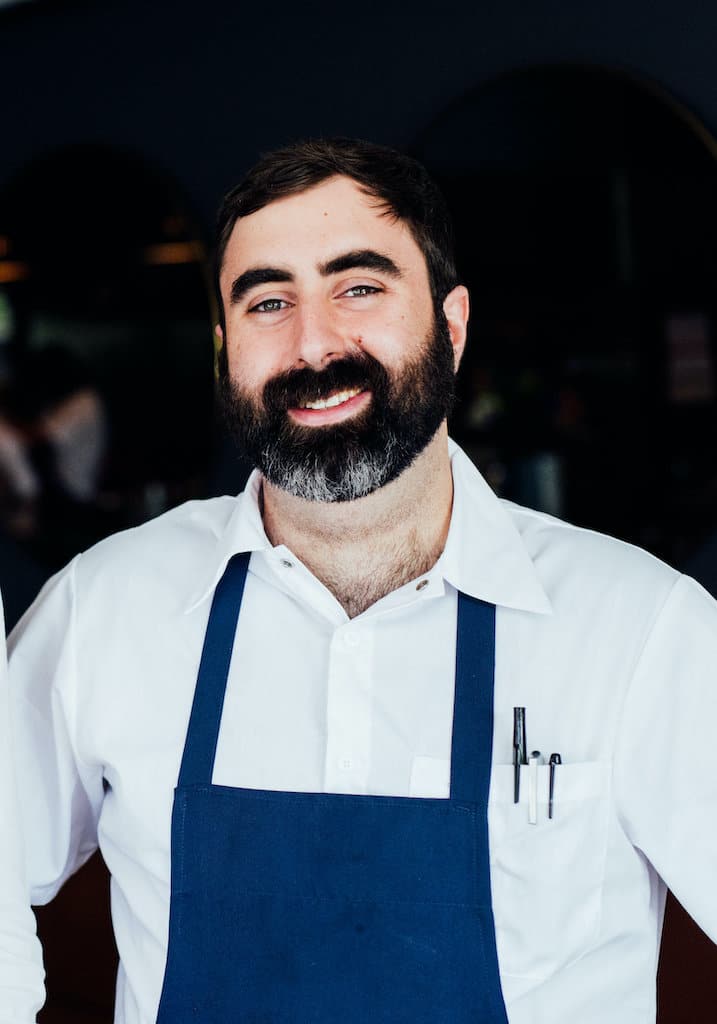 Ariel Schor was chef de cuisine at the excellent Liverpool House for nearly six years. Today, the Argentinian-born chef entertains alongside his brother at his own restaurant, the delicious and charming Beba.
Ariel was born in Argentina in Ushuaïa, the southernmost city in the world. His mother was an English teacher and every day at noon she would come home with her children to cook them a hot meal. His father's specialty was the famous Argentine asados; he'd grill meats and vegetables over charcoal for everyone. "I grew up in a house where my parents were excellent cooks and food was everywhere," says Ariel.
At a young age, he became interested in cooking and began experimenting. He vividly remembers his first gnocchi at the age of 10, the three days he spent preparing a pannettone, and the first time his father let him light the grill for the asado. He also talks about his stays with his grandparents in Buenos Aires, where he discovered the world of gastronomy by visiting the capital's restaurants.
Ariel moved to Winnipeg with his family when he was 13, and got a job at a catering company where he was responsible for washing and setting up. Despite these limited duties, this first experience confirmed his love for cooking: "It's so rewarding to start with raw ingredients and turn them into something delicious with your hands." A few years later, Ariel began his culinary arts training at Red River College in Winnipeg.
Upon graduation in 2005, Ariel continued her apprenticeship at several Winnipeg establishments. "I've done a little bit of everything. I started in a catering company, worked in small family restaurants, hotels, and then larger restaurants. I took every experience that was offered to me."
In 2011, Ariel visited Montreal and fell under its spell. "It was my first time in Montreal as an adult and I fell in love with the city. It's hard to describe, it's not really North America and it's not really Europe either. It's really a unique energy. Like many gourmets passing through the city, Ariel's journey stopped at 2491 Notre-Dame Street West at the iconic Joe Beef: "I was there for six hours. It was one of those meals! To this day, I remember parts of that dinner very clearly."
A few months later, Ariel travelled to Europe with his brother to discover the culinary origins that have influenced Argentina's cuisine, which has been greatly influenced by immigration. On their way back, the duo stopped in Montreal where Ariel, still enchanted by his last visit, returned to Joe Beef. He met Marc-Olivier Frappier, chef of the house at the time (Mon Lapin today), and the two agreed that Ariel would return to the city for an internship.
In August 2012, Ariel packed his bags and moved, permanently, to Montreal. Upon arriving at Joe Beef, Ariel assumed the position of garde-manger: "To this day, this station at this particular restaurant has been the most demanding and challenging experience. I was responsible for the small, intricate and elaborate plates at Joe Beef. They're perfect for a table of two, you send in a lot of small dishes, and then you follow up with a main course. So I was preparing six dishes for each course that the hot side was doing. It was very intense and required a lot of energy. I think I lost about 30 pounds in the first few months. It was completely crazy."
By the end of the summer, Ariel was sent to work in the kitchens of the restaurant nextdoor, Liverpool House. There, Ariel was given the chance to continue his apprenticeship by trying out every position in the kitchen. After only one year, owners David McMillan and Frédéric Morin offered him the position of chef de cuisine.
Ariel was honoured, but still maintained the same humility that has brought him to this point. "I was still trying to learn. I've had the opportunity for several years to work in a restaurant that runs very well and with a team — front of the house, back of the house, and owners — that is so experienced. Working with people like that is the equivalent of getting your bachelor's degree in the restaurant industry."
As a chef at an address from the Joe Beef Group, Ariel faced a very intense, high-stakes environment every day where every detail is of paramount importance. Despite the pressure and the need to perform, Ariel revelled in it. The young chef was aware of the reputation of the address where he worked and was constantly motivated by his colleagues to perfect their craft and excel. In 2017, Ariel was in the kitchen while Justin Trudeau and Barack Obama, visiting Montreal, were having a one-on-one dinner at Liverpool House.
Ariel stayed for nearly six years — from 2013 to 2019 — at the helm of the kitchen at Liverpool House and has nothing but praise for his time with the Joe Beef group. "It was really that environment that shaped the person I am today," he says. At Liverpool House, he met two very good friends, James Simpkins, who passed on his passion for wine, and Chris Morgan, with whom he spent long periods of time talking about service. Ariel is also very grateful to his two main mentors: "I owe so much to Dave [McMillan] and Fred [Morin] for trusting me and allowing me to be in this position. They guided me and showed me how things should be done in their eyes. I've grown, not only as a chef, but also as a manager. I learned how to talk to people, and how to be a dad for my team."
In 2017, Ariel convinced his brother Pablo, who was working in Vancouver at the time, to join him in Montreal. Upon his arrival, Pablo spent some time at Bar Loïc before joining his brother at Liverpool. The dream of having their own restaurant became more and more tangible. "Ever since I enrolled in culinary school, the goal has always been to have my own restaurant," says Ariel.
In May 2019, the Schor brothers took possession of a small space at the corner of Ethel and Hickson streets in Verdun. Two months later, Beba opened its doors. At the time of the opening, Ariel was in the kitchen and offered a generous menu, inspired by the cuisine of his childhood and by his Montreal immersion in the gastronomy of the Joe Beef family. For his part, Pablo is the warm host and manages the drink side of the menu.
Since then, Ariel is no longer just a dad in the kitchen. His new role as a father has caused him to distance himself from the kitchen. "I conceptualize the menu with my team, they cook and then we taste together. I'm still involved in the kitchen, but as soon as the restaurant doors open, I join my brother as a host and I think we do a good job because I love to talk [laughs]."
As the future has never been more uncertain, Ariel can only look forward to seeing Beba reopen and being able to continue to make people smile. "We are very attached to this small place, we love it so much, and we want people to come in and love it as much as we do. We want them to feel comfortable and have fun. There are days when the restaurant is full, when the atmosphere and the music are good; when everything just clicks. And then we step back and say, 'Holy f—, we did this,' and that's the best feeling."
Written by Samuel Gauvreau Des Aulniers
Photography by Alison Slattery