Joe Beef's lobster spaghetti recipe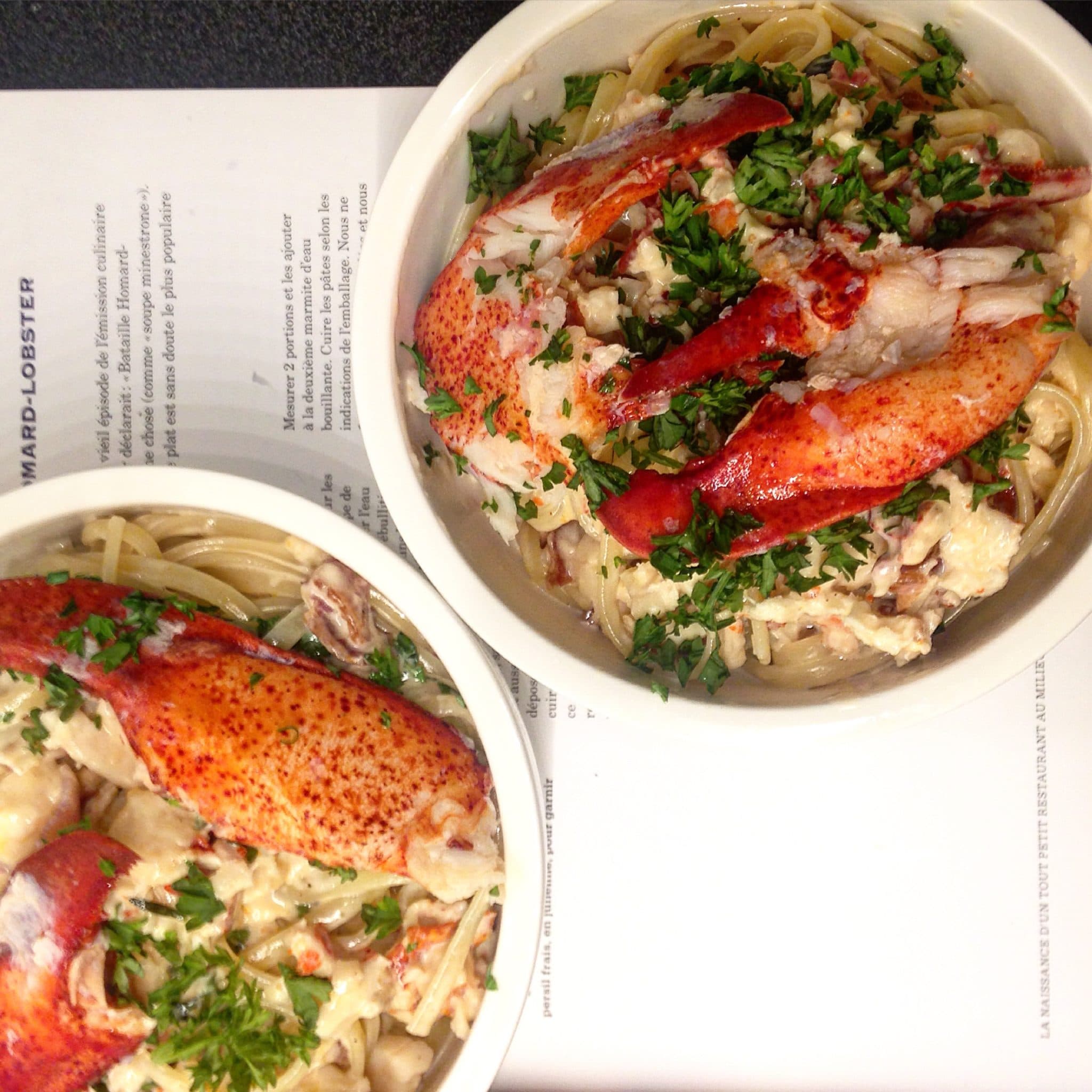 Joe Beef's lobster spaghetti is an iconic dish at the restaurant. It has become so popular over the years that it has never left the menu since the restaurant opened. It is without a doubt one of the most popular dishes at Joe Beef.
Lobster Spaghetti
Ingredients
8L plus 2 cups (500 mL) water
Salt and pepper
1 live lobster, about 2 lbs (1.2 kg)
2 portions of spaghetti
1 tablespoon of olive oil
2 cups (500 ml) whipping cream (35%)
1 teaspoon unsalted butter
2 tablespoons brandy
1 sprig tarragon
1 clove garlic, crushed
3 slices bacon, cut into strips (fry in pan to crisp)
Fresh parsley, julienned, for garnish
Method
Divide the 8 litres of water equally between two pots (one for the lobster, the other for the spaghetti). Add 2 tablespoons of salt to each, then bring both pots of water to a boil.
Place the lobster in the first pot and let it cook for 12 minutes.
To measure the spaghetti, make a circle the size of a quarter with your thumb and forefinger: the amount of pasta that goes into it is equivalent to one portion.
Measure out 2 portions and add to the second pot of boiling water. Cook pasta according to package directions. Drain, then rinse under cold running water. Add olive oil to prevent them from sticking and set aside at room temperature.
At this point (12 minutes), the lobster should be cooked. Using a long pair of tongs, remove from the water and place in a bowl. Let it cool until it can be handled, then remove the claws and joints. Break off the claws with a knife or lobster tongs and remove the tail and break it in half.
The shell should be left intact with the meat. Put the claws, joints and tail pieces in a bowl and set aside.
Reserve the thorax. Cut it roughly into 4 or 5 pieces with a large knife. Keep these pieces aside.
To prepare the sauce, combine the thorax pieces, cream, butter, brandy, tarragon, garlic, and remaining water in a large pot. Cook over medium heat until mixture begins to bubble. Reduce heat to very low and simmer gently for 30 minutes, making sure not to reduce too much. There should be about 1 cup (250 mL) of liquid left at the end.
Strain the cream and discard any lumps. The cream should not be runny, it should coat the back of a spoon. Season with salt and pepper
In a large shallow dish, heat the cream and lobster pieces over medium heat.
Add spaghetti and bacon and stir with a wooden spoon for 3 to 4 minutes to heat through.
Garnish with parsley and serve, "then turn on the TV and persevere".
This lobster spaghetti recipe is from the book The Art of Living According to Joe Beef. Buy it here. Thank you, David Mcmillan for the recipe.