Spaghetti Ubriachi from Elena: Janice Tiefenbach's excellent red wine pasta recipe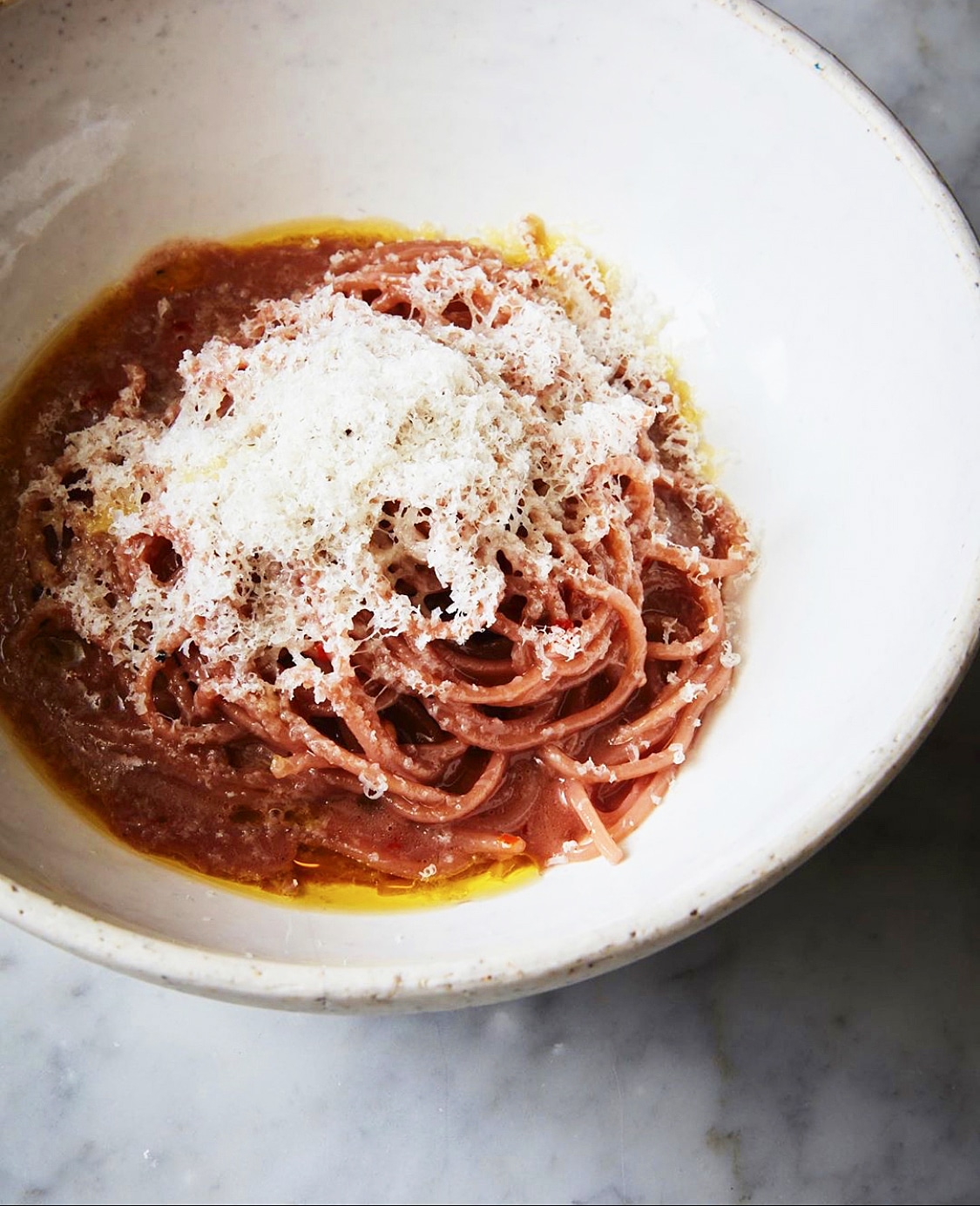 This recipe is to die for! Developed by Elena's chef extraordinaire Janice Tiefenbach, it features smooth and comforting spaghetti. It was part of a digital (germ-free) mini cookbook that featured some of her most popular recipes to cook at home during the health crisis.
Elena's Spaghetti Ubriachi
Ingredients
6 cloves garlic, finely chopped
1½ tablespoons olive oil, and more for serving at the end
½ teaspoon dried chili flakes
8 tablespoons unsalted butter, cut into 1-inch pieces
1 bottle of red wine (750 ml)
Sea salt
1 package of spaghetti (500g)
Parmigiano cheese, finely grated
Method
In a small bowl, combine garlic and 3 tablespoons of olive oil.
Heat a large skillet over medium heat.
Add the garlic and olive oil mixture.
Add dried chili flakes and 1 tablespoon of butter.
Cook, stirring occasionally, until garlic is very flavourful but not browned, about 3 minutes.
Add wine, increase heat to medium-high and bring to a boil.
Cook uncovered until reduced by two-thirds, 20-25 minutes.
Season with salt. Cover and keep warm.
Meanwhile, cook pasta in a pot of salted boiling water, stirring occasionally, until al dente, about 3 minutes less than the recommended cooking time.
Drain the pasta and add it to the sauce, along with the remaining 7 tablespoons of butter.
Place the saucepan over medium heat and bring the sauce to a simmer.
Cook, stirring often, until the pasta is well coated and the sauce is thickened, about 3 minutes.
Taste and season with more salt if necessary.
Note/Variation
To serve Elena's Spaghetti Ubriachi: Divide the pasta among bowls. Drizzle with olive oil and top with lots of grated parmesan.
Bon appétit!
Elena is one of the best Italian restaurants in Montreal. This superb restaurant is owned by the same people who own Nora Gray, and offer a delicious and accessible menu, focused on high quality ingredients. Come to savour delicious and revisited Italian pizzas and very good natural Italian wines in a fun, lively, and beautiful atmosphere!