Breaded cod burger recipe by Stefano Faita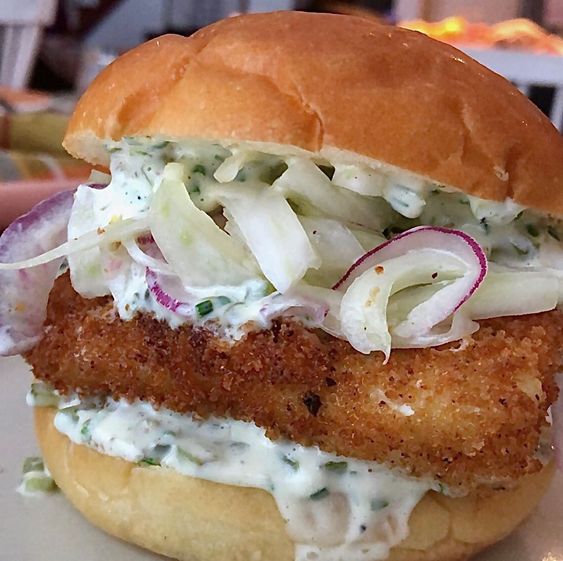 As hard as it to believe at times from the confines of our homes, summer is around the corner. In preparation for the summer season, chef/owner of Impasto, pizzeria Gema, Chez Tousignant, and Vesta, Stefano Faita has made many happy by sharing his recipe for breaded cod burgers. A delicious burger that has everything to make us forget the uncertainty that looms over the upcoming summer!
Breaded cod burger by Stefano Faita
Serves: 2
Preparation: 25 minutes
Cooking: 5 minutes

Ingredients
Fennel salad
1 ½ tbsp. cider vinegar
2 tsp. sugar
1 tsp. extra virgin olive oil
¼ tsp. ground pepper
1/8 tsp. salt
1 ½ cups finely chopped fennel
1 cup red onion, sliced
Tartar sauce
½ cup mayonnaise
2 tbsp. finely chopped chives
1 tbsp. chopped capers
3 to 4 sweet pickles, cut into small cubes
1 tsp. sweet pickle juice
1 tsp. lemon juice
Salt and pepper
Burger
1 cup flour
2 eggs
1 cup of panko
2 tbsp. Cajun spices
Salt and pepper
4 cod filets, 150 g each
Vegetable oil
4 hamburger buns
Method
Fennel Salad
Combine vinegar, sugar, oil, salt, and pepper in a large bowl, stirring until sugar is dissolved.
Add onions and fennel, mixing well.
Let stand at room temperature for 30 minutes, stirring occasionally.
Tartar sauce
Mix the ingredients and let stand for 30 minutes in the refrigerator.
Burger
For the breading: put the flour, beaten eggs and panko in three seperate shallow bowls (such as soup bowls).
Mix Cajun spices with panko.
Salt the cod on both sides.
Coat each piece first with flour, then eggs, and lastly with the panko.
Heat oil in a pot or pan to 350 F. The fish should not be completely covered with oil at this stage. Have the oil about 2 inches high from the bottom of the pan.
Carefully place the cod pieces in the oil and fry for 3 to 4 minutes on each side until the fish is golden brown and flaky.
Remove from oil and place on a plate covered with paper towels.
Warm up the hamburger buns slightly to taste.
Assemble the burgers!
Photography by Stefano Faita