Bloomfield's pouding chômeur recipe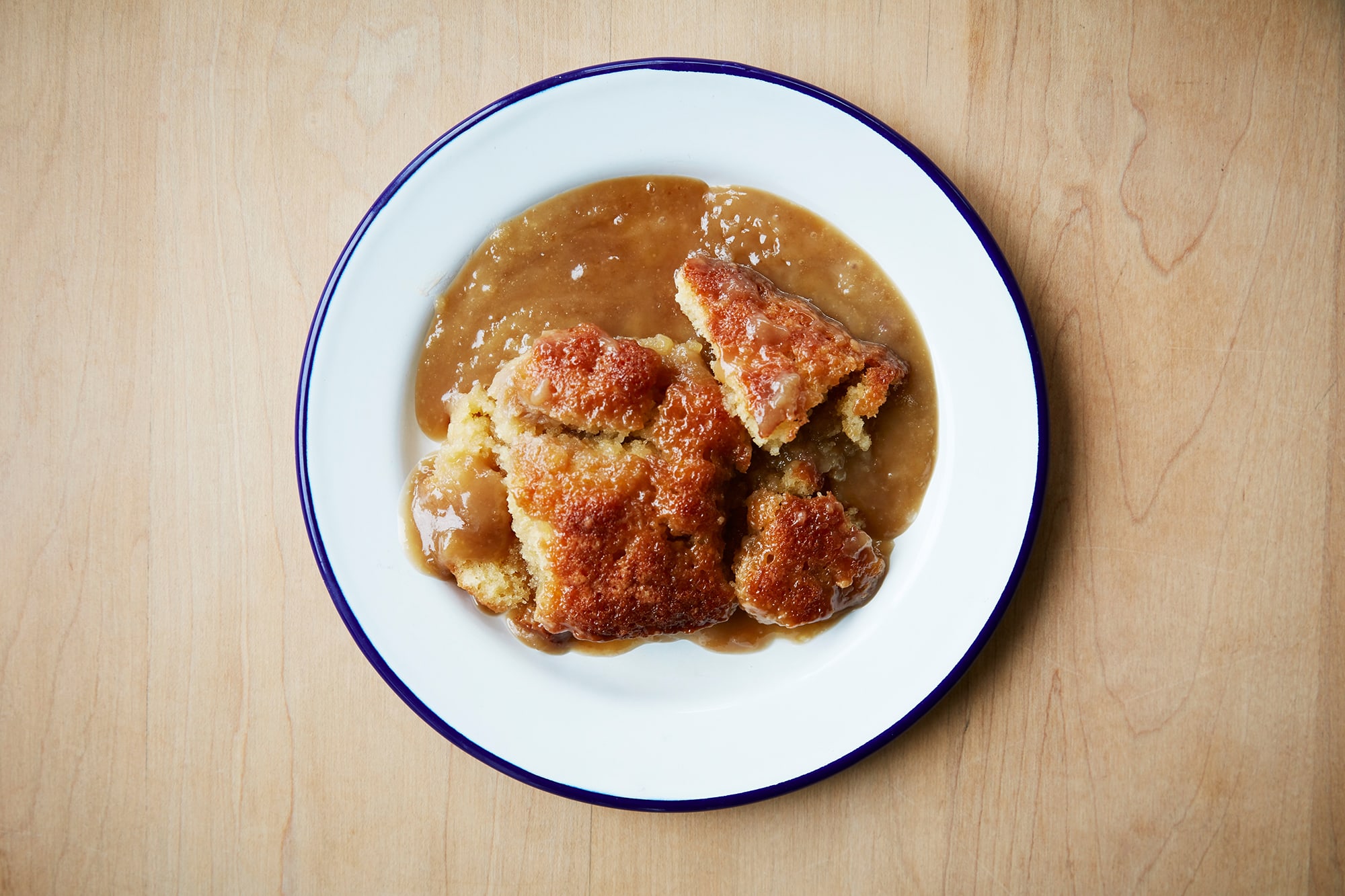 What better way to face the winter blues than with good comfort food? To cheer us up a bit, we found the recipe for the excellent Pouding Chômeur from Caroline Dumas, chef/owner of Bloomfield.
Did you know that the origins of this dessert stem from the economic crash of 1929, and the beginning of the Great Depression? Made up of inexpensive ingredients, it was easy to prepare and affordable for families at the time. Over the years, it has earned a place of choice on the menu of many great restaurants. We love pouding chômeur!!!
Pouding chômeur
Serves: 6
Preparation: 15 minutes
Cooking: 35 minutes

Ingredients
2 cups unbleached flour
2 teaspoons baking powder
2 pinches sea salt
½ cup butter, softened
½-1 cup cane sugar
2 eggs
1/3 to 1/2 cup milk, as needed
2 ¼ cup maple syrup (1 can)
2 ¼ cup 35% cream
Method
Preheat oven to 375 F.
Mix flour, baking powder, and salt in a bowl.
Beat the butter and sugar in a large bowl for 2 minutes with a mixer.
Add eggs and mix well.
Add dry ingredients to wet, alternating with a little milk if needed.
Pour the mixture into a 13×9 inch pan, or put the equivalent of an ice cream scoop into each mould of a muffin pan.
Place maple syrup and cream in a medium saucepan.
Bring to a boil, reduce immediately, and cook for 5 minutes.
Pour over the mixture.
Bake for about 30 minutes or until the tip of a knife comes out clean from the cake (do not confuse with the sauce).
Note/Variation
To avoid spills in the oven, make sure your pan is deep enough, or put a cookie sheet under the pan.
Also, you can reserve a little sauce and add it to each serving just before serving.
If reheating in the microwave, do not exceed 25 seconds to avoid hardening the dough. Reheat incrementally (2 x 25 seconds).
The challenge: not to eat the whole dish alone! Bon appétit!
To support your favourite local addresses, consider purchasing a gift card!