Braised Rabbit with Mustard from L'Express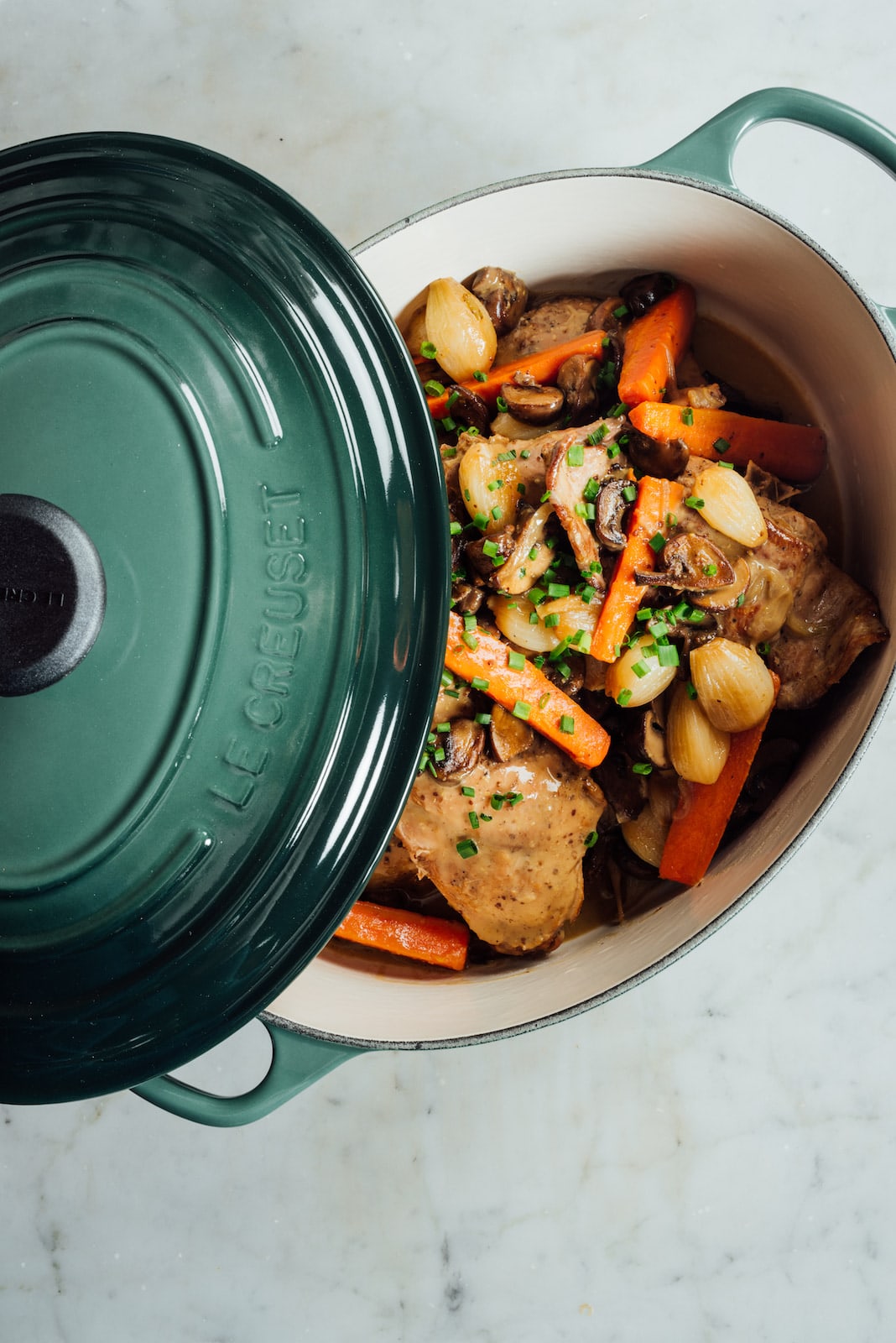 The Braised Rabbit with Mustard from L'Express is a traditional French dish; just as L'Express is a staple French address in Montreal. The address is part of our list of Montreal institutions.
We come to L'Express for its lively atmosphere, impeccable service, excellent value, and a menu of timeless French classics.
For the regulars, this address also offers a few daily specials and seasonal dishes that change with the season. Everything here is homemade, except the bread! In fact, L'Express puts a lot of love and attention into all its dishes, and this braised rabbit recipe is a perfect example. Served once a year during the winter, it charms diners with its comfort and conviviality. "Rabbit with mustard is a classic. I've been preparing it for over 10 years in my family, and my mother-in-law will be happy," says chef Jean-François Vachon.
If you visit, we recommend the fried kidneys, the duck, the octopus, and the croque-monsieur, among others. Whatever you choose, rest assured that an outing to l'Express will always be a safe and delicious bet.
This recipe is a taste of the delights the kitchen has to offer.
Braised Rabbit with Mustard
Serves: 4
Preparation: 60 minutes
Cooking: 120 minutes

Ingredients
For the rabbit
1 whole rabbit cut into 6 pieces
A knob of butter
A drizzle of sunflower oil
4 French shallots, chopped
2 cloves garlic, chopped
A stalk celery, chopped
100 ml dry sherry
1 L chicken stock
250 g brown mushrooms, quartered
Black pepper
Sea salt to taste
100 g Dijon mustard
60 g whole-grain mustard (à l'ancienne)
100 ml 35% cream
For the garnish
12 small Nantes carrots, cut into sections
18 small pearl onions, peeled
60 ml sunflower oil
Salt and freshly ground pepper
Method
For the garnish
Pan-fry the carrots and pearl onions over medium heat with a drizzle of sunflower oil and season with salt and pepper. Cook until lightly coloured.
Set aside.
For the rabbit
Season the rabbit pieces and brown on each side in a casserole dish with a drizzle of sunflower oil and a knob of butter.
Remove the rabbit and sweat the shallot, celery and garlic.
Deglaze with sherry and reduce by half.
Add the chicken stock, the bouquet garni, the mushrooms, the pepper and the rabbit pieces.
Bring to a low boil and bake, covered, for 2 hours at 300˚F.
20 minutes before the end of cooking time, add the pan-fried vegetable garnish.
Mix the mustard and cream and then gently stir into the cooking juices.
Serve.
Note/Variation
Delicious served with buttered papardelle pasta. 100 g of pasta per portion, a good knob of butter, a little cooking water and chopped parsley.
The Oval French Oven is specifically designed to fit longer cuts of meat and works magically for this rabbit recipe. Sear, deglaze, and slowly braise to reveal the most tender results.
Bon appétit!